There is always the chance of having that one family member or friend over who prefers gluten-free meals for personal reasons, leaving you uncertain of what to serve them during the holiday dinner. Well we have the perfect solution for situations like those, as you can leave your guests impressed with these five gluten-free Thanksgiving recipes that are not only easy to make but are also guaranteed to be the showstopper on the dinner table.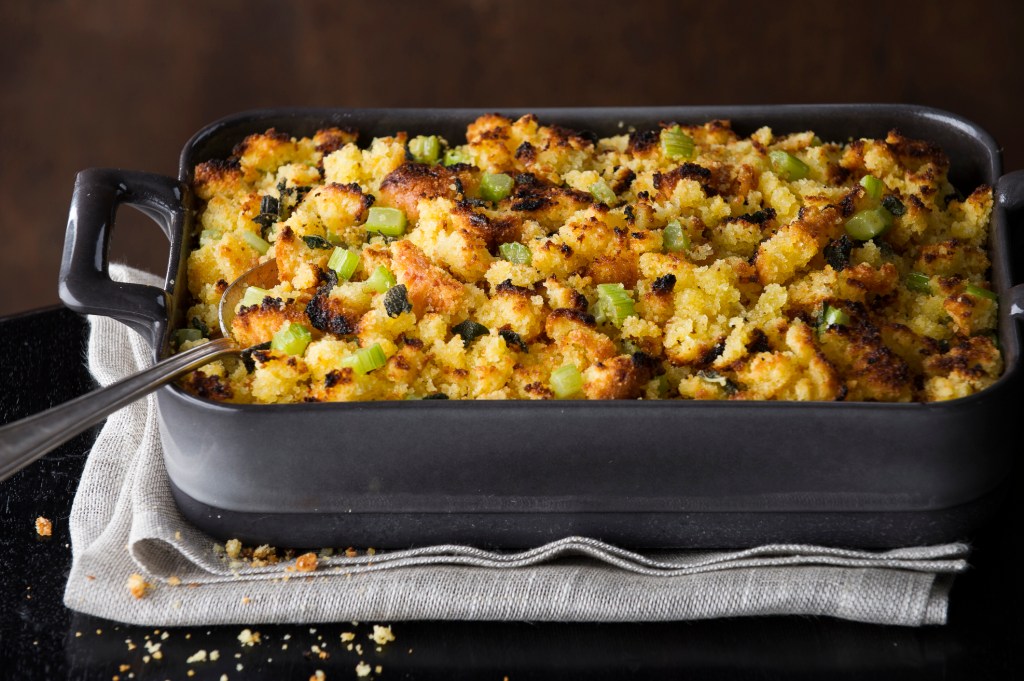 1. Classic Gluten-Free Stuffing
Stuffing is a quintessential part of Thanksgiving, so you have no excuse to not make this gluten-free food a part of your dinner menu. For this dish, sauté celery and onion in a pan with oil and butter. Then add your herbs like rosemary, sage and thyme. Pour this mixture on gluten-free bread (preferably chopped into cubes) and toss to combine it all before transferring everything to a casserole pan.
Add some hot stock to well-beaten eggs and stir it until combined, and then pour the egg-stock mixture on the bread as well. Cover the casserole pan with foil and bake till the veggies are tender. Then remove the foil and bake it further till the stuffing turns brown, leaving the top layer nice and crispy.
2. Moroccan-Spiced Carrots
This gluten-free meal can be made last minute in the air fryer. Simply coat the carrots in some oil, adding coriander, cumin, cinnamon, salt and paprika on top. Then pop it in the air fryer till it is crisp and cooked through. Once done, shift the carrots to a bowl and toss them in orange and lemon juice. For an added punch, top it up with almonds, mint leaves and pomegranate seeds, and see the dish vanish within minutes of serving it.
3. Roasted Potatoes with Whipped Feta
Sounds tempting, doesn't it? This gluten-free dinner idea will be a hit among your family members. All you need to do is boil the potatoes with their skin on. Then drain the potatoes and coat them with some oil, sprinkling onion powder, paprika and salt on top (adjusting them to taste). Roast them until they are golden brown and crispy.
For the whipped feta, grind feta along with oil, lemon zest, cream cheese and garlic until you get a smooth texture. Voila! The lip-smacking dish is ready to be devoured. You can make the whipped feta in advance and refrigerate it until the potatoes are ready to be served.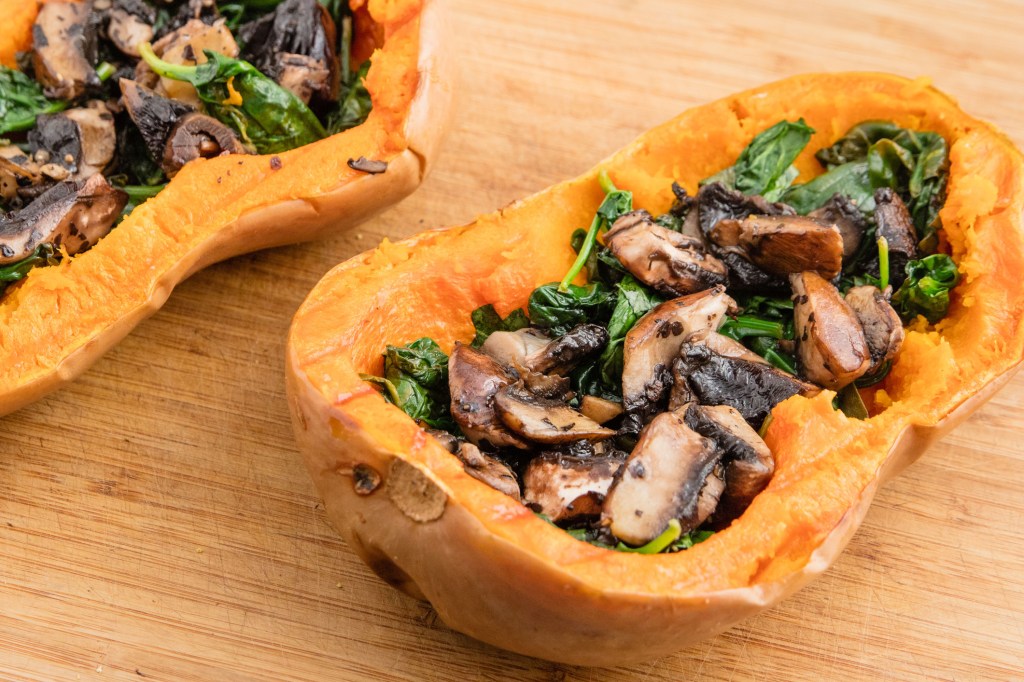 4. Stuffed Butternut Squash
Cut squash in halves, place them on a baking sheet with cut side down and bake until its skin starts to blister in some areas. Now remove the squash, flip it and season it with salt and a mixture of butter and brown sugar. Pop it back in the oven for a few more minutes until the squash is tender and caramelized.
In a pan, cook broth and quinoa with a pinch of salt until quinoa is soft and fluffy. Add the quinoa to some cooked kale along with chickpeas (canned or boiled), cranberries and pumpkin seeds. Finally, remove the squash from the oven, filling in the cavity with the kale and quinoa mixture. Return it to the oven until the mixture is warmed through to the center. Serve it while it is still warm for the ultimate comfort food.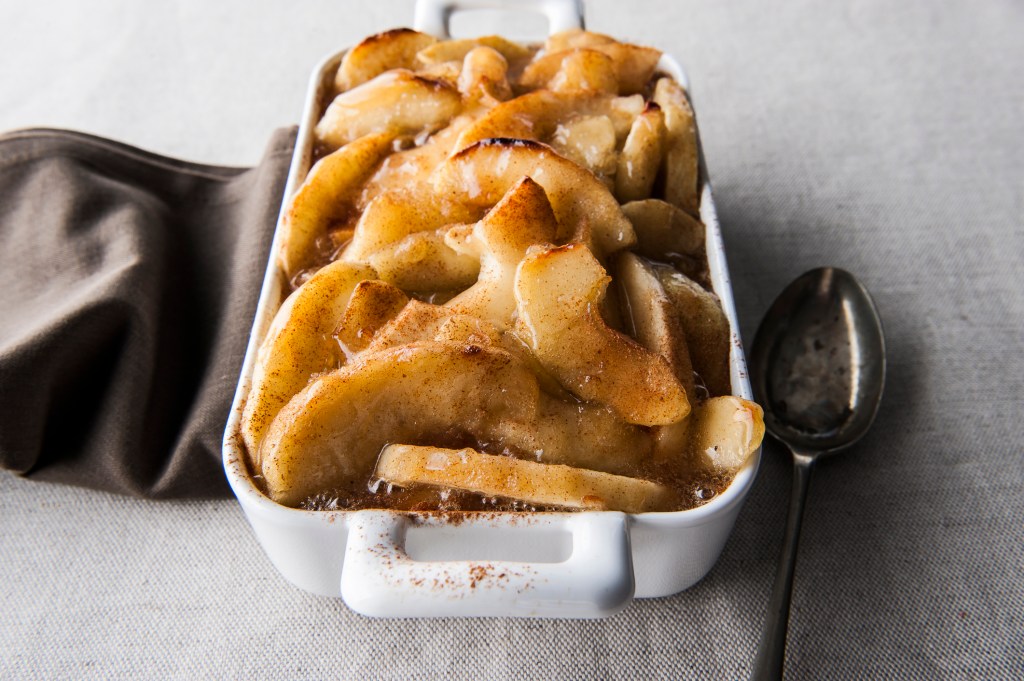 5. Apple Sunday with Cider Caramel Sauce
Thanksgiving dinner is incomplete without desserts, and there is no better gluten-free Thanksgiving recipe than Apple Sunday with Cider Caramel Sauce. To make this recipe, stir a mix of brown sugar and granulated sugar in butter and vinegar before spreading it out on a baking dish.
Then cut the apples into 3/4-inch-thick rounds (or a shape of your choice) and place them on top of the sugar mixture. Cover the baking dish with foil and bake until the apple begins to soften. Remove the foil and bake further till the sauce thickens. Once baked, remove the apple pieces and whisk cream into the sauce in the pan to make the caramel sauce. Lastly, assemble the apple on a plate, topping it with caramel sauce and ice cream with a side of cookies.
Try these gluten-free dinner ideas this Thanksgiving, and let us know in the comment section which one was your favorite.