It's September, and officially time to consume all-things pumpkin. Like I said before, anything with cream cheese sends my taste buds to a happy place. This recipe has cream cheese and pumpkin! I made pumpkin donuts with cream cheese frosting with only 3 ingredients, and they are so delicious. It's a sweet taste of fall with every bite.
Here's the recipe for the pumpkin baked good you donut want to miss!
Baked Pumpkin Donuts with Cream Cheese Frosting
This recipe makes approximately 12-13 donuts
Ingredients: 
Yellow Cake Mix, 1 box
15 oz can of pumpkin (not pumpkin pie filling, just canned pumpkin)
Pumpkin Pie Spice
Frosting Ingredients:
5 tablespoons cream cheese, softened or room temperature
4 tablespoons butter (1/4 cup), softened or room temperature
3 tablespoons half and half
1 teaspoon vanilla
1 cup powdered sugar
Directions: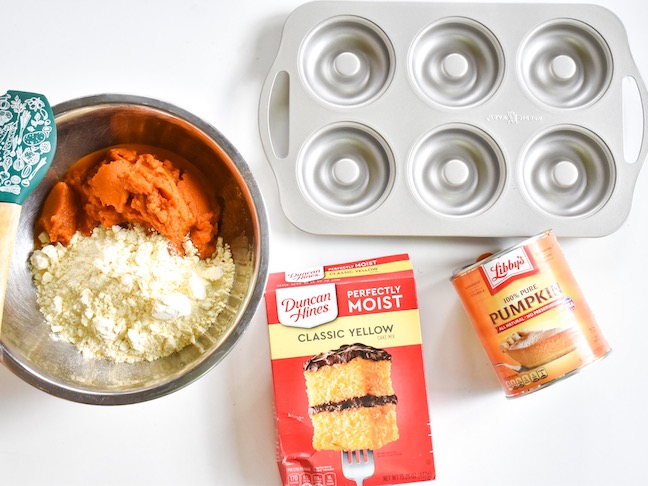 Step 1: Gather all ingredients. Add the entire box of yellow cake mix to a mixing bowl, along with 1 can pumpkin and 1 teaspoon pumpkin pie spice.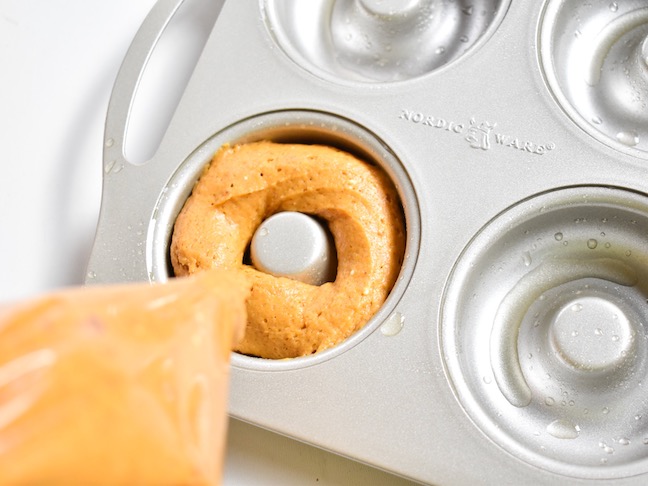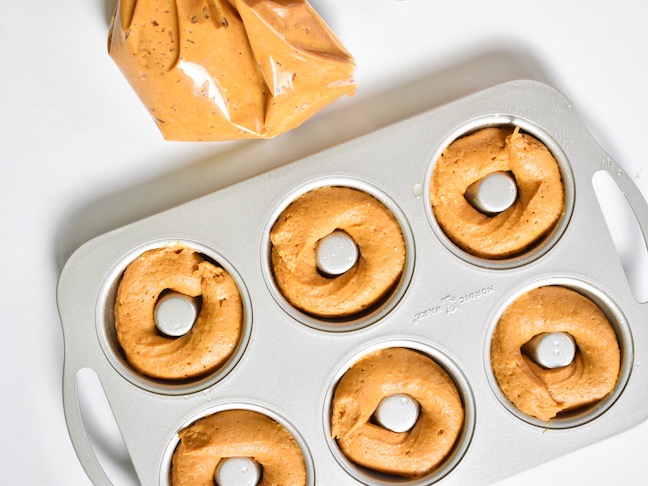 Step 2: Mix the ingredients together. You can use a spatula by hand, or use an electric mixer. The batter will be thick. Pour the batter into a large gallon-pie bag. Cut an opening on one of the bag's corners for a medium-size opening. Spray cooking spray in the donut pan. Pipe the mixture into the donut pan.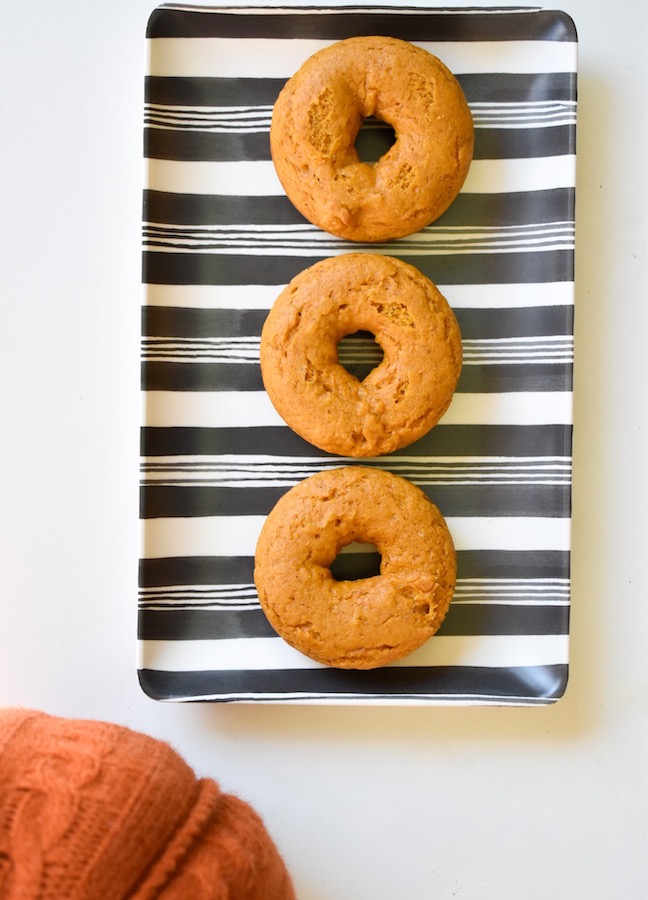 Step 3: Bake at 425 degrees for 8-10 minutes. Stick a toothpick in the donut to make sure it comes out clean.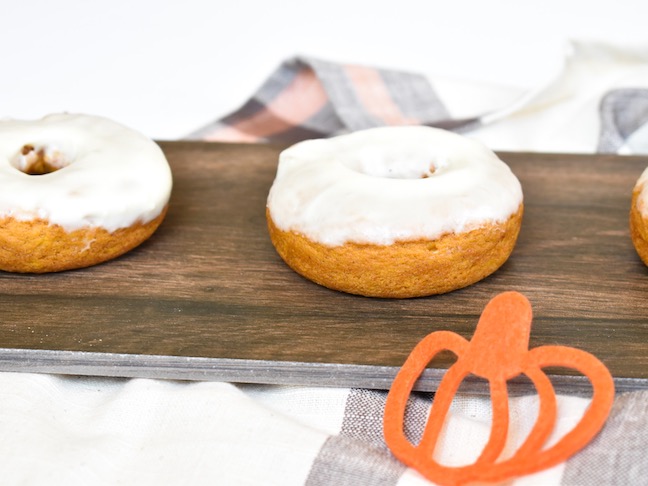 Step 4: While the donuts bake (and cool), make the frosting. Mix the cream cheese and butter together until smooth. Then, add the vanilla and sugar. The frosting will be thicker, so to make it more fluid to dip the donuts, add half and half 1 tablespoon at a time. We like the consistency of 3 tablespoons. Once the donuts are completely cool, dip the donut face-down into the sweet frosting.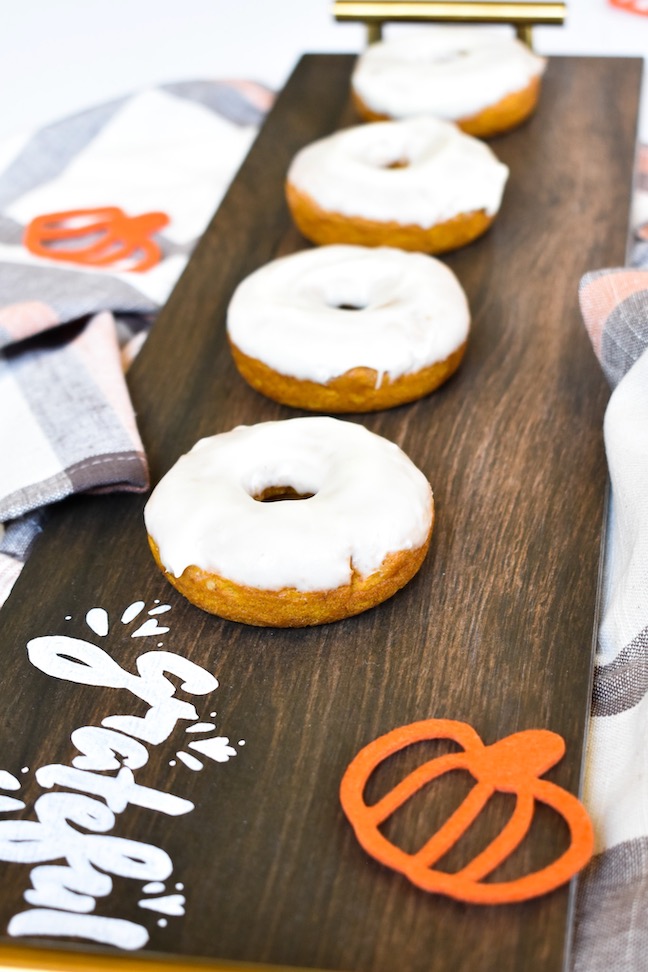 'Tis pumpkin season! BTW, if you're feeling the vibes of that fall grateful tray, you can DIY it (yes, you can make it) for less than $10. The tutorial is right here on Momtastic.
More Fall Recipes: