When you are pregnant or planning a family, parents of young kids often spew out unsolicited advice. It can range from how to sleep train to what cribs to buy to how long you should breastfeed. And couples who love to jet-set around the country have heard similar refrains while pregnant or planning a family: "Get your travel done now, because one that baby comes . . ." other couples say ominously. Because traveling with a baby can be overwhelming and many say, simply not worth it.
Look, traveling with children at any age is hard. The simple act of packing and then unpacking can be exhausting and throw in an airplane and a time zone change and you may never travel again until the kids are teens. But traveling with baby poses other challenges like sticking to sleep schedules and how to travel with cases of diapers. While the only thing you can really plan for is that you probably won't be able to stick to your plan, there are a few things you can do to optimize the experience of traveling with a baby.
Consider your travel time and wear comfy clothes
"For starters, pack several changes of clothes for everyone traveling," says Marcella Kelson, LMSW, MSc, a parental wellness expert and coach. "Wear something very comfortable and stretchy. If you have a deep/consistent sleeper, overnight flights are ideal. If you have a light sleeper, I recommend day flights. Your child is unlikely to miraculously sleep on a flight if they are easily stimulated. I also prefer to travel in the morning, and get to the airport early, so that there's plenty of time to get through transitions and you have time to run around and get some physical energy out. If you travel in the morning, it also reduces the risk of delay, and it means people aren't expecting to sleep around you."
If your child is still wearing a diaper, make sure you're packing overnight diapers and if you're flying international or across the country, try to go for a flight with a layover that leaves you ample to change diapers, have bathroom breaks, eat proper food and just regroup in general.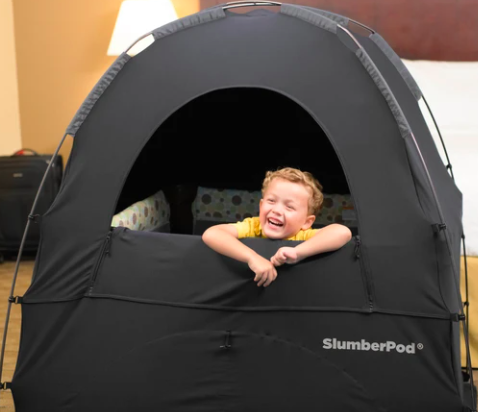 Bring accessories
A white noise machine will be your best friend when traveling with a baby (we love the ones from Yogasleep). You'll also want to bring any loveys, pacifiers and sleep sack/swaddle that your little one is used to. Kelson recommends buying a travel backpack that has tons of storage compartments, bringing  a blanket to put on the floor under the seats, especially if you have a crawler, and you might want to consider buying the SlumberPod, a portable privacy sleep nook that allows babies to sleep in their safe and familiar playard or travel crib with room to sit up or stand up inside (pictured above). A travel stroller will also make things more seamless. We love the Silver Cross Jet Super Compact Stroller (pictured below).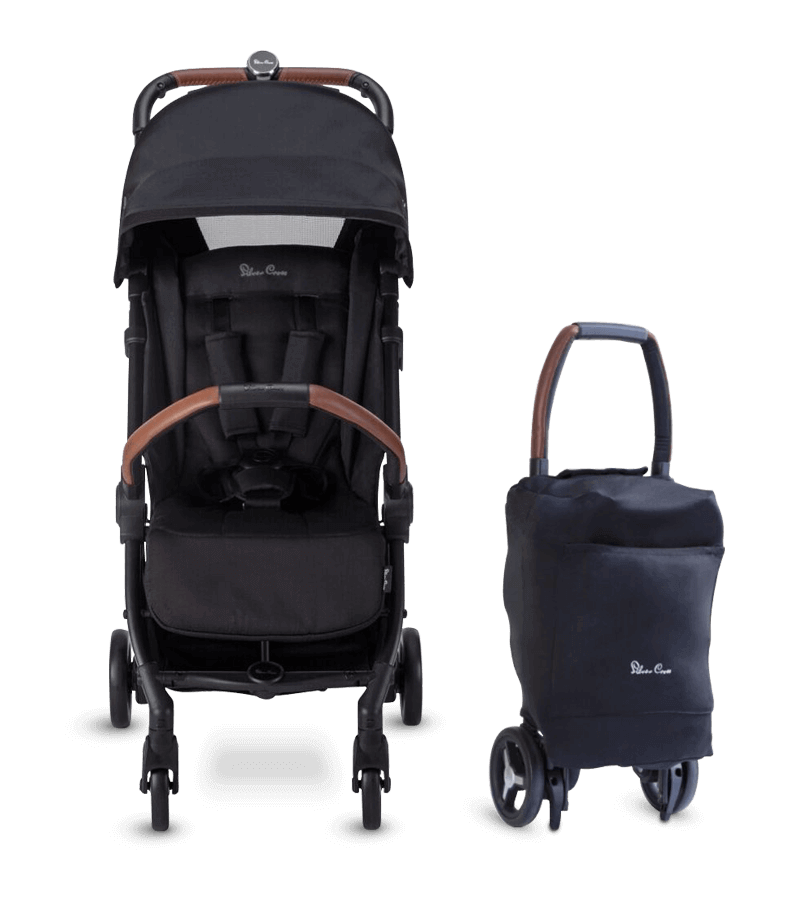 Make sure your baby is rested
An over-tired baby will just make the traveling experience worse, so try to stick to your little one's eat-play-sleep schedule as closely as possible before your flight. In the same vein stick to their bedtime routine as closely as you can once you've arrived at your destination – sure some things might not be possible to recreate and the bedtime might be a bit off time-wise, but babies thrive on routine so try your best to mimic the routine they already know. Unless you're going on a really long trip or flying internationally where the time difference is more than three hours, don't try to get baby used to the new time zone; stick to the normal schedule and, if need be, a cat nap can be added. Lastly, always use light to your advantage! Things should be bright when baby is awake and as dark as possible when baby is sleeping (this where that SlumberPod comes in handy). Traveling with a red light lamp can help transition from play to sleep.
SnoozeShade is another great line of products (pictured below). They make blackout options for travel cots, playards and even strollers and car seats! Some of the options meant for outdoors also have UV protection. This line can really be a lifesaver if you're traveling internationally or have any long flight where you might be struggling to get a baby/toddler down for a nap. These products will be useful once you've landed at your destination as well. Bonus: these products work great for room sharing at home, too.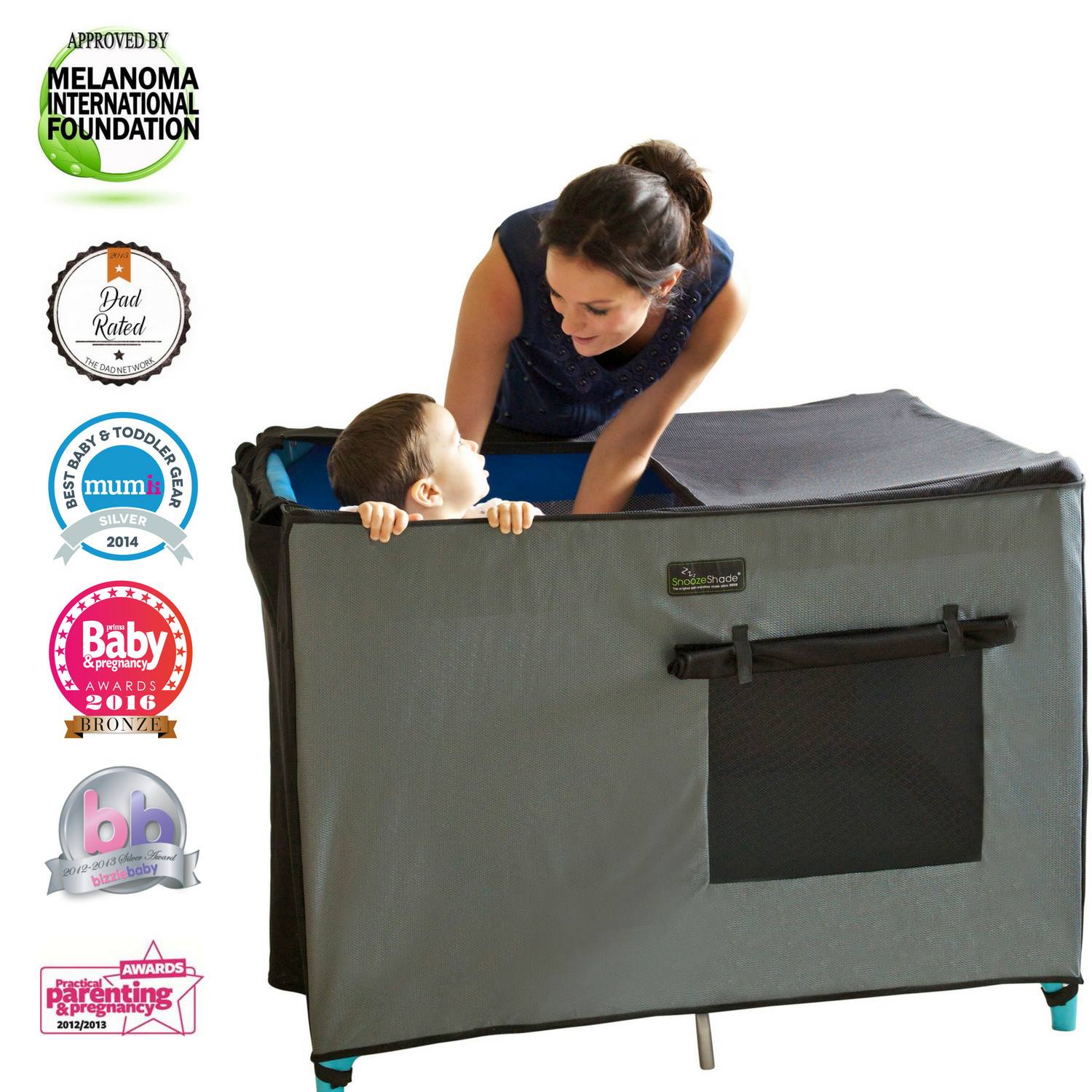 And finally….rent an apartment
House, flat or apartment rental sites like VRBO, Airbnb, or Home Away help provide or recreate a home environment, which can be especially helpful when traveling with a baby and needing to frequently clean bottles, a place to store breastmilk, or launder soiled outfits. If you are in a hotel, try to, book a suite or a room with a living room or two adjoining rooms so that your baby can sleep in a different room. If a suite isn't an option, get creative: The hallway or even bathroom can be excellent places to put the crib so you're not in your baby's line of sight at 4:00 a.m.
More Expert Advice About Babies: