In honor of the upcoming Earth Day and Turn Off the TV week, we're highlighting a classic recycling activity today: building structures with plastic party cups. 
I had completely forgotten about this activity until my son came home from preschool one day asking to build "cup castles".  I instantly knew what he was talking about and, due to a few recent birthday parties, we had plenty of extra cups on hand to get started.  After spending the entire afternoon constructing, it was clear this was going to be a recurring playtime theme.  So I scrounged up this mail tube for storage.  It's the perfect home for our recycled building blocks when they're not in use.
For newbies, the easiest way to start is with some small pyramid style castles.
Once the kids have nailed those, they'll start experimenting and you'll be amazed at what they come up with.  The toothpick and construction paper flag above always finds a home on the top of our latest creation.
Eventually our simple pyramids morphed into more elaborate fortresses.
Of course, knocking down the towers is just as fun as building them (maybe even more so for my three year old).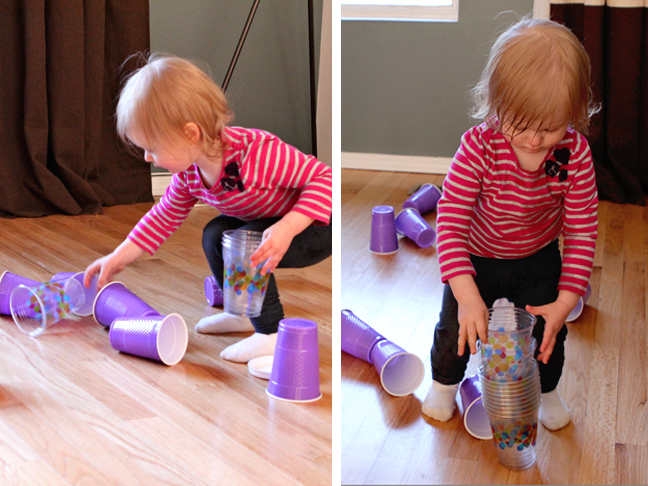 My one year old, on the other hand, is in that stacking phase that many young toddlers go through.  She gets excited about picking up the demolition site – which works out nicely for us.
What do you and your children do at home instead of watching TV?  We'd love it if you'd share in the comments below!