The onset of winter might prompt parents to believe it's time for kids to switch to indoor play – we all know that dealing with sick kids isn't fun – but there are many ways to keep kids active and enjoying the outdoors during the coldest months of the year.
To get some unique ideas we turned to Tinkergarten co-founder Meghan Fitzgerald. For those not familiar, Tinkergarden is an innovator in outdoor education, creating purposeful play opportunities that get children and families away from screens and outdoors together in nature.
Keep reading for awesome ideas to stimulate the kiddos even in these fridgid temperatures!
"Two of the most common sources of joy are nature and bright colors. Even though winter can feel like a drab time, the gorgeous skies of winter sunsets offer both! Take time to slow down and behold the winter sky. Then, welcome kids to use colorful, frozen 'pops' and a plain bedsheet or cloth to create their very own gorgeous winter sky."
Why is this great for kids? "We often rush about and miss the amazing, colorful backdrop nature provides us in the sky—particularly in the winter season. Taking time to slow down and notice the sky not only connects us to the natural world, it exposes the world's immense beauty and sparks joy. This kind of open-ended chance to transform ice and cloth into a sky also supports kids in using multiple senses, thinking creatively, collaborating, and persisting through challenges—all skills kids need to thrive."
"This is a sweet and simple way to add a warm tea break into a family walk or hike. The ritual helps to create a moment of quiet and warmth to overcome the chill and heighten your enjoyment of time outside together."
Why is this great for kids?"The addition of warm tea into a hike on chilly day activates the sense of touch, taste and temperature—a huge sensory system win! Additionally, introducing something new and unique into an activity you do somewhat regularly heightens the investment and excitement for everyone involved. Plus, giving kids tools they can use to stay warm in colder weather is a super way to help extend outdoor time while also helping kids develop persistence and grit."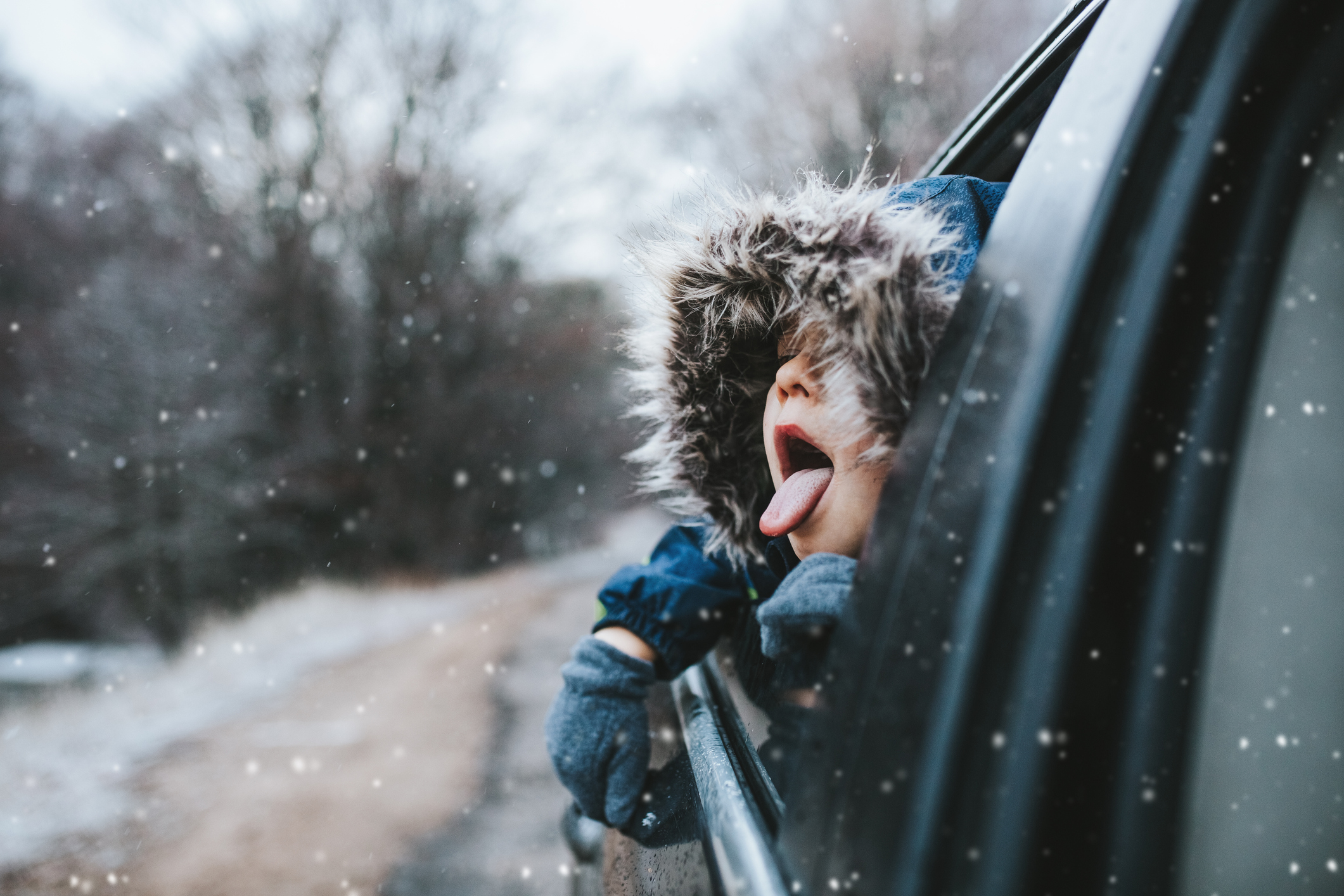 "Featured in the #OutdoorsAll4 challenge, 'Winter Wondermobile', give kids the chance to create dazzling mobiles made of ice and natural treasures. Mobiles invite us to collect, create, marvel and even enjoy a little destruction, too."
Why is this great for kids?"Winter wondermobiles gives your kids the chance to build their own understanding of the STEM concept of the states of matter. Exploring ice offers a super workout for your child's senses. Ice play also naturally surfaces chances to add words to your word bank like freezing and melting to descriptors like slippery, cool and slick. Unlike so many experiences in the digital age, this one requires waiting, helping kids develop patience."
"Whether or not winter brings you snow, it's the perfect time to get kids using big muscles and moving outside! And, what better way than to play like an Alaskan Husky—a true animal superhero. All you need is a sled or cookie sheet, some rope and a reusable shopping bag or backpack, and you'll inspire hours of hard working, super satisfying play."
Why is this great for kids? "Moving heavy objects is gratifying work that gives immediate, positive sensory and emotional feedback.What could be more real and satisfying to a small human than working hard and moving a large object?! Such physical accomplishments not only build self esteem in kids, they also help them developing their gross motor skills and stimulate their proprioceptive systems. When the proprioceptive system is activated, kids are better able to focus. Finally, the very act of hauling objects about, moving them from place to place activates the transporting schema—one of a set of universal behavior patterns recognized to help both brain and body develop through play."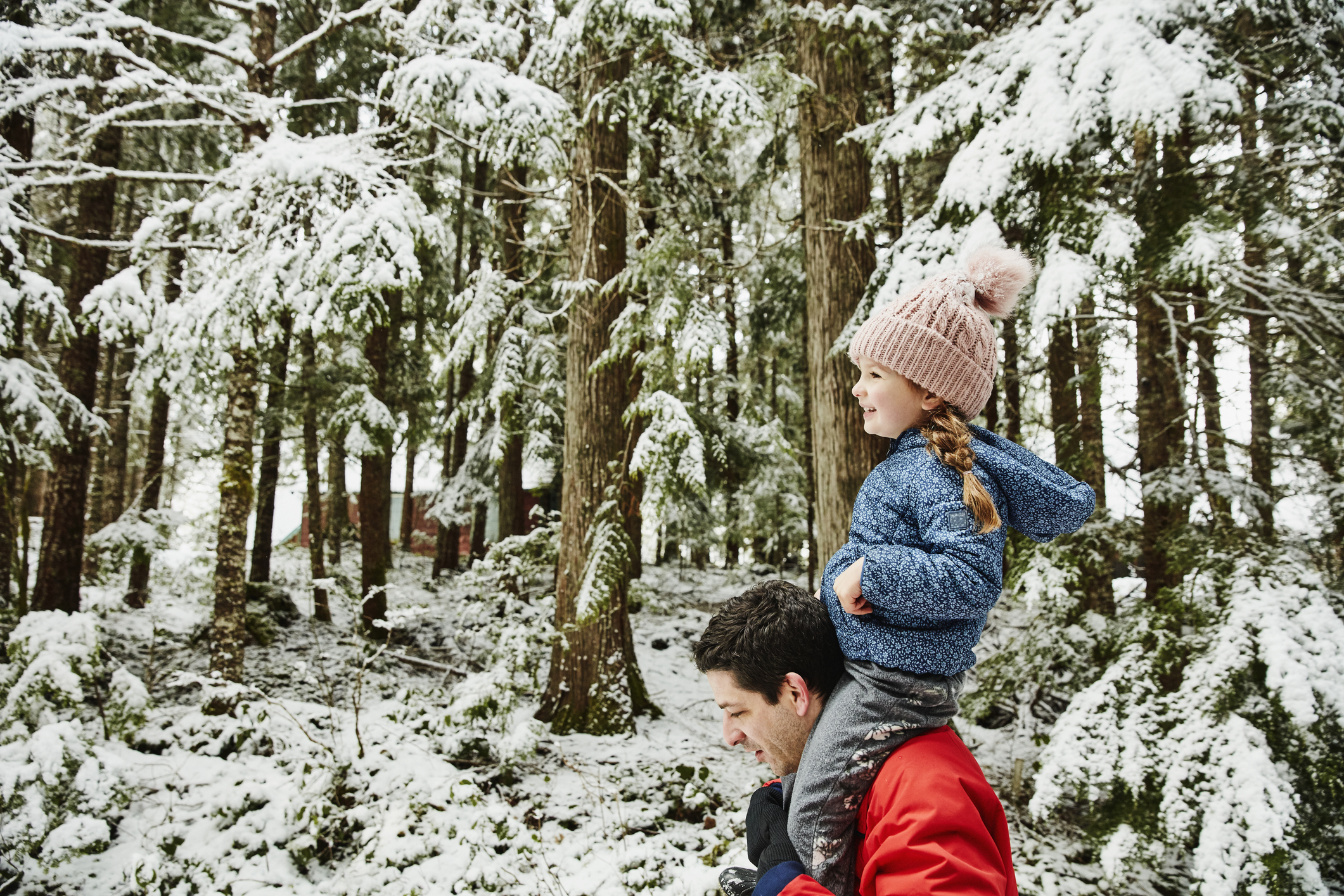 "When life gives you snow, make a snow house — aka a 'quinzhee.' This activity makes use of what's all around you (literally). Kids will gain empathy for the animals who make their homes outdoors all year round, and you might just find yourself making friends with winter again…at least for a couple hours."
Why is this great for kids?"What's the big deal with a glorified snow fort? Plenty. Tucking their bodies into small, enclosed spaces is not just a perennial favorite for small children — it's also brain/body coordination work that falls into a set of preschooler behavior patterns known as behavioral schema. Kids engage multiple senses as they explore the sights, scents, textures, and even temperatures of snow play. Playing house is a powerful imaginary exercise that gives children the opportunity to emulate the people most important to them (you!). The quinzhee lends itself to cozy, rich sensory experiences, such as steaming hot cocoa and a flickering lantern against the dark, cold afternoon. These are the kinds of memories children hang on to well into adulthood. And perhaps best of all, sustained outdoor activity often leads to deep sleeps later that evening."