When I began writing The Mapmaker Chronicles series, I wanted to create an epic adventure series that kids would love. I have two boys, now 13 and 10, who loved (and still love) reading exciting stories with a little bit of humour, and that's what I set out to write. But I also knew that girls loved reading stories like that, too – because that's what I like to read!
Fast-forward four books and The Mapmaker Chronicles series has proven to be just as popular with the girls I meet at my school author visits as it is with boys.
And yet, I believe that, as parents, we can get caught up in the idea of  'books for boys' and 'books for girls'. Which got me to thinking about the best book series for boys AND girls.
To help me compile my list, I asked the 1500+ members of my Your Kid's Next Read Facebook group – made up of parents, authors, teacher-librarians, teachers and other interested parties – to come up with a list of the one book series they'd recommend for boys AND girls.
RELATED: 20 Really Good Book Series to Tempt Reluctant Readers
These are their top 20, divided into younger readers (7+) and older readers (10+), and many of them are written by Australian authors.  Where possible, I've also linked to a review of the series written by kids. A kid review is the best way to tell what the kids really think of a series.

Pin for Later: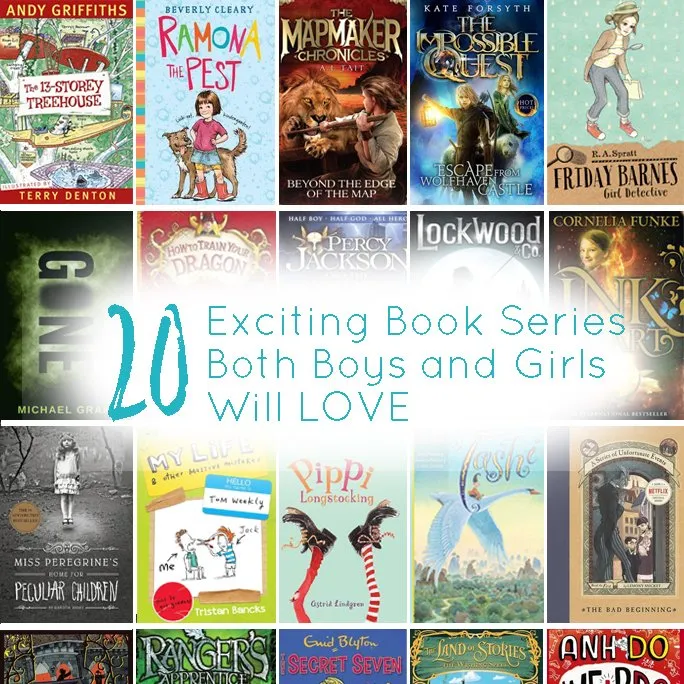 Book Series Boy and Girls Both Love - AU
Book Series Boy and Girls Both Love - AU #1

Click through the slideshow to find your kid's next favourite series.

The Mapmaker Chronicles – A.L. Tait (9+)

My series The Mapmaker Chronicles is popular with boys AND girls aged 9+. You can read a review by a kid of the first book in the series here. Book #4, Beyond The Edge Of The Map, is out now, click here for the review on Children's Books Daily.  Find out more about the series at themapmakerchronicles.com 

Image: Booktopia

WeirDo - Anh Do (Jules Faber) (7+)

There are now eight books in this funny, illustrated series about a boy with an unforgettable name and a crazy family. It's consistently listed in kid-voted book awards such as the YABBAs, and this year it's up for an ABIA award.

Image: Booktopia

Friday Barnes - R. A. Spratt (9+)

There are now six books in this series about a very clever girl detective, with book 7 due out in July 2017. When Friday Barnes solves a bank robbery, she uses the reward money to send herself to the most exclusive boarding school in the country. This series is a great combination of mystery caper and boarding school  story.

Image: Booktopia

Percy Jackson and the Olympians - Rick Riordan (12+)

This seven-book series, about a boy who is half-mortal, half-Greek god, has been a perennial favourite with kids since it was first published in 2005. Riordan has also written several other series combining action, adventure and mythology, including The Kane Chronicles and Magnus Chase.

Image: Booktopia

Inkheart - Cornelia Funke (10+)

This fantasy trilogy chronicles the adventures of 12-year-old Meggie, after she discovers that she and her father Mo have the ability to bring characters from books into the real world when reading loud.

Image: Booktopia

The Treehouse Series - Andy Griffiths (Terry Denton) (7+)

Impossible to ignore, the Treehouse behemouth rolls on this year with the release of the 91-Storey Treehouse in August 2017. Parents report that these are the books that even the most reluctant readers will queue up for. The 65-Story Treehouse won the 2016 ABIA Book Of The Year for Younger Children.

Image: Booktopia

The Ranger's Apprentice - John Flanagan (7+)

This 12-book series comes up over and over again the Your Kid's Next Read group, recommended for boys, for girls, for reluctant readers, for advanced readers of 7+. Ostensibly about a boy named Will who is training to be a ranger, the books take in friendship, adventure, life lessons, humour and more. Also worth a look for older readers is The Ranger's Apprentice: The Early Years series (see kid review), and John Flanagan's Brotherband series.

Image: Booktopia

The Ramona series - Beverly Cleary (7+)

A series of eight funny books about Ramona Quimby,  her family and friends. Written nearly 40 years ago, the books remain popular with readers today.

Image: Booktopia

The Mysterious Benedict Society - Trenton Lee Stewart (12+)

Four gifted children are chosen for a secret mission, and the resulting three books are full of puzzles, mystery and challenges.

Image: Booktopia

My Life - Tristan Bancks (Gus Gordon) (7+)

For fans of Andy Griffiths and Terry Denton, this is another funny, illustrated series, made up of short stories about a contemporary school boy. There are now five books in the series.

Image: Booktopia

The Impossible Quest - Kate Forsyth (9+)

This five-book series about four children who must go on an impossible quest to save their people from a spooky enemy.

Image: Booktopia

Miss Peregrine's Home for Peculiar Children - Ransom Riggs (12+)

This dark fantasy trilogy is not for all kids, with its blend of Gothic horror and other-worldly adventure, but it is very popular with readers 12+.  

Image: Booktopia

Pippi Longstocking - Astrid Lindgren (9+)

Pippi Longstocking is a red-haired, freckled, super-humanly strong girl who never wants to grow up. Her four best friends are her horse, her monkey, and her two neighbours, Tommy and Annika. Children love the unconventional Pippi!

Image: Booktopia

Lockwood & Co - Jonathan Stroud (12+)

There are now five books in this series about a Psychic Investigations Agency run by the charismatic Anthony Lockwood. Agents Lucy and George must solve mysteries and combat an outbreak of ghosts.

Image: Booktopia

Tashi - Anna Fienberg, Barbara Fienberg and Kim Gamble (10+)

This beautifully illustrated series about a brave, bold storyteller named Tashi has been a favourite with kids for more than 10 years. Each book contains two individual stories, and they're perfect for both reading aloud with boys and girls, or for newly confident readers. The language and storylines become more complex as the series progresses.

Image: Booktopia

Gone - Michael Grant (12+)

There are six books in this fast-paced action series and is centred around a town in Southern California where every human over the age of 15 vanishes.

Image: Booktopia

How To Train Your Dragon - Cressida Cowell (7+)

If you're looking for a way to ease your children from funny, illustrated books into more challenging reads, the Viking adventures of Hiccup Horrendous Haddock III and his friends and their dragons could be it.

Image: Booktopia

The Secret Seven - Enid Blyton (10+)

These classic tales of friendship, mystery and adventure are still going strong, and parents report they're just as popular today as they ever were, despite their nostalgic feel.

Image: Booktopia

The Land Of Stories - Chris Colfer (10+)

There are six books in this adventure/fantasy series about modern-day12-year-old twins and a mysterious book, which acts as a portal into the world of classic fairy tales. It comes up over and over in parent recommendations.

Image: Booktopia

A Series of Unfortunate Events - Lemony Snicket (aka Daniel Handler) (10+)

Older readers love this 13-book Gothic series about the plucky Baudelaire orphans, their murderous relative Count Olaf, and the narrator Lemony Snicket (both a pen name and a character).

Image: Booktopia