Big holidays and events may make our year, but it's the everyday moments that make our life. I'm very conscious that the way we spend our days and weeks and months together as a family really matters. When I think back to my own childhood, I barely remember the 'big moments' — an interstate move, an annual Queensland holiday, the birth of my brother when I was eight (sorry MT) — but rather the little moments: the way my siblings and I would play 'restaurants' while Mum and Dad served dinner; playing 'King Commands' to clean our shared bedroom (see below!); taking Mum's grammar and spelling class on Thursdays after schools; and receiving the latest chart-topper CD or must-have board game (think Twister, Operation, Boggle, you name it!) from Dad whenever he returned from an out-of-town job.
Kicking back together as a family, making up silly games and laughing until you cry, is something I think all kids deserve. Taking part in something fun makes a kid feel like they truly belong. Family fun is bonding, it's delightful, it's something to look forward to. Family fun is important.
Most families will have activities they love to do together: bowling, beach trips, bushwalking, bike riding… does all family fun start with the letter B? But it's the things we do that are ours alone that really make our family unique. These are the 'family rituals' that make up our days. The things our kids will consider when they are grown up and looking back.
Let me tell you about three fun family rituals we have at my house and the place they play in our family life. Afterwards, have a browse through the slideshow to find more family fun ideas that might suit your own family.
1. King Commands. I thought you might like me to explain this one! It's basically the coolest way I know to turn bedroom cleaning into something fun. Each person has a turn at being the 'king' and the others are the 'subjects' who have to obey the king's command. My girls share a room, so that's an easy group right there, but you can still band together and do one room at a time. The king will say, "I command you to pick up everything white." The subjects have to pick up everything white. Or "I command you to pick up all the clothes" and off the subjects go.
If you've got little kids (mine are currently 7, 10 and 11, but we've played this game since they were small), you can still play, but be realistic about how much actual cleaning will get done. By the same token, every now and then I make the mistake of leaving my kids to play King Commands without me and it can get messy (and I'm not talking about the room!). One kid will accuse the king of being unfair (eg. "I command you to pick up everything on the floor) and it's all downhill from there. Generally, I stay on to play referee, take part in the game and enjoy some quality time with the kids.
2. My Kitchen Rules. Dinner time has not been the same since I started letting the kids watch MKR. Not only does every meal I make get a rating out of 10 (no pressure, Mum!), but we all take turns playing different judges. Between Colin's Irish accent, Manu's French, Pete's Aussie and Rachel's English, the kids are also getting a fantastic linguistic education and some of the lines they come out with have had us all in stitches.
The around-the-table-game has extended to the actual kitchen too, with all three kids battling it out for a baking crown over the past few weeks. We've already enjoyed apple muffins made by Max and chocolate chip cookies made by Arabella. Lottie is up next and she's planning on making a Bomb Alaska… eeek! She insists her offering has to be a "competition dish." Always one that wants to take thing to the next level, isn't there? Usually the youngest!
3. Family Meetings. Now, ordinarily I wouldn't be putting 'meetings' on my 'fun' list, but hear me out. I genuinely find our 'every now and then' family meetings a blast. The kids love organising them (they set an agenda and everything) and even if the topics are sometimes very un-fun — cleaning up after ourselves, reducing sibling bickering, reducing general whinging, etc — somehow getting together to talk through issues, solutions and consequences makes family meetings very special indeed. The kids get a say in what goes on, the parents get to air our grievances and everyone gets to be creative coming up with solutions. If you don't have family meetings already, I highly recommend them!
How much importance do you give to everyday family fun? Do you have little rituals that are all your own?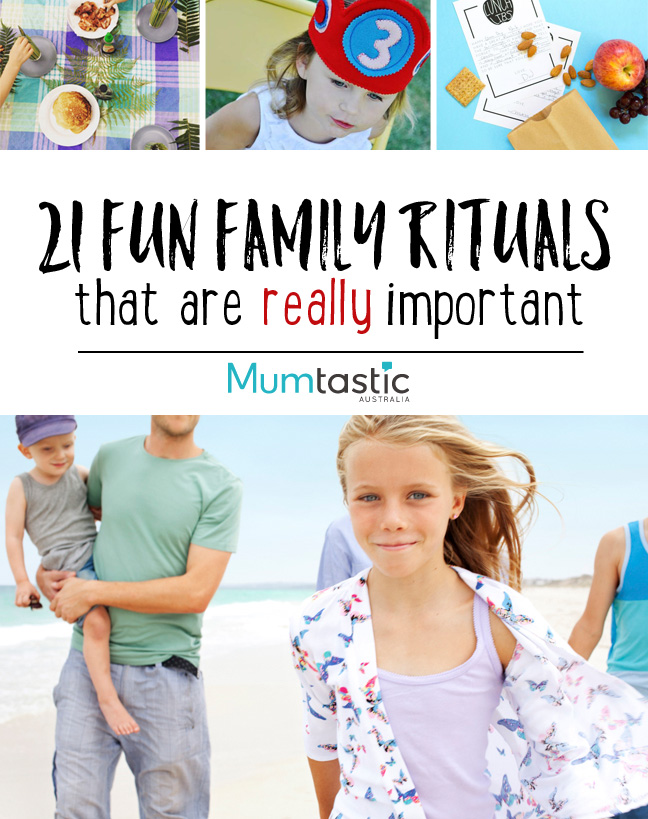 More ways to celebrate being a family:
Main image: Getty
Family Rituals - AU
21 Fun Family Rituals That Are Really Important

Click through for 18 more unique ideas for starting family rituals at your place.

4. Family Games Night

There's a reason that "old-fashioned" board games are still going strong in a digital world – they bring people together. Next weekend, ditch the 'family movie' and bring on the 'family Twister' or 'family Cluedo' or 'family Trouble' instead. There are games that are genuinely fun for everyone in the family.  


Related content:  Bring Back Family Games Night: All That's Old is New Again

Start with the round up of 40 Card Games for Kids at Delia Creates then move on from there:

Little Kids

School kids and up

Older kids and adults

Image: Kate Fairlie

5. Upping the Birthday Bonuses

Most of us get that birthdays are important and special and birthday kids all over town get indulged and treated. That's just the way it's supposed to be! But do give some thought as to how you can make birthdays into a special family ritual too. Birthdays just beg to be turned into memories.

Try one of these ideas:

Image: Susan Phillips

6. Keep a Family Gratitude Journal

Daily gratitude journalling has been a 'thing' for a while now. Most of us have caught onto the fact that being grateful makes us happier, but science has also confirmed that gratitude makes us physically and psychologically healthier too. Even better, it's a fun thing to do together as a family. Create a gratitude journal like this one by Polkadot Chair and encourage every member of the family to get involved. You can draw, write, take a photo of or cut out a picture of whatever it is you're grateful for. Working on the journal can be a daily or weekly practice, but whatever you choose, down the track you will certainly be grateful that you have this record of abundance.

If you're not sold on gratitude, here are some other ideas for family journal keeping:

What we learned today
What we did today
Favourite movies
Changing seasons in the garden
Food we eat
Best bit, worst bit
Daily drawings

Image:  Polkadot Chair

7. Shop for Food

Now, before you start panicking at the thought of taking the kids to the shops (gah!), let me explain: Supermarkets are not a family's friend. There is nothing even remotely fun about them and they have no business being on this list of family fun activities. But you knew that already, right?

No, forget the supermarket and shop for food at your local farmers' market instead. You may think you don't have a local farmers' market, but I can pretty much guarantee that you do. You can find yours by using the Australian Farmers' Market Directory.

If a supermarket is family fun kryptonite, then the market is Superman. It's just super-fun there for everyone. Mum and Dad get a really fresh cup of coffee, the kids get an apple so fresh they think it's a treat and everyone gets to pick out fresh produce for making yummy dishes during the week. I am 100% certain that our fortnightly trips to the local farmers' market are going to be an enduring memory for all three of my children.

Image: Maxabella

8. Lunch Box Loving

Do not underestimate the power of a little mum-note tucked somewhere to make a kid feel special. School lunch box notes are an obvious spot to put a little loving – you can put a joke inside, an encouring message, a note saying thank you or one of these sweet little Mad Lib Notes.  Something like this is a great way for a family to have fun together, even though they're not able to be together. My kids also love it when I tattoo a secret message on their banana or pop a special 'Friyay' treat in with their standard lunch.

Image: Chelsea Foy

9. Take Away Night

Growing up, on Friday nights we went to the beach year round for a fish and chip dinner.  If you can possibly afford it, a regular take away night gives you a break and provides a rhythm to family life. You might be the kind of family who experiments with a different kind of take away each week, or you might be the kind (as clearly my parents were) who like the same thing, year in year out until the kids leave home. It's totally up to you.

One thing I would highly recommend, however, is taking your take away away.  It's nice to have a meal outside once a week – at the beach (if you have one), a park, a friend's place or over to Grandma's. That way, a meal becomes an event.

Image: Maxabella

10. Family Memory Jar

Sometimes the best rituals are ones that keep on going for years. We have a fun ritual like that: our Family Memory Jar. Throughout the year every member of the family writes something they've loved about a particular moment on a card and 'posts' it into the jar. We read the cards on New Year's Eve and then I put them into a box labelled with the year that was – just in case anyone ever wants a special trip down memory lane. The cards have all kinds of things written on them from "8.1 We went to Disneyland Paris!" to "23.1 Max snorted milk out of his nose." It's riveting stuff, let me tell you!

Image: Maxabella

11. Celebrate the Seasons

We live in the city and for many of our friends the changing seasons are marked only by remarks like, "Isn't it getting cold?" or "It's finally warming up". But the seasons are so much more than hot or cold weather and a lovely family activity is to celebrate the uniqueness of each season throughout the year.  You might mark the coming of autumn with the first lighting of the fire pit and marshmallow mania. Winter chill could be marked by drinks and nibbles around the fireplace inside with friends. Spring is always good for a party – invite all your family friends around for a barbecue and nature hunt. Summer might be the first beach picnic or boating excursion.  In every season, you might also find an opportunity to do a home-based activity together, like:

Whatever you choose to do, do it each quarter as the seasons turn and do it annually, so it becomes a part of the rhythm of your children's days.

Image: Getty

12. Explore Locally

We all love travel and kids love a holiday, but affording one is not always on the agenda. Instead, we like to visit different areas of our own neighbourhood, treating the day as a day of 'travel'. We try to go every month to somewhere new and it's a different member of our family who chooses where we'll go next. My husb and I help the kids with their 'research', but  generally they have a pretty good idea all on their own. We've trained-it across the city to eat pho, visited a kids' market in a neighbouring suburb, been to the movies in a completely different part of town, hit up some amazing local festivals and been farm-gate shopping on the outskirts of our city. There is so much to explore, we've just got to challenge ourselves to get out of our daily routine and into a new part of town. I promise your kids will continue to surprise you with how patient they are when they are waiting to explore something new.

Image: Getty

13. Special Sunday Breakfast

On Sundays, my Dad would make 'Campfire Beans' and serve them up with bacon and eggs. They were the best and I'd love to be able to share the recipe with you, but my Dad is hanging onto it. I suspect he knows what a special place those beans have in his kids' and, now, grandkids' hearts and he doesn't want anyone else to take that spot. I get that. I want that – wouldn't you love to have a recipe that brings your family together like that? I know I'm definitely working on one.

In the meantime, it's Sunday pancakes at our place, eaten outside on the covered back deck, rain or shine. There's usually a few chickens clucking underfoot and someone always spills the maple syrup all over their pancakes (usually my son Max and generally accidentally-on-purpose). It's a wonderfully rambunctious and strangely calming way to start a lazy Sunday.

Image: Maxabella

14. Daddy or Mummy Dates

This is a particularly good one for families with more than one child. It's hard getting one on one time, isn't it!? A Daddy or Mummy date is such a great solution – you can do something together that you both like, but that others in the family might not enjoy so much. My eldest daughter and I love going to our local skate park together.  Arabella gets her skateboard out and joins in the fun, while I'm happy to watch and encourage her. One time I thought I'd "join in the fun" and ended up unable to sit for a week after stacking it. I think I embarrassed Ari so much that she's never wondered why Mum doesn't get involved. Rather, she's happy that we are there together, just us two.

My younger daughter and I enjoy ice skating together and my son and I go to the library. I adore spending time with each of them one on one, no matter where we go.

Image: Getty

15. Add a Hunt

I have always loved a scavenger hunt and my kids are massive fans too. Somehow, adding a treasure hunt to an everyday activity turns it into something memorable and fun. Take cleaning up, for instance. I create a 'treasure hunt' for the kids based on all the stuff they leave around the house. They then need to race around the house and find everything in the order I've set it out. They put their found items into a basket and then at the end of the game, they have to put their things away in order to receive a prize (usually a home baked treat or sometimes cold hard cash!). Result!

I also like to add a nature hunt when we go on a bushwalk or visit the beach. A list of things to find in nature occupies us for ages, especially when I put really obscure things on their that are genuinely hard to find. The harder the list, the more the kids seem to love it. Just don't go overboard and make it impossible because the frustration will turn them off lists for life.

Image: Getty

16. Actually Fun Run

I'm not the most active person in the world, but I do love a good walk and sometimes a run. The best thing about it is that I can do it with my kids. We have been in a few 'fun runs' over the years and they are genuinely good fun. The Colour Run and the 7 Bridges Walk are our favourites, but there are lots of small, local fun runs that are good to get involved in. You don't have to run in a fun run – walking is perfectly acceptable and any old pace is fine. The atmosphere on event day is what makes us keep coming back (because, it's face it, we can walk around our neighborhood any old day). Kids really thrive on the crowds and the 'running for a cause' ideal. The fundraising can be half the fun.

Image: Getty

17. After Dinner Stroll

The benefits of walking for individual health have been well documented and the benefits are just as wide-ranging when a family heads out together. Kids benefit from developing a healthy habit from a young age plus walking makes you feel good, especially when you're out and about experiencing the world with your family.

No doubt about it, walking is good for the soul and the older our kids get, the more we find that a walk helps them open up about their day. A wind-down walk around the neighbourhood after dinner is a good way to surrender the day and talk about tomorrow.

Image: Getty

18. Go to a Festival

It doesn't matter what festival you go to, just as long as you go. We try to go to something every year because family-friendly festivals are awesome fun for everyone. So far, we've been to the Mullum Music Festival (pictured), the Byron Bay BluesFest, Woodford Folk Festival,  Henley on Todd and Confest. You can find a suitable festival for your tribe here or ask your friends whether they've ever been to one.

Image: Maxabella

19. Family Sleep Overs

It's fun when one of the kids' friends comes to sleepover, but even more fun when everyone has a friend to sleepover at the same time – including mum and dad. Actually, that sounds a bit cheeky, doesn't it, but you know what I mean! We have friends who live interstate who come to 'sleepover' once a year – they have two girls to match my two  and then my son, Max, gets to invite a school friend along for the weekend. So everyone has a buddy. We eat outside and stay up late and because nobody has to drive, it can be a very big night indeed!

It's great fun, but I will warn you that the house gets trashed and none of the kids sleep very much. That's the stuff childhoods are made of, right?

Image: Getty

20. Go Fishing

Fishing is all kinds of naff when you think about it, but it's still a really nice way for a family to spend time together. We've been many times and actually never caught anything more interesting than a toad fish, but that doesn't seem to stop us from packing up the bait and trying our luck again and again.

There's a reason for that: spending quiet time together as a family opens space for important things like idle chat, silly jokes, peaceful silence and shared memories. I highly recommend it.

Image: Maxabella

21. Full Moon Walks

My friend's family goes on a late night bushwalk once a month on the full moon. I really like the idea of that. Doing something 'on the full moon' seems special and it's a great way to make sure you actually do something monthly, rather than just say you'll do it. The walk doesn't have to be a long one, even a stroll around the block to admire the rising moon is a nice idea. Observing the moon's activity gives kids a real sense of place and time. It adds to their sense of wonderment about the world and how they might fit into it. Walking at night can help them feel more comfortable with the dark too, showing them that it's just the same old world with the lights turned off. These are all such important elements of a rich life to nurture in our children.

Image: Getty