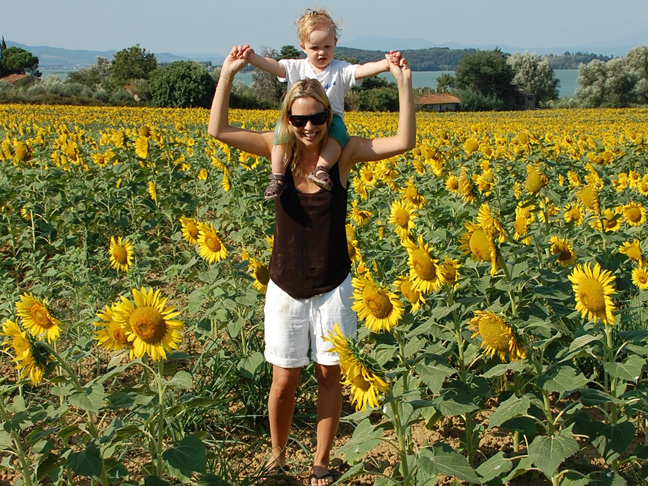 Escaping the day-to-day madness of real life for some quality family time is something I look forward to all year, but what I don't look forward to is getting to those shared family moments. Traveling with my family can be a circus — and I play ringmaster. However, through the years of traveling with our toddler (and now with our newborn, too) I've come up with some tricks that help make our journey as smooth as possible.
Dress smart from the start. We all have travel uniforms. Planes can get very cold or very hot — and though I check my weather channel apps, I never know exactly what the temperature is going to be in our destination. SO after some frigid flights — and then arrivals in seriously HOT climates where we were sweaty and uncomfortable in the car journey from airport — we now have our travel uniform: T-shirt, long-sleeved shirt, hoodie zip-up sweater, and cargo pants. The layering is key for stripping down or bundling up. The hoodie also can act as an eye-mask for kiddos for airplane snooze time. Cargo pants are brilliant for hiding secret toys in the pockets and providing extra storage for mobile phones, passports, etc. I also always bring a spare T-shirt for the boys as well as myself; if one of them spills something, it will inevitably get on me as well.
If you're potty training, go for the pull-ups. Having an accident in real life is no big deal. Having accidents on the plane is less desirable. So for the plane ride and car ride, there is no harm in bringing along the pull-ups. Also with babes, bring extra nappies. I always pack one nappy per hour, so if the flight is five hours, and there is an hour to get to the airport, an hour at the airport, and an hour to get to the final destination, then I pack eight nappies. It does seem like there are a lot of them, but there ARE flight delays which can be fine if you are in an airport with shops that sell diapers — but four hours on the runway on either end is NOT useful. You will never regret packing more and having a few left over that you don't use.
Download some kid-friendly apps for the plane. Whenever I've relied on the onboard TV entertainment there's inevitably been a glitch and the system isn't working. So instead I pre-load our iPad with favourite movies, TV shows, and apps. My new favourite discovery is an app available on iTunes called Hop Hop Hen. Our son Max, who is 2, LOVES this app. He practices letters with flashcard songs, jigsaw puzzles, letter tracing, and it keeps him entertained for hours. Just remember to charge your iPad before takeoff AND pack along kiddie headphones, so the rest of your plane doesn't have to hear the alphabet rhyming tunes.
"Brand" your child. A friend gave me this tip. At first I thought it was a bit extreme, but I've never regretted doing it. Now that I'm juggling a speedy toddler and a newborn (and always a husband), I will forever be branding our children. I write my mobile number on the top of Max's hand so that if he is ever to wander off, my contact information is right there. I've also told him to point to it and show people. It doesn't make me more comfortable in letting him run around and I always have a tight grip onto him, but it also makes me feel prepared.
Don't forget the first aid kit. I've made up a mini first aid kit in a small plastic cosmetic bag with all the essentials: band-aids, antihistamines, sachets of painkilling syrup, a sticker sheet (for soothing any tears), and a couple emergency "just-in-case" zip-lock bags. I've never actually had to use it on a flight but I have shared its contents with fellow travellers who have been in need, so I'm always happy to have it tucked away.
Bring along some new toys. It isn't about packing Santa's sled in your carry-on, but a couple new toys and new books do provide hours of entertainment. A new item keeps our toddler occupied longer than one he has already seen, and I wrap up the toys so that even the unwrapping of the toy burns up some time. Activity sets, small play-doh pots (and mini shape cutters), and small animal figures or characters from his current favourite movie or TV show seem to be the most effective.
Pack lots of snacks. I always bring food and snacks with me when we travel. Of course, you can always find food for the kids to eat, but I've found that if Max is happy and satiated, then the rest of the family is happy. Mini meatballs, small sausages, boxes of raisins, bananas, and clementines all travel well and keep toddlers happy. I also always bring extra formula with me; again, you never know when delays can pop up — on the runway or off — and hungry children do not make for happy children.
Stash your kids' bedtime favorites in your carry-on. When we've taken overnight flights with the children, we have found the most success when I've packed along the nighttime comforts that the boys are familiar with. So we bring favourite pajamas and nighttime cuddle muslin (Max's favourite is from Aden & Anais).
Prepare to be patient — and unhurried. Pack patience and extra time, tie it up in a big red bow, and make sure you can access it at a moment's notice. No seriously, traveling with kids takes both. Leave EXTRA time at the airport, much more than you would normally leave if you were traveling alone. Everything takes longer with children, from the security check-in to walking to the gate, to buying magazines for the flight. Needless to say, patience is important for any parent, but especially for traveling. I always remember that I will, at some point, get to my destination, even though there might be delays and detours along the way!
Photo: Marissa Hermer