I've never been a gym rat. I get most of my exercise living my daily life and walking just about everywhere.  Still, with mostly walking and an occasional Zumba class, I've managed to lose 73 pounds. It's true!
On a walk with my Fitbit Zip!
Recently, though,  the scale started creeping up on me. I suspected that I might not be moving as much as I thought I was. So, after polling all of my social media friends, I purchased a Fitbit Zip to help me achieve a goal of 10,000 daily steps.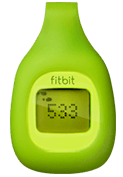 The Fitbit Zip
is the least expensive device in the Fitbit line of fitness trackers. It retails for $59.95 (though I found it on sale at a local "big box" store for $49.95) and I've found it gives me all the info I really want to know:
How many steps I've taken
The distance I've traveled
The number of calories I've burned
It even lets me track my weight, my food and water intake AND shows me how many steps I've taken compared to my friends who also wear Fitbits.
The interactive Dashboard, which tells me at a glance how I'm doing
The interactive app, which wirelessly syncs with my Fitbit Zip (this means I can wear it clipped to my bra and check my progress throughout the day without flashing anyone)
The price was comparable to a good, traditional pedometer that only counts steps
You only pay for the device; there's no charge for the app or access to the website features
It comes in so many fun colors. I got pink, of course!
A glimpse of my Fitbit Dashboard
Fitbit also offers more "premium" devices such as the Fitbit One and the Fitbit Flex, retailing $99.95 each. These devices track the same data as the Fitbit Zip, but they are waterproof. They also monitor your sleep and will even wake you with a silent alarm.
I really have no complaints about the Fitbit Zip. In fact, I'm pretty much addicted. Put it this way: I don't get up to use the bathroom in the middle of the night without grabbing my Fitbit. TMI?
During the first week I wore the device, I walked an average of 8,000 steps per day. After just a month, I'm now walking about 12,000 steps a day! Best of all, the scale is moving again…in the right direction.
If you're looking for a way to dial up your daily fitness, I can't recommend the Fitbit Zip enough.
For more info visit http://www.fitbit.com/zip