Decorating any shared living space presents a challenge, and finding twin nursery ideas that work both thematically and within the constraints of your home can be especially difficult. Babies are so tiny, but their equipment takes up so much room. Cribs, rockers, changing tables, toy bins, and more all can make decorating a stress-inducing task. But maximizing your space, while still making everything look cute doesn't have to be an impossible feat.
One of my dearest friends once sought twin nursery ideas for her impending son and daughter's arrival. She debated keeping the twins' nursery all neutral with greens and yellows, but that didn't match her and her husband's style. She was also living in a small home, and space was at a premium. Even though that was years ago, I remember poring over magazines for ideas that were stylish yet efficient.
When it comes to twin nurseries, less is definitely more. You can't avoid having to buy two cribs but your little duo can share most everything else. Let these twin nursery ideas inspire you!
More twin nursery inspiration:
Like what you see? Don't forget to Pin it!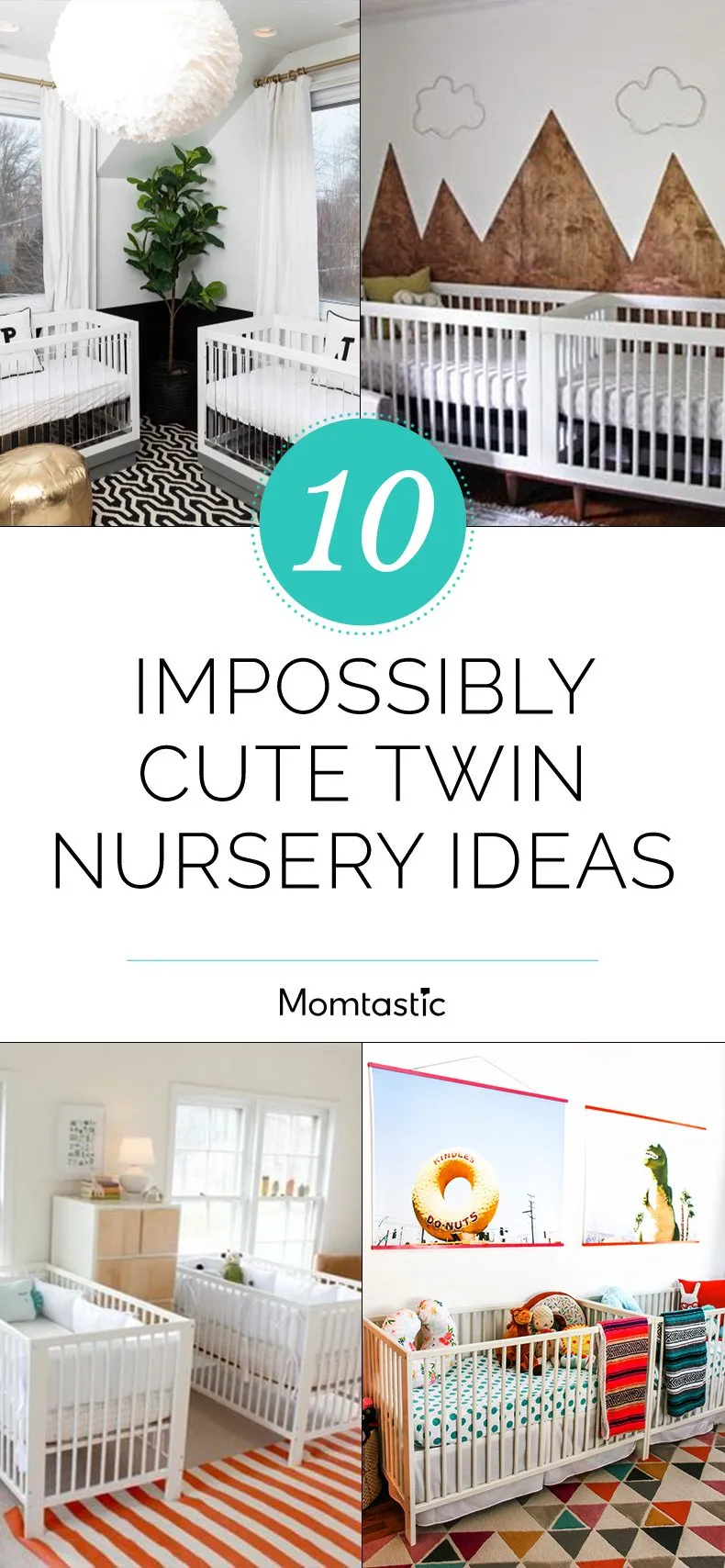 10 Impossibly Cute Twin Nursery Ideas
Bright, Bold Nursery for Twins

Colorful patterns and large-scale prints make this nursery a delightful sight for your twins' developing eyes. 

Source: Salted Canary

Woodsy, Gender-Neutral Nursery for Twins

A full-length mountain mural grounds these two cribs, which take up an entire wall of this gender neutral nursery for twins.

Source: Something Like a Project

Multitasking Nursery for Twins

A changing table located between both cribs makes wiping and diapering either baby a breeze. No trips across the room necessary.

Source: Petite Interior Co.

Minimal Nursery for Twins

Lots of white and light wood accents make a nursery for twins a blank slate that you can tailor to each kiddo when their individual personalities start to shine.

Source: NashStyling via Project Nursery

Cozy Nursery for Twins

A couch across from cribs means you can spend your sleepless nights in comfort while you cuddle and feed your kiddos.

Source: Sara Touijer

Modern, Graphic Nursery for Twins

Scientists say that newborns can only see in black and white, and a graphic nursery like this one will give your twins quite a show.

Source: Style Me Pretty Living

Double-Duty Nursery for Twins

A recliner next to each crib makes it easy for you and your partner to divide and conquer for bedtime snuggles.

Source: Casa & Diseño

Boy/Girl Nursery for Twins

A white palette with soft touches of pink or blue can differentiate which crib belongs to your boy and which to your girl.

Source: Kids Room Ideas

Picture Perfect Nursery for Twins

Give each baby's side of the room a personal touch with a framed close-up photo to hang above their cribs.

Source: Architecture Art Design

Space-Saving Nursery for Twins

Fitting two cribs in one room can be a challenge, so you might have to get creative with crib configuration. An L-shape can take advantage of a corner in pinch. 

Source: Calmly & Chaotic