Map out a plan

You can't wing this—you need a coherent strategy. Draw out on a sheet of paper how you run the extension cords to the outlets, as well as where you place spotlights, timers, etc. This will help you figure out approximately how many strings of lights, outlets, and extension cords you will need. Having an "outdoor floor plan" (so to speak) will make it much easier to see how you connected the array of extension cords, lights and timers every year. Also, don't forget to save this plan; I tape mine to the lid of the box where I store all our Christmas lights.
Work in the dark

When stringing lights, work in the evening. Sounds counter intuitive? Here's why we reccommend this: it allows you to see that you are stringing the lights evenly. Stand back and squint your eyes while looking at the lights‐this puts them into focus and you can see where you may need to add more or less.
Dress for the part

If you live in northern climates, it is going to be cold outside. Dress warm. To keep your fingers warm, cut the tips off of a pair of old gloves. This way your hands will be warm, but you will still be able to grasp lights and work easily with your fingers. Also a bonus tip: play music! (It keeps you warm.) I bring speakers outside and set up my holiday playlist of my favorite Christmas music so that while I am stringing lights, I get in the spirit. I also have a travel mug filled with steaming hot chocolate to warm me as I work.
Always read instructions

If a package of Christmas lights indicates that they are for indoor-use only, heed that advise. Same goes for extension cords in your yard. Check out The Home Depot to find outdoor extension cords in various lengths. Choose green/brown cords so they blend in with the landscape.
Once and done

Put all the lights on an outdoor timer; it's way more efficient than doing everything manually night after night. This way you can forget about having to remember to turn 'em on each evening and you will be welcomed home when you get home from work every night to a festive light show.
Have a smart outlet strategy

Use multiple outlets; loading too many plugs into one adapter increases the risk of heat build up at the connection, which can trip the breaker or worse start a fire. Use multiple outlets so the electrical current is distributed evenly. Using LED light removes the chances of an overloaded circuit.
Overshop

Buy more light sets then you think you will need. There will always be one (or more!) sets that won't light or makes the rest on the line go out. This will save you time and frustration and no need to have to run back to the store right in the middle of setting up your outdoor holiday decorating.
Shop at The Home Depot

Check out the holiday section at this fabulous store for awesome outdoor inflatable decorations, glittery Christmas lights, and anything else you need. Take a stroll through the aisles for fabulous holiday decor inspiration.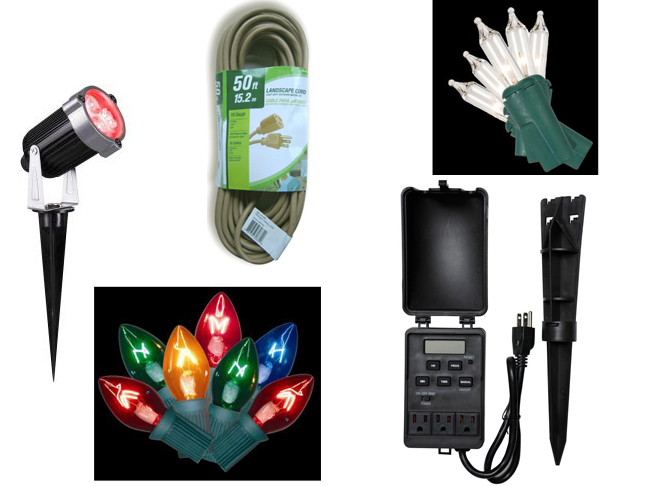 This post was sponsored by The Home Depot.