I am in major purging mode in my home right now – going through each room – getting rid of the little junk I no longer need or want. 
After this clean sweep of things I am trying to make it a priority to decoratively organize what is left.  I want my house to feel fresh and new to start the summer off right. 
This week I tackled my desk/junk drawer in my kitchen. I should have taken a before shot, but then again – you probably have a drawer in your own home that looks like mine did, so no need – you know what it looked like – a mess!
I enjoy the challenge of trying to find ways to recycle, reuse, and re-purpose items as it not only saves me money, but be "green" at the same time. 
I love baskets – little one.  I have been collecting them since I was a teenager.  I find them at thrift shops and yard sales very inexpensively.  They are all different, but have one thing in common they are all square or rectangular in shape.  I just love the way they all fit together like a jigsaw puzzle when placed in a drawer, plus no lost drawer real estate.  When you use round objects to organize you lose a lot of valuable space.
Most of the time the baskets I find have handles on them, but I simply cut the handle off with a pair of scissors.  After cutting it off you may have to move the stump back and forth until it comes out.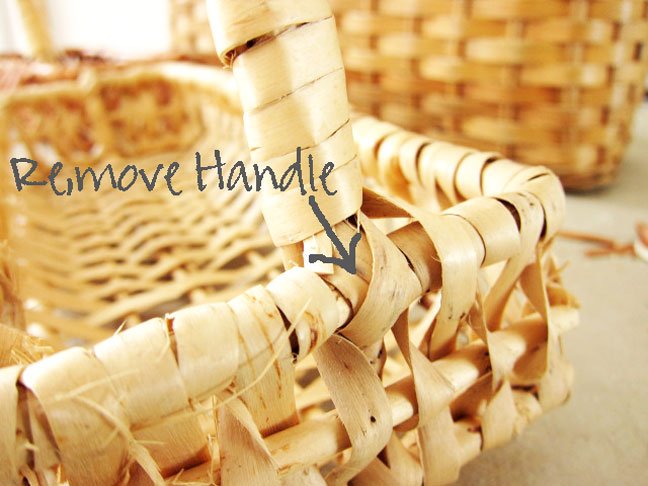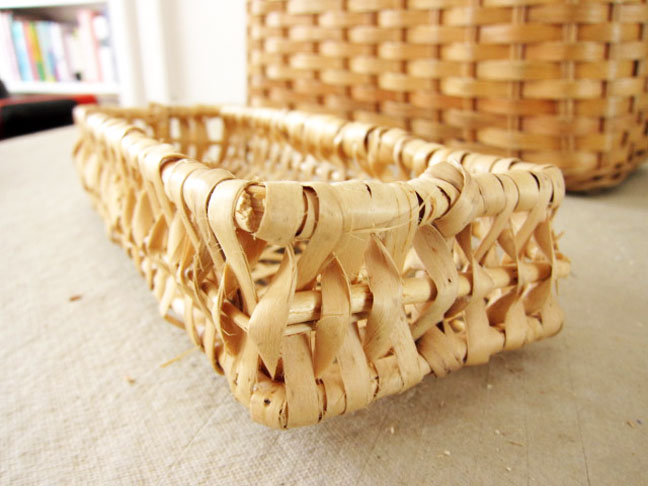 Using small to medium square or rectangular baskets can also help you tame your plasticware cabinet.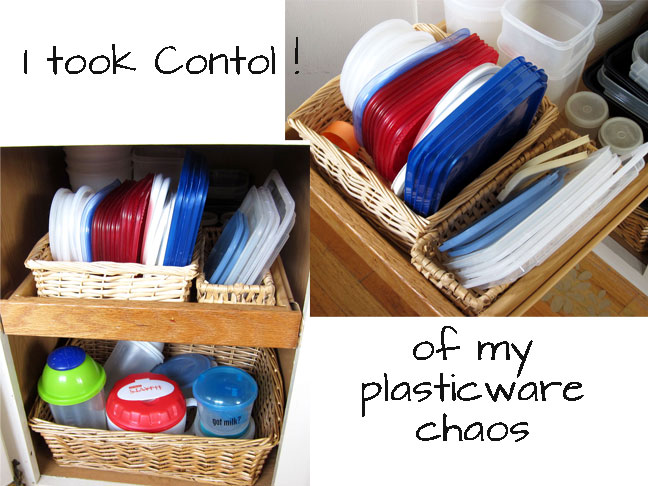 Looks pretty and so easy to maintain.
Before arranging the baskets in my drawer, I lined it with summer blue wrapping paper. It adds a pop of color and interest.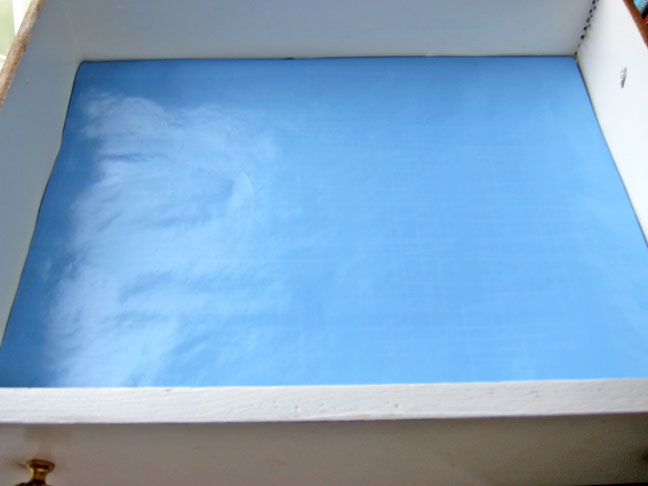 Here area few creative and stylish desk/junk drawer organizers I found that re-purpose common household items and may inspire you to tackle your own drawers.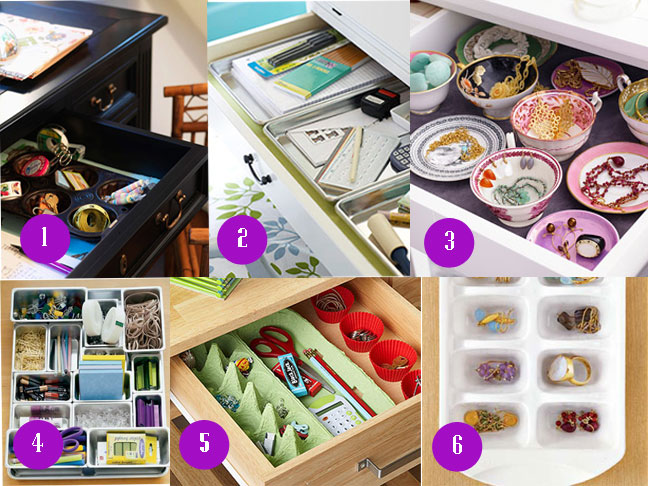 Cupcake Baking Tins  The shape of the tins is rectangular so this idea passes my no lost drawer real estate test.   This idea looks smart.  Photo: Better Homes & Gardens
Baking Sheets   If you have very large drawers then this is a very modern way to corral all the stuff that accumulates.   Photo: Better Homes & Gardens
A Collection of Pretty Teacupsplaced on a no-skid surface. This looks so  pretty, but I think the teacups would shift when the drawer is opened.  I think this idea would work better if the teacups were placed on a decorative tray and used on top of a desk or dresser.    Photo:  Martha Stewart
This is a purchased drawer organizer, but you can do the same thing using the cardboard gift boxes you get when you buy jewelry at a department store– use both the lid and box. They will be different heights, but that won't matter – the lid could be for paperclips while the taller bottom section will hold something taller.
Egg Cartons   This idea passes my square rectangular test.  You can't put a lot in each of the slots, but it would keep things in their place.   Photo:  Better Homes & Gardens
Ice Cube Trays  Passes my test, too.  Photo: Real Simple
Here are a few more square/rectangular storage container ideas that you can make by re-purposing.
Shoe boxes – fit various sizes into drawers to get the perfect fit
Cigar Boxes – remove lid if desired.
Gift boxes you get when you buy jewelry at department stores
Plastic food containers that Hillshire Farms lunchmeat comes in
Baby wipes containers – cut lid off if necessary if hinged.
This is only a short list. How do you organize your desk and junk drawers?