When you've got kids, your decorating strategy changes; when you have six of them, "decorating" is typically abandoned altogether.  But not if you're Gabby Blair — she's called Design Mom for a reason.  She's managed to turn her house full of kids into a vibrant, stylish home, and she shares with us how she did it.
All photos courtesy of Gabrielle Blair.  Visit her ultra-fantastic, must-read blog, Design Mom, for all sorts of mom-friendly inspiration and projects.
As a mom of six, what was your strategy and/or vision when decorating your home?
I try really hard to find pieces that age well — that will still look cool with dings and scratches. For example, when it was time to buy kitchen chairs, we went with Emeco Navy chairs. I have loved the look of them since I was introduced back in design school and they were originally built for Navy ships, which makes them pretty much unbreakable and easy to scrub down. You really can't hurt them, and the scratches just add character.
Another example is the table we built for the dining room (which we use as an arts and crafts room). Since the methods we used to build it included it beating it up with hammers and using rough materials, it's really hard for the kids to do any damage to it. We've had it a year now and it has a good number of paint splatters and stains but it still looks great.
Where do you tend to shop for home decor?
I'd like to think I shop exclusively at independent artisan-based shops, but the reality is, time is my most precious commodity, so I end up picking things up at stores that are close to me, or where I'm already running errands — like Target (I heart Target). Right now, there's a Home Goods near me and I stop in at least once a month. I like picking up throw pillows and lamps and kitchen serving pieces. But my last house was no where near a Home Goods and I never shopped there ever. Across from the Home Goods is my favorite antique shop, so I frequent it as well. It's where I found the cute bottles for my changing table.
How do you see the style of your home evolving as your kids grow?
Well. It definitely stays cleaner, because the kids are often out of the house at school or extra-curricular activities. It's nice to have less mess, but I sure miss my kids when they're gone. As far as style goes, I do try and update things as their tastes change. Most recently, I redesigned my 12-year-old son Ralph's room to make it feel more grown-up.
What are your tips on how to successfully combine form and function?
My best tip: be patient. Take time to figure out what the best solution is for the space and then take time to find the pieces to fit that solution. I don't always follow this advice. Sometimes I just make a quick decision to purchase a "fill-in" piece while I wait to find the perfect piece. But it's a bad idea, because the "fill-in" piece inevitably ends up becoming "the permanent piece" and always feels not-quite-right.
What spot in your home is the one where everyone gathers most?  What makes this room work?
The family room. The light is good, it's close to the food (right off the kitchen), there's a cozy fireplace in the winter, it has a great view of the backyard, and it's where we keep all the musical instruments (piano, trombone, guitars) and the stereo, so impromptu jam sessions and dance sessions happen a lot.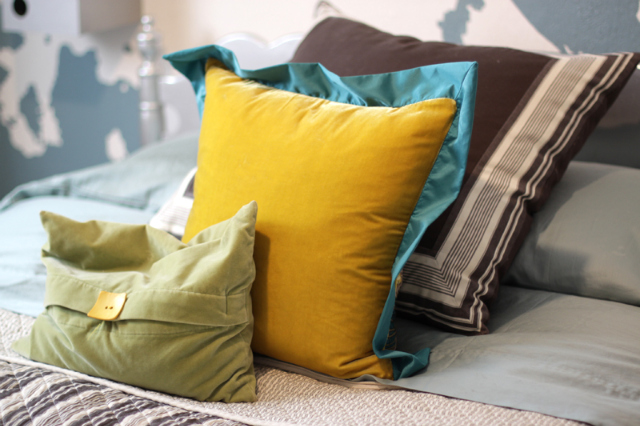 If you could only choose one thing to do to update the look of a room, what would it be?
Lighting. Lighting makes such a difference. Make sure there's good looking lighting. And that there's enough lighting. If in doubt, add another lamp or open a curtain.