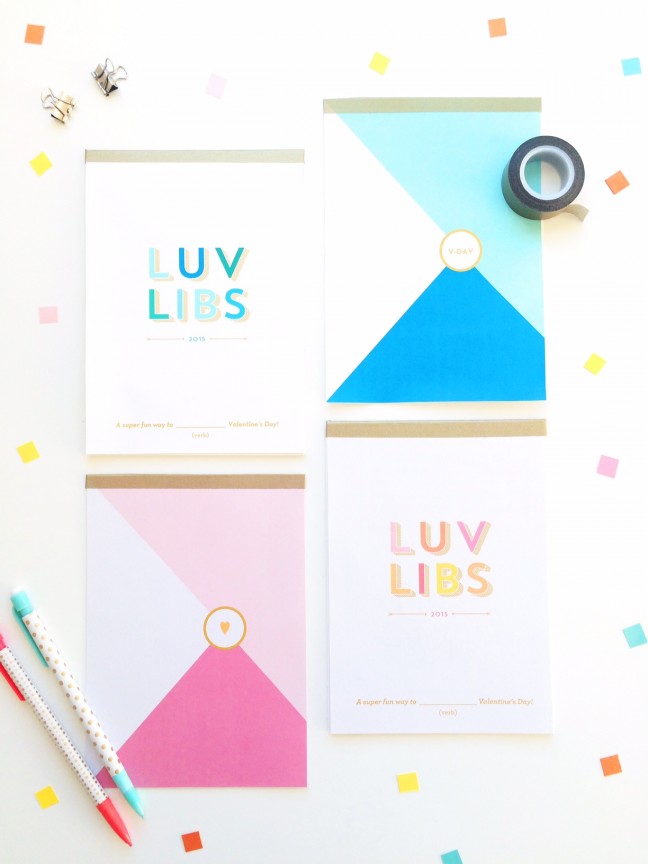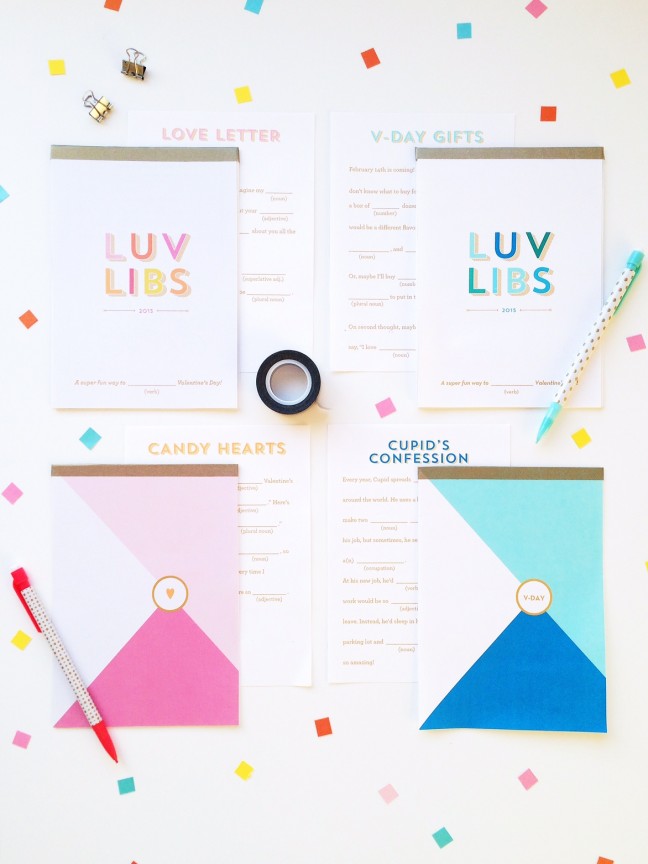 I love reading. I mean, hardcore L-O-V-E love. As a kid, I read books at the dinner table, in the car, and under my desk at school. So, I've been anticipating the day when kiddo could read really well, and that day has finally come. She loves writing her own stories, so I wanted to introduce her to a new way to write. Valentine's Day is right around the corner, so I designed these Mad Lib inspired Luv Libs notebooks. She really liked the blue/green notebook, and her little sister has claimed the pink/orange color for herself.
She'll get a kick out of reading and writing her own wacky stories in these Mad Libs notebooks, and I'll cackle like an evil genius as I slyly drill the meaning of adverbs, adjectives, nouns, and verbs into her unsuspecting head. Mwahahahaha!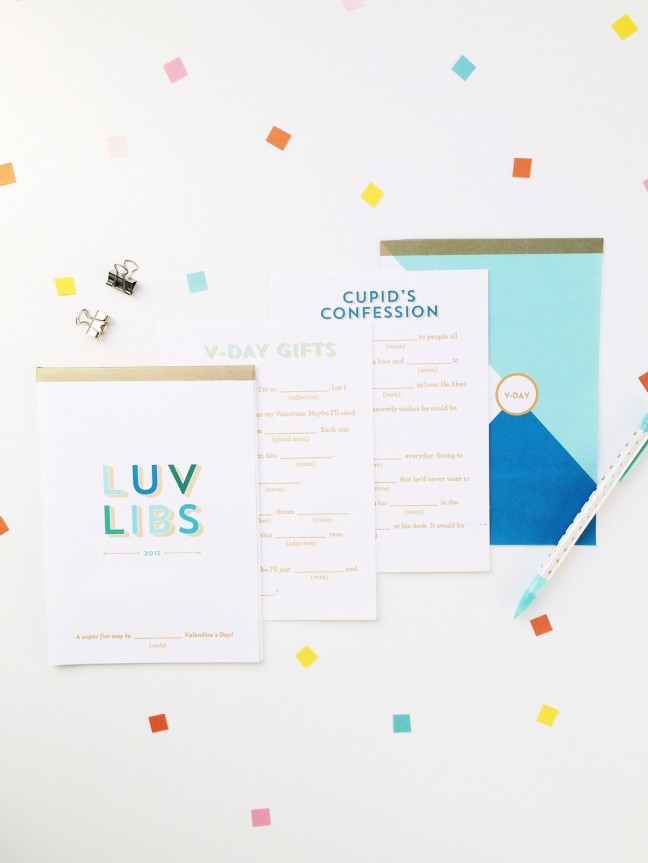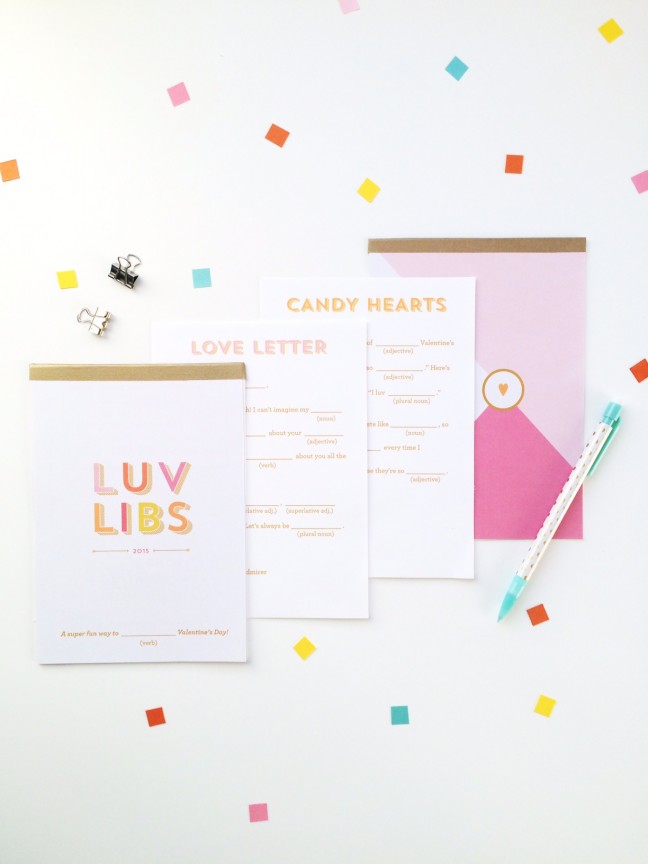 My girl is obsessed with Pokemon, My Little Pony, and Pac-Man, so I'm sure this will make for some interesting, silly Luv Libs.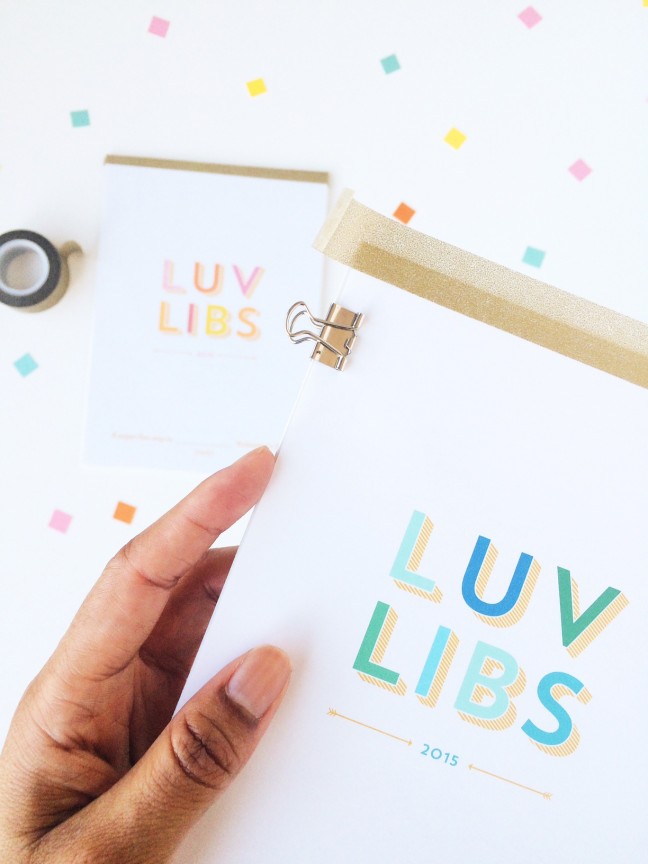 Supplies:
our Luv Libs notebook cover template
8.5″ x 11″ sheets of white scrapbook paper
paper cutter or scissors, pencil, and ruler
hot glue gun and sticks
binder clips
washi tape

Instructions:
Step 1: Print the Luv Libs cover and insert color of your choice (pink/orange or blue/green) onto scrapbook paper. Using a paper cutter or scissors, cut just inside the guidelines for each template.
Step 2: Stack the game cards and sandwich them between the front and back covers of your notebook. Secure the paper stack with two binder clips. Run a generous line of hot glue in a zigzag pattern across the top edge of the stack, and set aside to dry. 
Step 3: Cut a length of washi tape about 8″ long, and center it along the top edge of the notebook. Adhere the tape to the front cover, fold it over the edge, and adhere it to the back cover to create a decorative binding. Remove the binder clips.
Photos by Shauna Younge of Sweet Tooth
More Valentine's Day Crafts for Kids: