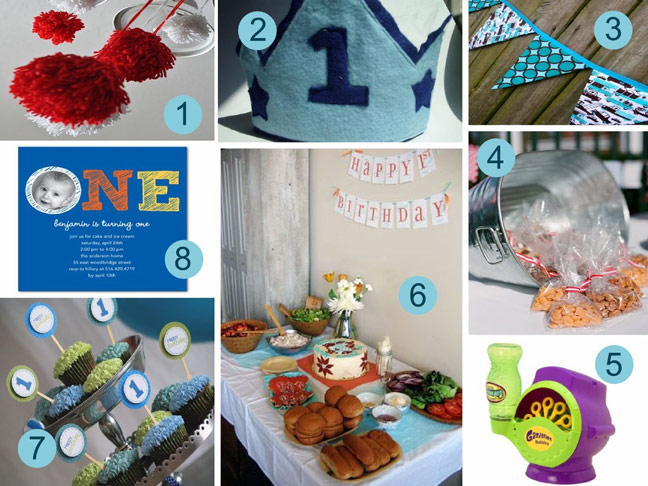 Celebrate your son's first birthday with these fun, easy ideas to make his big day both kid and adult-friendly!
1.  DIY yarn pom poms from At Home with Kim Vallee
2.  Birthday crown from Tami's Cozies
4.  Perfect party snacks from The Tillman Family
5.  Bubble machine from Gazillion
7.  Cupcake toppers from Polka Dots & Pirates
Sure, your little guy is only turning one, but most likely you can see bits of boy in him already.  So when planning a party to celebrate his first year, Why not go with it?  Send out cute invites that scream "boy!" and think blues, reds, and greens for your party decor.  Adorn the birthday boy with a fun crown and set up a bubble machine to entertain him and other little guests.  Instead of serving a sit-down meal, make it easy on yourself by setting up a food table where adults can help themselves to grub as they wish.  Cupcakes are a fun alternative to a birthday cake, and food picks decorated with a big "1" are an easy, adorable way to make your spread festive.  And don't stress over favors: little hand-tied baggies of baby-friendly snacks will make everyone happy!