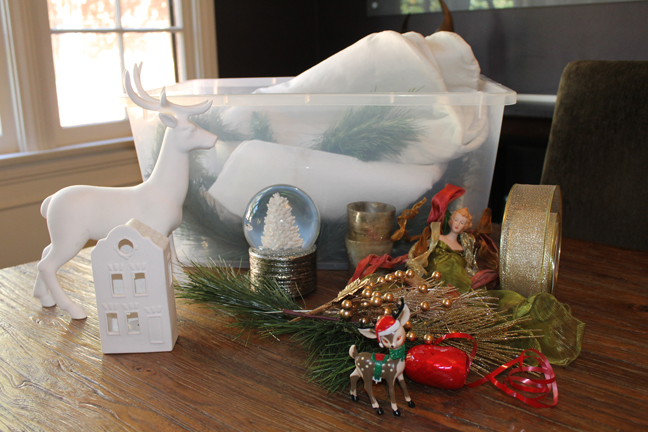 Somehow when you're a mom, the year goes by in the blink of an eye… but come holiday season, I always slow down and take time to enjoy the non-stop lineup of get-togethers, gatherings, feasts and festivities.
While I love Halloween and adore Thanksgiving, Christmas is my favorite by far. I get giddy and flit around for the month of December like some overgrown she-elf, humming carols and tossing glitter on everything in sight! Not only is it the best time of year, but it's the best reason to throw a party!
In order to enjoy Christmas-time entertaining and put together a party that's fun for me and my guests, I try to be as organized as possible. Here's my (almost foolproof!) step-by-step guide to cleaning, organizing, and preparing for the fun holiday season that lies ahead.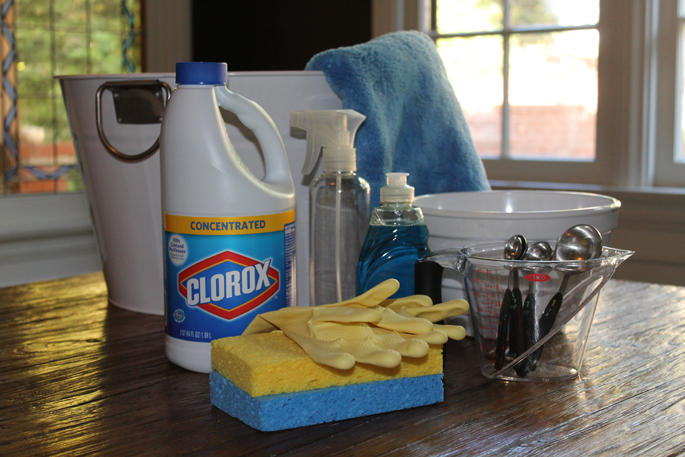 STEP 1:  CLEAN
Cleaning may not be the most appealing activity, but nothing stresses out a hostess like spotting a dust bunny or cobweb just as guests are arriving. You want your home to look and smell super-clean and party perfect. Hassle-free holiday entertaining requires heavy-duty cleaning beforehand—this is the time to bring out serious supplies to get the job done right. Number one on my list: Clorox® Bleach. We all know bleach is a winner when it comes to getting out laundry stains, but it's also a hardcore dirt disintegrator that disinfects, whitens, and kills 99.9% of germs and bacteria which is pretty much what you need before inviting several dozen friends, cohorts, and work colleagues into your home. So, bust out the bleach, buckets, brushes, and rubber gloves and get to work!
Spray, Shine, Sparkle…
Create your own all-purpose home disinfectant and cleaner by diluting 1 tablespoon of Clorox® Bleach in 1 gallon of hot water. Pour the solution into a clean spray bottle and spritz it onto paper towels or rags to wipe down countertops, plastic lawn furniture, tile, and more. I like to add a few drops of essential oil as well to bring some natural fragrance to my home. (Just be sure not to mix the solution with ammonia or other household cleaners). Your surfaces will sparkle and shine!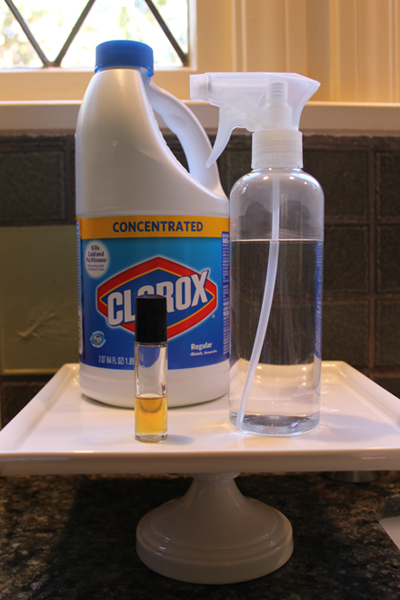 Beautiful Bathrooms…
I live with three kids under the age of ten (two of them boys) which means the bathrooms in our house are almost always in need of a good scrubbing. On ordinary weeks they receive an ordinary cleaning, but when guests are coming, I go into heavy-duty mode… Clorox® Bleach to the rescue! My secret weapon for sanitizing commodes, nixing shower mildew, and removing water stains from glass shower doors is a solution of hot water and bleach. You can also wash vinyl shower curtains in the machine with warm water, bleach, and detergent. Rubber shower mats can be soaked in a solution of 1/8 cup bleach in 1 gallon of water for 3-4 hours. Use a solution of Clorox® Bleach and hot water to get mold and mildew off non-porous surfaces like porcelain and tile. You can even wage war on dirty grout by spraying it with a solution of equal parts bleach and water–let it sit for 15 minutes, then scrub with a brush and rinse.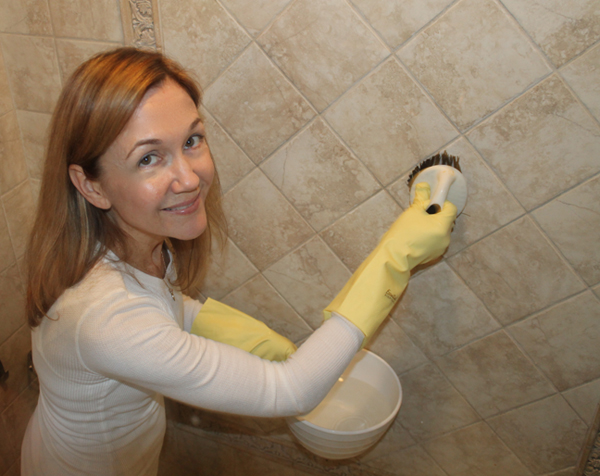 Pretty Porcelain…
Most of the year, partying with paper plates and plastic cups is a good option, but at Christmastime I like to class it up and bring out "the good stuff." Now's the time to restore smudged white porcelain to its original brilliant shade. Dingy candleholders, serving platters and plates often need an extra dose of cleaning, and you can do it with undiluted bleach. Protect your work surface with heavy plastic or a drop cloth and make sure to work in a well-ventilated area. Place several white paper towels on the bottom of a porcelain item and carefully saturate them with undiluted bleach. Let soak for 15-30 minutes, then rinse and wipe dry with a clean towel. Don't try this on colored porcelain or antiques, since fading can occur.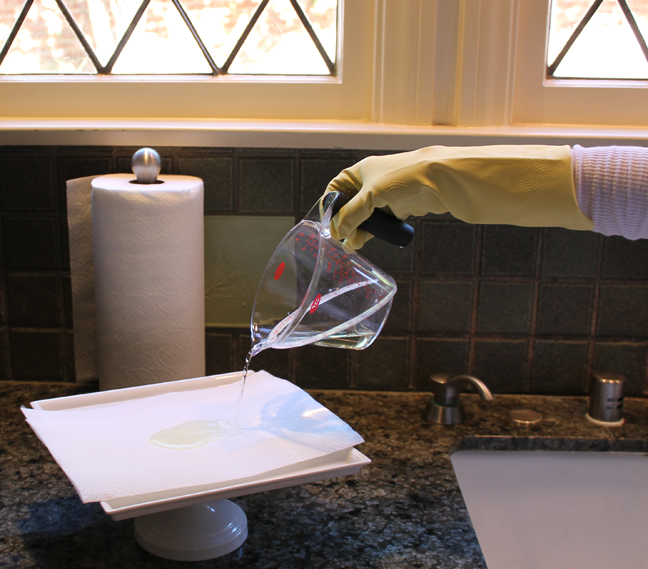 Gorgeous Glassware…
Put the sparkle back in your glasses so guests can sip their champagne or Chardonnay in style! Fill the sink with warm water and add some liquid dishwashing detergent along with a teaspoon of bleach. Wash glasses, rinse well, and dry with a soft, lint-free dishtowel.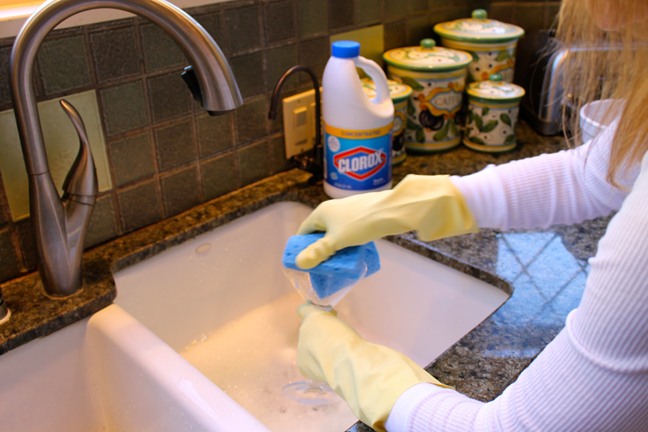 Prep for Kitchen Prep…
Even if you think your kitchen is clean as a whistle, there are likely germs lingering in cracks, crevices, and on cutting boards. Disinfect before you begin your holiday slicing, dicing, and sautéing. The most effective way to clean butcher block cutting boards and non-porous countertops is with a solution of 2 quarts warm water and 1 teaspoon bleach. Dip a brush lightly in the solution and scrub in small circles, being cautious not to saturate wood surfaces. Wipe dry with a clean cloth.
Deodorize Trash Cans…
I've made the mistake of neglecting my kitchen trash can during heavy cooking phases and I always regret it! Onion peels, garlic remnants, and other kitchen debris will quickly stink up your can and your whole space if you're not careful. The day before or morning of your party, take trash cans outside and rinse with a hose. Then add 1/2 cup bleach and several drops of dishwashing liquid to a gallon of warm water. Use a long-handled brush to scrub the can with the solution. Empty, rinse again with the hose, and let air-dry.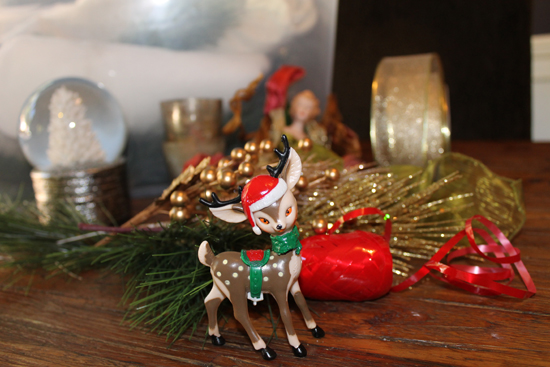 STEP 2: ORGANIZE
Once your party pad is super clean and sparking it's time to organize your party supplies. Here's a list of essential items I always have on hand. I keep them in large, plastic storage tubs labeled so all I have to do it pull out the box and unload.
Storage Box. I get mine at Costco but you can find them online at retailers like Amazon.
Collapsible Recycle Bins. I have a handful of these collapsible canvas bins that I put out in various spots for recyclables and garbage. They're neutral and unobtrusive, polypropylene-lined, and store easily.
Napkins. Throughout the year, I collect cool paper cocktail napkins and cloth dinner napkins when I see them on sale. I usually splurge on Caspari napkins for Christmas because their designs are so beautiful.
Plates. I own a bunch of these versatile and inexpensive appetizer plates – they go with everything.
Glassware. I love Marta Barware from CB2. It's simple, classic, affordable, and works to serve everything from wine to mixed drinks.
Serving Pieces. I usually keep an array of ceramic, acrylic, and metal serving pieces on hand – including platters, cake stands, and bowls.
Small Bowls for Munchies. You can never have too many small bowls for nuts and other munchies.
Candles, Candleholders, and Votives
Fresh Flowers. It goes without saying, any party any time of year needs flowers!
Garlands and Greenery. I like to mix fresh and artificial greens – it's both cost-effective and lasts longer.
Music. Pandora is the bomb – select a favorite artist or vibe and let the tunes roll.
Ribbon and Twine. I keep a selection of wire and velvet ribbon on hand to decorate everything from centerpieces and vases to banisters and picture frames.
Cocktail Shaker. There's always at least one martini drinker at every party I throw, so having a shaker on hand is essential!
Toothpicks. Plain wood toothpicks are a must for picking up olives, skewering hors d'oeuvres, and accenting cheese cubes.
Pitchers and Vases. Ikea has a great selection of glass pitchers and vases and I own a dozen or so. I also have several white ceramic pitchers to mix and match. Use these essentials to hold flowers, decorative twigs, water, juice, and more.
Guest Bath Accessories. Soaps, hand towels, room spray and a fragrant candle are all you need to give your guest bathroom an instant makeover for party night.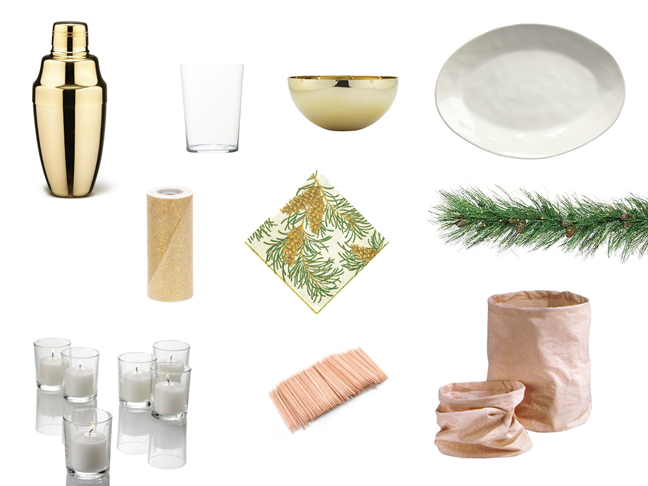 STEP 3:  DECORATE
As a mom, I usually try to break decorating and event planning into two groups: adults and kids. Create a space for the grownups to mingle and a separate area where youngsters can be safe and occupied with playing games, doing crafts, and other activities.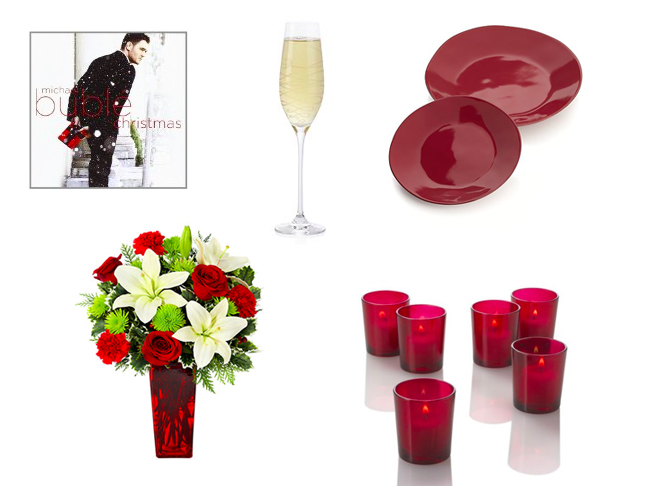 Create A Party Area for the Adults
The 5 essentials for decking out a adult party space are: Candlelight, Music, Flowers, Food, and Drinks. Tailor the choices to suit your theme, vibe (casual vs. elegant), and size of your group. Here's a quick tip for keeping floral arrangements fresh throughout the evening… add 1/4 teaspoon bleach per quart of water. It keeps vase water from getting cloudy and discourages the growth of bacteria that cause wilting and decay.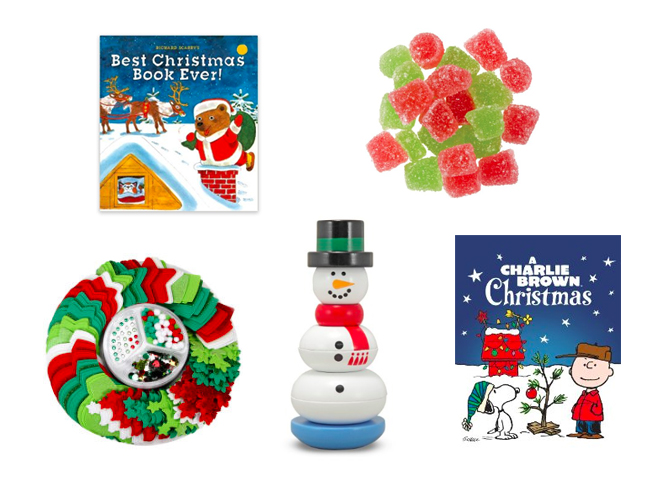 Create A Party Area for the Kids
The 5 essentials for a kids' party area are: Crafts, Books, Munchies, a Kid-Friendly Holiday Movie, and of course, Toys! It's a good idea to sterilize any plastic toys before the big event. Most likely they're covered with germs from your own kids and cleaning them ensures young party-goers can play away without picking up something nasty. Simply soak waterproof toys for 10 minutes in a solution of 1 gallon warm water, 1/2 cup bleach, and a squirt of antibacterial dishwashing liquid. Rinse well, then air-dry, preferably outside in the fresh air and sun.
For more info on using Clorox® Bleach both in and outside the laundry room, check out their Twitter feed which is loaded with tips and ideas.
May your holiday season be festive and fabulously stress-free!
This post was sponsored by Clorox