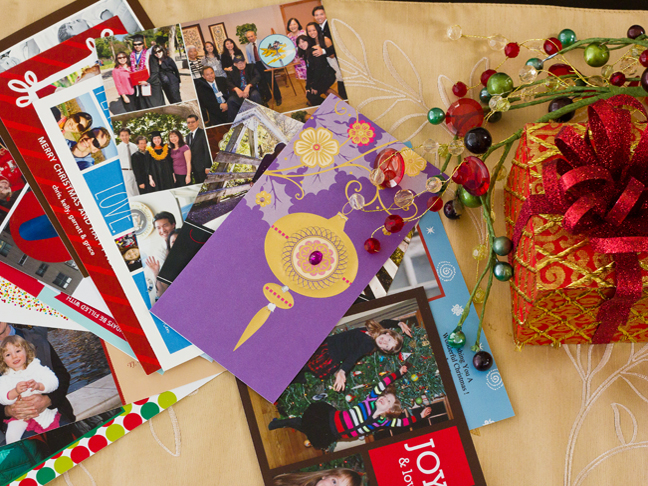 Your mailbox overflowed with lovely greeting cards from friends and family members for the past month and you've elegantly displayed them in your house and cherished each and every smiling photograph. But now that the holidays have come and gone, you're left with a pile of paper that your heart doesn't want to discard but your head knows that it needs to be taken care of quickly!
Dear friends, don't fret at all! Here are a few simple ideas to take care of that pile of cards that will make you much happier than if you just placed them in the recylcing bin like you did last year!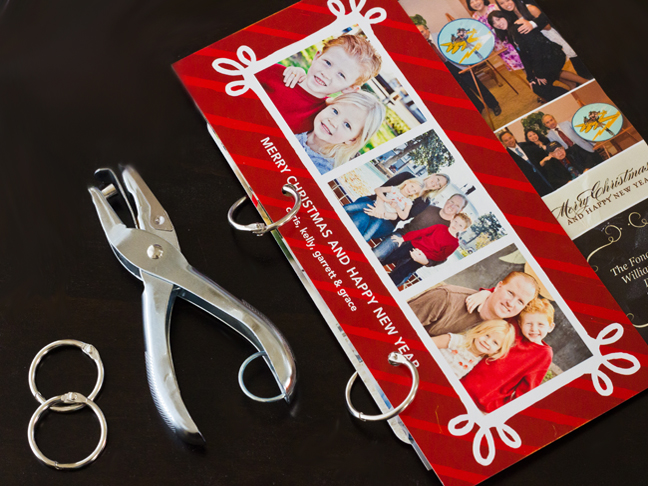 Turn them into books
The easiest thing you can do with all of your cards is simply to bind them into books. Use a hole punch and loose leaf binder rings to bind your cards together, then simply add a cover sheet to designate the year! If you want to get fancy, you could also scan all of your cards and then use the images to make a professionally bound photobook (i.e. Blurb, Shutterfly) each year, and then store them in your library year 'round or keep them with the decorations for a special coffee table book treat during the holidays!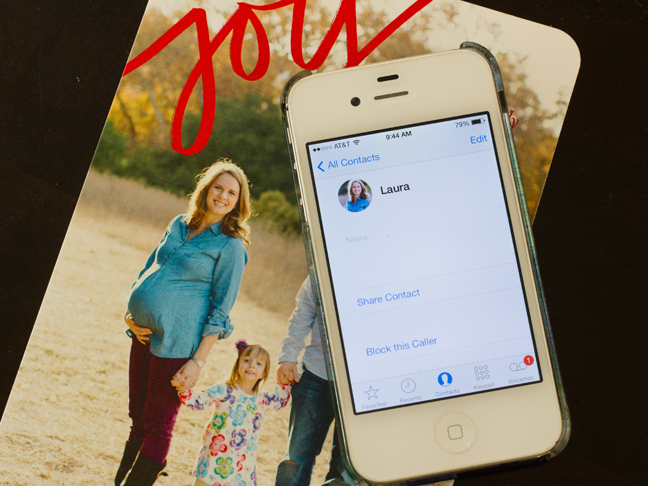 Snap images of the photo cards to update your smartphone contacts
If you're like me, you barely have an up-to-date image of your husband in your phone contacts, let alone everyone else. Take a few minutes to change all of that by snapping an image of that great family photo that your best friend sent you and add it to her contact information on your smartphone. Now, follow up and fill up your phone with all those great pictures, and you'll be cheerfully greeted by that snapshot each time they call throughout the year!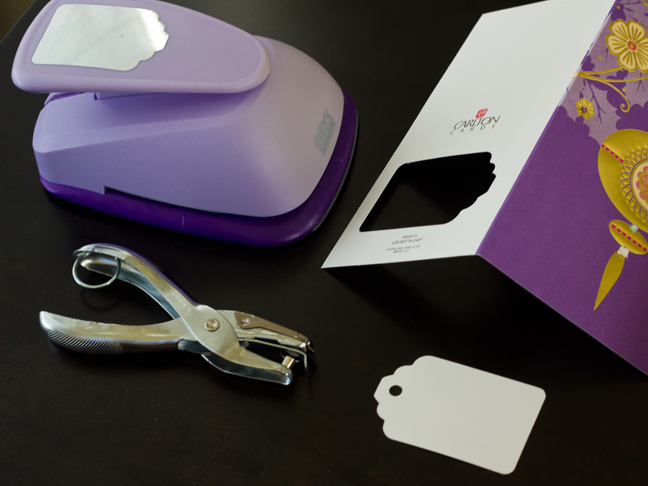 Recycle them into gift tags
If you'd like to recycle your cards into something useful for next Christmas, consider making them into gift tags! (You know you never have enough around when it comes to wrapping that final present each year!)
Purchase a tag craft punch and pop them with a quick press of the wrist! You can just as easily cut them into the shape of a tag as well. Store them with your wrapping paper and you'll be delightfully surprised to have them around next December!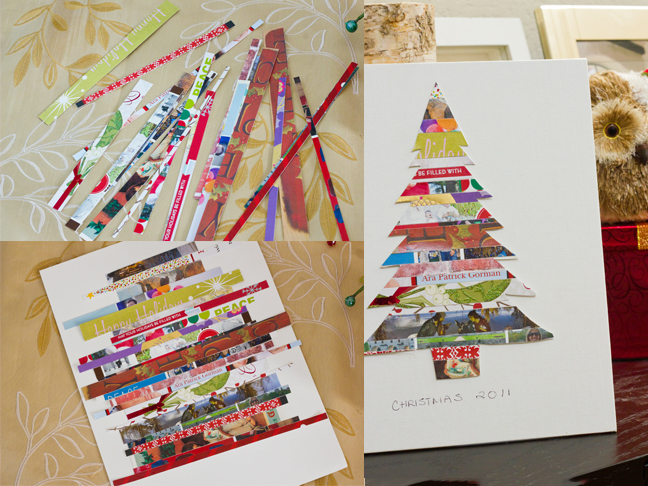 Make recycled art!
Looking to substitute some of your year-round art for some seasonal delights? Then make use of your cards for some easy mosaic art!
Cut your cards into small strips, then glue them together on a piece of paper. When the paper is dry, flip it over and trace out the shape of the mosaic you'd like to make: a Christmas tree, an outline of Santa, etc. When you're done cutting, mount the shape onto a piece of 8×10 canvas board to display, or on to other holiday paper and frame it! Label it with the year of the cards, and you've got a great lasting keepsake!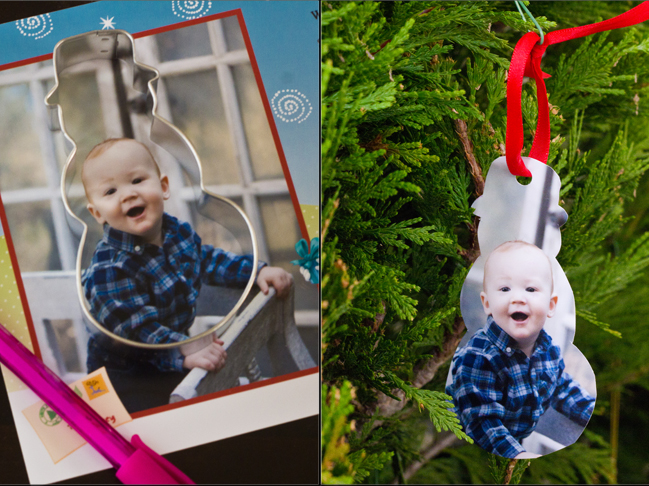 Turn them into ornaments
Treasure your favorite cards by turning them into ornaments! Use your holiday cookie cutters to trace shapes (great because you can see the image you'll be using) directly on to the cards, then cut them out and add a small hole punch in the top! Now, all you'll need is a tiny bit of ribbon and you're set!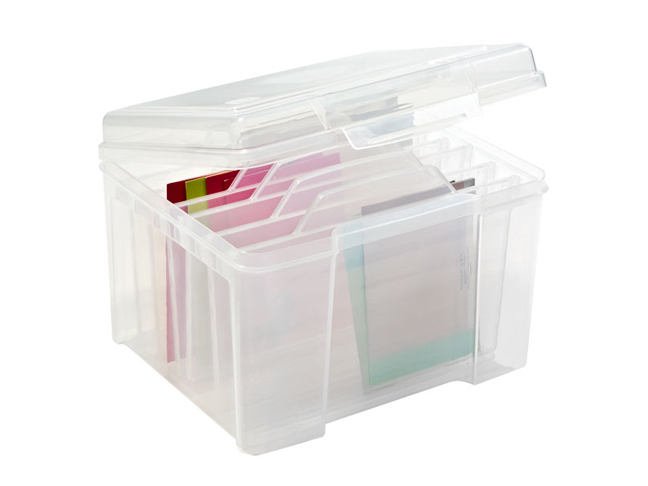 Store them intact 
Maybe none of these ideas appeal to you at all. Perhaps you think I'm crazy that I would even suggest the idea of cutting any holidays EVER. Well in that case, let's find you a great way to store them that will keep them safe from all harm and scissors. Plastic card keepers, like this one from the Container Store, are great ways to preseve the memories and categorize them by year. 
What do you do with all of your holiday cards?