For over 7 years I have been in the training industry and one thing has become overwhelmingly clear: Moms kick some serious fitness butt!
 
I have trained women without kids, husbands, teenagers, twenty-somethings, thirty-somethings, people who have always worked out, people that have never worked out, people that hate it, people that love it, etc. You name it, I've trained it.  And most have succeeded in their fitness goals of getting stronger and healthier. But over the years, without fail, moms have been and are my hardest working, strongest clients. I have watched moms perform push-ups while their 2 year old climbs on their back, watched moms hold their growing toddler while doing squates, watched moms use their baby as a weight for shoulder presses, and I have even watched moms breastfeed while doing crunches! When we have a goal or a task at hand we moms get it done. Pushing, jumping, running, nursing, burping, diaper changing, potty training, snuggling and laughing our way through our multi-tasking workouts, all the while strengthening our emotions and lifting our spirits as we sweat. 
It is not easy. Working out is tough, especially when you are sleep deprived and adjusting to taking care of a whole other life. On top of that, for years we have used pregnancy and birth as a reason to fall out of shape and stay that way. We have all heard ourselves say in one way or another, "I feel like I'll never get rid of this baby weight no matter what I do", or "Oh I've had babies, I'll never have a strong stomach again",or  "Since I've had the baby, my body isn't mine anymore".  STOP! Having a baby is not an excuse for being out of shape; that baby is the key to being in the best shape of your life. Mama – YOU gave birth – that WAS the toughest workout of your life – the rest is EASY. Every stage of your babies development opens a new health and fitness opportunity for you, and in turn, you are setting an amazing example for a future healthy person.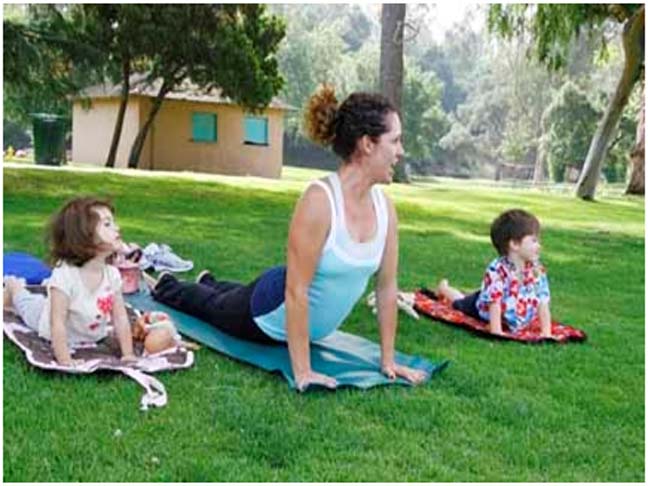 So Happy Mother's Day Mamas! Get out there, honor you, your amazingly strong body, and your endless ability to get things done! Find a friend to work out with, hit the gym, find a group fitness class, or hire a family friendly trainer to meet you at a park or at your house so that your kids can be with you while you work out. There is no excuse – if you are strong enough to endure motherhood then you are by far and away strong enough to get fit. 
Check out the pictures below of some fit mamas, grandmas and kids for inspiration and let us know some of the ways motherhood has helped you stay fit and fabulous!
Check back tomorrow for our awesome wash-cloth workout!