Everyone loves a great family tradition. Summer offers us the Fourth of July, providing opportunity to create several vibrant and lasting memories. Make yours happy and healthy with these suggestions.
Our great country's birthday revolves around barbeques, beach parties, parades, and picnics. Perhaps your childhood memories of Independence Day are closely linked to the not-so-healthy fare that usually accompanies it. Overemphasis on unsalutary edibles can often impair food judgment. Try starting your own family traditions, with activities and recipes that maintain your healthy lifestyle.
Adjust Your Food Judgment

We become desensitized when we are constantly bombarded with huge portions and unhealthy fare. While food is meant to compliment celebrations, it doesn't have to be the focal point. Engage yourself with the people around you, and focus more on the festivities than the provender.
Red, White, and New Recipes

Make the switch from traditional barbeque meats to soy for your summer barbeque. The Food and Drug Administration has approved the claim that 25 grams of soy protein daily can help reduce cholesterol, thereby aiding in the fight against coronary heart disease. Soy dogs, veggie burgers, and soy "cheeses" can satisfy even the most discriminating eaters. Serve plenty of sliced vegetables and condiments for your kids to decorate and customize their "burgers".
Opt for skinless chicken or salmon for the grill, and experiment with alternative low-fat recipes in place of their traditional caloric counterparts. Prepare a fresh salsa of diced cilantro, onion, avocado, tomato, and mango to serve over the top.
Think outside the box and get creative when coming up with a health-conscious menu for your family and guests. Skip high-fat potato chips at your cookout and try this recipe for carrot fries instead.
Eating healthy foods is not about denial. Here is a delicious macaroni and cheese makeover that uses squash in place of some of the cheese. Substitute fresh summer squash for the frozen winter variety this recipe calls for and enjoy the season's best.
It's All in the Presentation

Getting kids to try new foods instead of traditional ones is all about gimmicks. Serve cherry tomatoes, raw broccoli florets, and celery sticks in small individual cups with a few teaspoons of a yogurt-based dressing at the bottom. Offer fruit kabobs for a refreshing twist on fruit salad. Soak wooden skewers for 20 minutes in water, and then stack grapes, strawberries, cantaloupe, and pineapple to tantalize little eyes. Be sure to cut off the sharp end before allowing small children to handle skewers.
Choose a Healthy Focus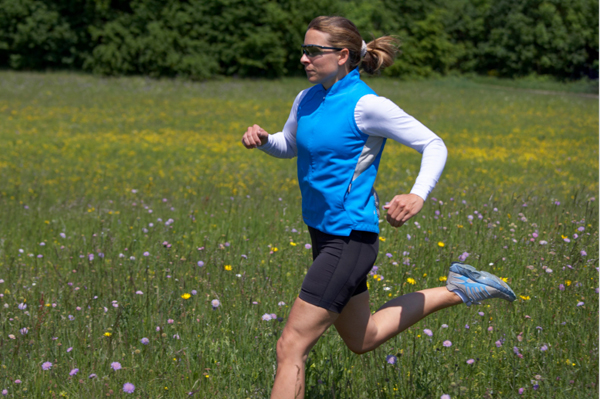 Make this Fourth of July about the quality time spent with friends and family, and emphasize less the spread of food and treats. Consider signing up for a 5K or 10K race together. Independence Day offers many walking and running venues nationwide. Research courses that allow jogging strollers to ensure you can bring baby along while both you and your spouse participate. Even younger children can walk 3.2 miles to a heightened sense of accomplishment.
Log onto Active.com to check your local race calendar and get the whole family involved. 
Make Movement Fun

Can't find a local race in your community? Organize your own! Plan a small neighborhood road race along less-traveled routes. Ask local law enforcement to be present, or at least, make them aware of your plans.
Even a great backyard relay encourages participation and friendly competition among kids and adults alike. Team up and try inventing your own games with silly names to accompany the moment: crab walks, antelope leaps, and penguin waddles- first person from point A to point B wins!
You have the power to provide fun and active outlets for your family this Fourth of July. Celebrate the privilege of freedom and inspire their independence with creative and healthy new traditions all your own.