My journey to becoming a mother was long and arduous (from IVF to hyperemesis gravidarum). The only silver lining about the process was that I really only gained weight in my stomach. About a week after giving birth I was in my pre-pregnancy clothing and at two weeks I was back to working out more or less every day. Even so, months later, my stomach still has saggy skin!
I reached out to celebrity dermatologist Dr. Dennis Gross (I swear by his products! His peel pads and tanning wipes were the biggest confidence boosters before, during and after pregnancy) to find out what women can do to fight loose skin if diet and exercise aren't enough.
His answer? SculpSure.
"It's a device for non-invasive lipolysis of the abdomen, flanks, back, inner thighs, outer thighs and submental area," says Dr. Gross. "It uses heat to safely and effectively eliminate unwanted fat cells in just 25 minutes per treatment per area. It can destroy up to 24% of treated fat cells without surgery. Because the treatment is so easy, most patients will do multiple areas during a visit to the office to optimize their time and body contour."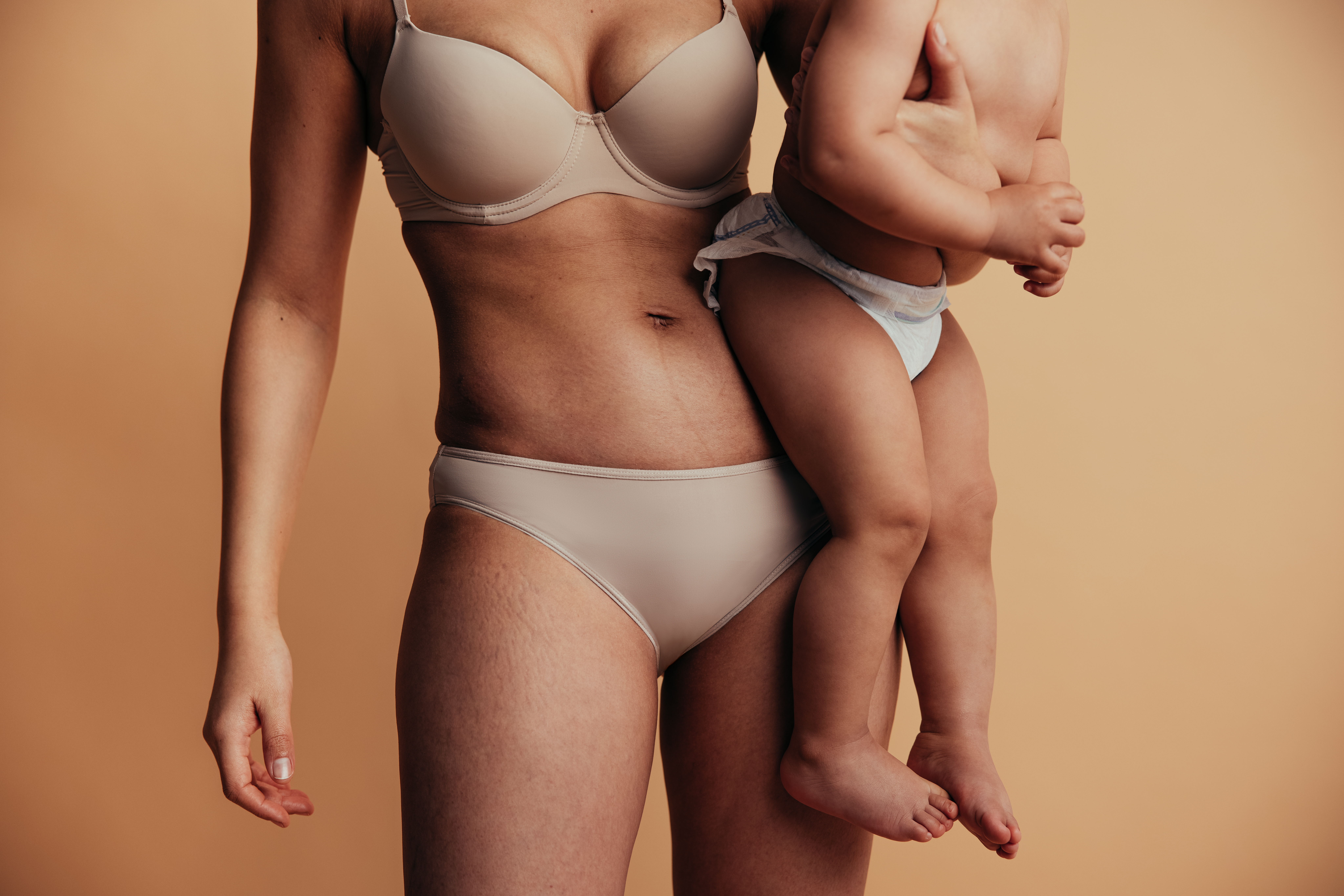 While it depends on the treatment area, usually 2 -3 treatments are recommended with each treatment being 4-6 weeks apart. "Once the fat is liquified and disposed through the body, the fat cells do not regenerate, so there is no need for maintenance," says Dr. Gross. "If you gain weight, it may show up in other fat cells, but not in the area where you had SclupSure. For example, one patient treated their thighs, but saw that her buttocks was bigger overtime."
While full results can take up to 12 weeks, some patients see results in as little as two weeks. During the procedure Dr. Gross says that patients feel a tingling sensation intermittently throughout the treatment, but that it's generally well-tolerated.
All I can say is… sign me up! I'm over seeing sagging skin despite eating well and exercising…
But SclupSure is not the only options.
"Without question, Emsculpt Neo, is my number one choice for postpartum weight loss," says celebrity dermatologist  Dr. Paul Jarrod Frank. "It addresses skin laxity, muscle separation (diastasis recti) and fat reduction. Another great postpartum treatment is Emtone. Most women develop pregnancy related cellulite and Emtone is a great way to tighten and lift the thighs and buttock."
Dr. Frank also notes that massage can increase circulation postpartum and help rid the body of excess fluid, but only if cleared by your OB. "I often recommend compression and belly bands postpartum to help with residual edema