For many of us, it was hard to carve out time to grocery shop – whether online or in person – before having kids. Now with children it seems all we do is work to keep the fridge stocked! We also all know that most kids need variety to thrive (or at least to give into not just eating pizza and cupcakes), which is where the experts at CleanPlates.com, a health + wellness based website, come in. We asked them to highlight some of their best-family friendly buys to make meal time easy and enjoyable for all.
Let's start with Costco. Here are three tasty choices to add to your grocery cart.
1. Sonoma Creamery Pepper Jack Crisps
"These Keto-friendly, gluten-free crisps are little protein powerhouses — and they're delicious, too. The pepper jack and 10-month aged parmesan cheeses offer real cheese flavor with a spicy kick, and they're made with rBST-free cheese, so you can feel good about them being artificial hormone-free."
2. Kirkland Signature Unsalted Fancy Mixed Nuts
"A combination of cashews, almonds, pistachios, and pecans; they're all prepared and packaged in the U.S. This is an excellent no-sodium selection, which is great for those struggling with high blood pressure."
3. Terra Delyssa USDA Organic Extra Virgin Olive Oils
"Lemon, red pepper, garlic, and rosemary flavored olive oils would be a welcome, heart-healthy addition to any gourmet's pantry. They're ideal to enhance a fresh salad, for drizzling over soups, or to liven up some steamed broccoli rabe. It's a great value, too: you get two separate packs of four bottles."
Next, for on-the-go families who rely on frozen dinners, here are three of their frozen favorites from Trader Joe's.
1. Sweet Earth Veggie Lover's Pizza
"Sweet Earth products have quickly become a popular choice for those seeking healthy, frozen meals. While we will never turn our backs on a traditional New York-style slice, we love that Sweet Earth offers a super-healthy alternative that's loaded with vegetables."
What they like:
Topped with a variety of vegetables
Hearty whole wheat psyllium crust (Tip: Bake until crispy)
Low in sodium (330mg)
Vegan, Gluten-Free, Organic
2. Gochujang Vegetable Stir Fry with Zucchini Spirals
"We came across this new vegan offering made with gochujang, a savory, sweet, and mildly spicy fermented red chili paste that packs a lot of flavors. This meal is low in calories and sodium and makes for a great vegetable side or a complete meal when served on top of steamed brown rice."
What they like:
Lightly battered fried green beans add texture
Complex, umami flavor
Vegan, Gluten-Free
3.  Japchae Korean Sweet Potato Glass Noodles & Vegetable Stir Fry
"The sweet potato glass noodles are the first ingredient in this Korean dish and immediately captured our attention because of their high-levels of potassium — a heart-healthy nutrient- added mix of colorful vegetables and umami flavors makes for a tasty, sensible meal."
What they like:
Noodles and vegetables have a good bite/texture
Mild and flavorful sauce
Low-calorie and low-fat
Vegan, Gluten-Free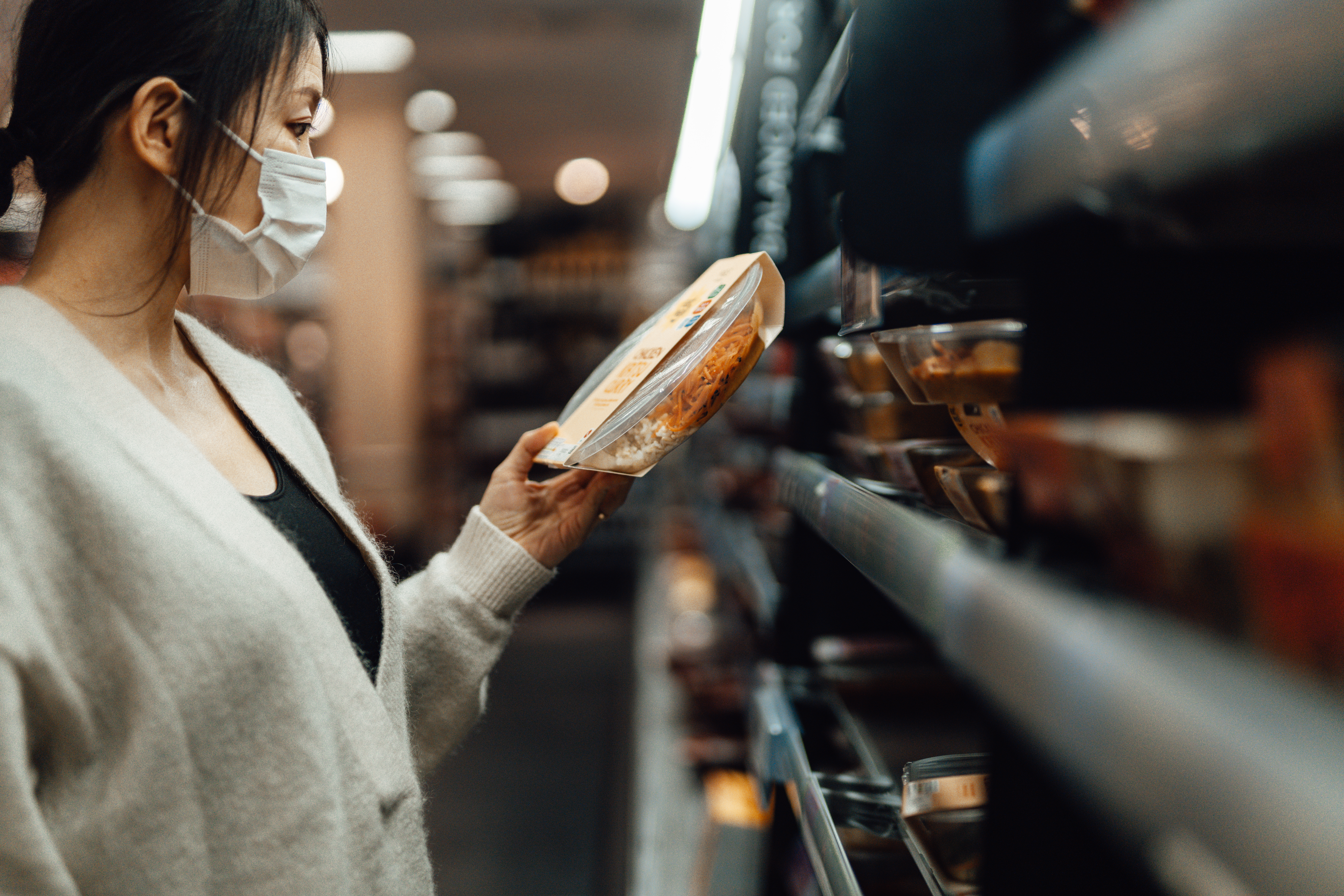 And finally, they have a few things NOT to buy at Whole Foods (and where to purchase instead).
1. Vanilla Beans
"From puddings and custards to fruit compotes and homemade ice cream, some things really are miles better when infused with the lush flavor of a vanilla bean — not to mention all the lovely little specks it imparts. There's no doubt that vanilla beans are pricey no matter where you get them, but at Whole Foods they're priced like jewelry.
Do the math: A package of three Madagascar vanilla beans costs $25. That's just over $8 per bean. At Kroger, you can get a package of two organic Madagascar vanilla beans for $8.19."
2. Strawberry Preserves
"Strawberry is America's most popular flavor of jam, but strawberries are also one of those fruits that often end up contaminated with pesticides. That's why it's extra important to buy organic strawberries, even in jam form — and you can find the best bang for your buck at Costco.
Do the math: At Costco, you can get a 42-ounce jar of Kirkland brand organic strawberry jam for $7.50. Compare that to Whole Foods 365 Everyday non-organic strawberry jam, which costs $5.29 for 23 ounces."
3. Fresh Ravioli
"Tender raviolis stuffed with soft cheese or pureed squash can turn an ordinary dinner into something special. But skip the offerings at Whole Foods, in favor of Trader Joe's or Target.
Do the math: At Whole Foods, ravioli cost nearly $1 per ounce ($7.99 for 8 ounces). Not only is the selection at TJ's much bigger and often changes seasonally, it's far cheaper — $3 to $3.50 for an 8-ounce package. Even Target is cheaper, offering Good and Gather burrata and lemon zest raviolis for $4.29 for 9 ounces."
4. Butter
"The butter selection at Whole Foods is like its cheese case — fancy. Most of the butter is cultured or imported, which is great for slathering on baguettes, but not the most affordable option for baking.
Do the math: If you want organic, you'll have to shell out $7.99 for Organic Valley. But over at Trader Joe's, you can get organic butter for about $5 a pound."