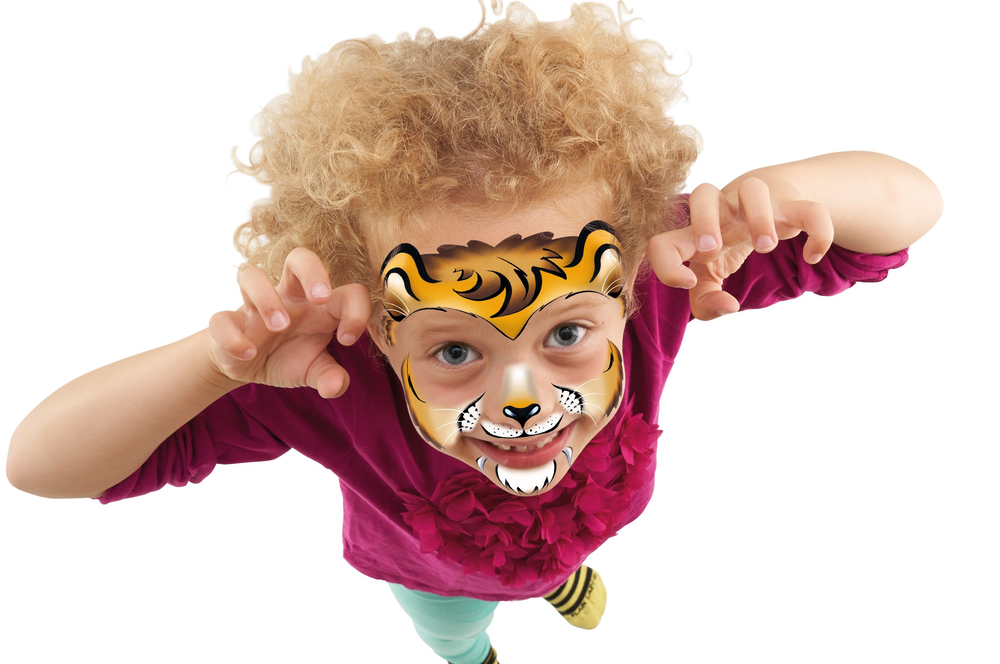 I'm about to share a mom-secret so personal that I've never even told my husband or kids: I have secret toys stashed in the garage for rainy days! Though I may not be able to find a flashlight or a first aid kit, I'm always prepared with something fun to play with when the weather's bad. Because there's nothing worse than hearing kids whine, "I'm bored" when you're staring at a 12-hour stretch indoors.
Whether you're home alone or entertaining family and friends, here are some no-fail ideas for turning a rainy day stuck inside into a veritable house party:
Fun Face Designs Save the Day
Rainy days don't have to be a bummer when you have fun activities on hand. I love these Face Paintoos because they look like a professional artist created the face designs on each child, but they're extremely easy for parents themselves to apply and remove. And for someone who doesn't have a crafty bone in her body, easy projects that look stunning AND keep kids entertained are a gift. Choose from a wide selection of magical creatures from the Magical Pack to get kids' imaginations running wild. And the clean-up takes no time at all. Face Paintoos are so easy to remove with the wipe included in the package. Just make sure to take plenty of photos first!
Build a Fort
Grab every extra pillow, blanket and sheet in the house (just not the 1000 thread count ones) and let them go to town creating a new world.
Get Crafty
Bust the boredom with inventive art projects. I like to keep a few special items in my secret toy stash like spin art, tie dye supplies and (gulp) glitter, but there's also plenty of fun to be had with household items that everyone has lying around. Create necklaces and friendship bracelets by stringing dry pasta, cereal or old buttons–dental floss can sub for yarn in a pinch. Draw life-sized outlines of each kid (trace around their bodies with a marker on craft paper) and let them paint the insides.
Put on a Show
With their Face Paintoos in place, your aspiring actors will be performance ready! Accessorize a lion or a tiger with a tail and some ears or a unicorn with a horn for extra stage appeal. From a dance party (Alexa is our favorite DJ) to karaoke to a scripted play, who knows what they'll come up with?
Snack Time!
After all that playing, they're bound to be hungry. Grab some tubes of icing and you can easily turn store-bought cookies or crackers into magical creatures worthy of their fun face designs. Or if the storm's getting worse, you can always take the time to bake together.
Print your 25% off coupon today and join this #FacePaintRevolution