I was a friendship bracelet fanatic when I was a kid and I'm glad to see that the trend has returned with a vengeance for my daughter to enjoy. My best friend and I would set up shop in my kitchen when we were tweens and we would make dozens of cool friendship bracelets each week. I'm hoping that my kids and their friends will do the same. Not to necessarily sell and make money with (although I wouldn't mind that), but to hand out to old and new friends at the beginning of the school year. DIY friendship bracelets are an amazing way for kids to break out of their comfort zone and talk to some new faces in class or at recess.
From macrame styles to the standard string fishtail pattern, there's no shortage of DIY friendship bracelets to make these days. Here are a few of my favorites to inspire you.
Like what you see? Don't forget to Pin it!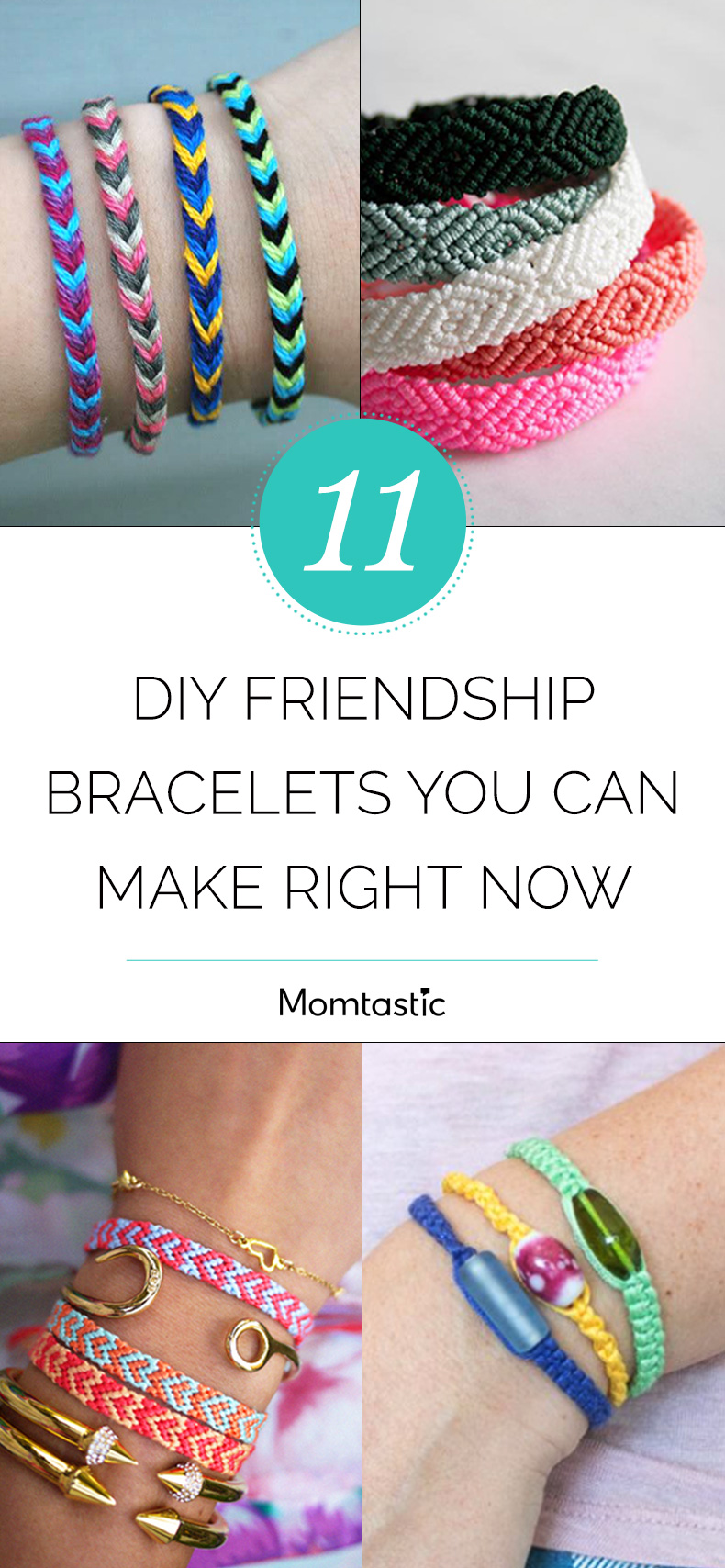 11 DIY Friendship Bracelets You Can Make Right Now
Camp Classic Friendship Bracelet

Show your kids how to make a friendship bracelet by starting with the basics! This classic style can be whipped up in minutes. See more here.

Photo: Hey Wanderer

Chevron Style Friendship Bracelet

The chevron style friendship bracelet is an oldie but a goodie. See more here.

Photo: Claireabellmakes

Monochrome Friendship Bracelet

Mistakes are easily hidden when the thread is all the same color! See more here.

Photo: Purl Soho

Neon Wrap Friendship Bracelet  

No expert braiding skills are necessary for this one. You just have to wrap! See more here.

Photo: I Spy DIY

Rainbow Friendship Bracelet

Dab a little paint on some leather cording for a bright twist to an otherwise basic design. See more here.

Photo: Stars for Streetlights

Woven Heart Friendship Bracelet

Spread the love with a woven heart friendship bracelet! All that is involved is a simple modification to the chevron pattern. See more here.

Photo: HonestlyWTF

Half Hitch Knot Friendship Bracelet 

Take your friendship bracelets to the next level with a colorful half hitch knot pattern. This thicker version would look great attached to a backpack! See more here.

Photo: The Learning Center

Basic 4-String Hitch Knot

Start with four strings and then alternate sides, making one basic hitch knot. To make it look more intricate, you can push the knots close together. See more here.

Photo: A Few Good Things 

Nautical Friendship Bracelet

This nautical-inspired arm candy is a pretty easy friendship bracelet to master. See more here.

Photo: Operation Overhaul

Leather Wrap Around Friendship Bracelet

Add an edgy twist to your stack of friendship bracelets with this beaded leather number. See more here.

Photo: Poppytalk