If your kids are like mine, they're so ready for the first week of summer.  But by week 2, boredom has already set in and they start fighting and begging for screen time.. And every year I vow to be more organized about our summer activities before this happens, but I'm juggling working from home, feeding my family, and a million other household chores. So this year I made a list of fun STEM activities for the summer and the game plan is to try a few of them each week.
Why STEM projects?  Because they will help prevent summer brain drain and promote a little healthy stimulation. Take the kids out of the classroom setting and they will be amazed to see science, technology, engineering, and math in action in a setting that feels nothing like school.
Like what you see? Don't forget to Pin it!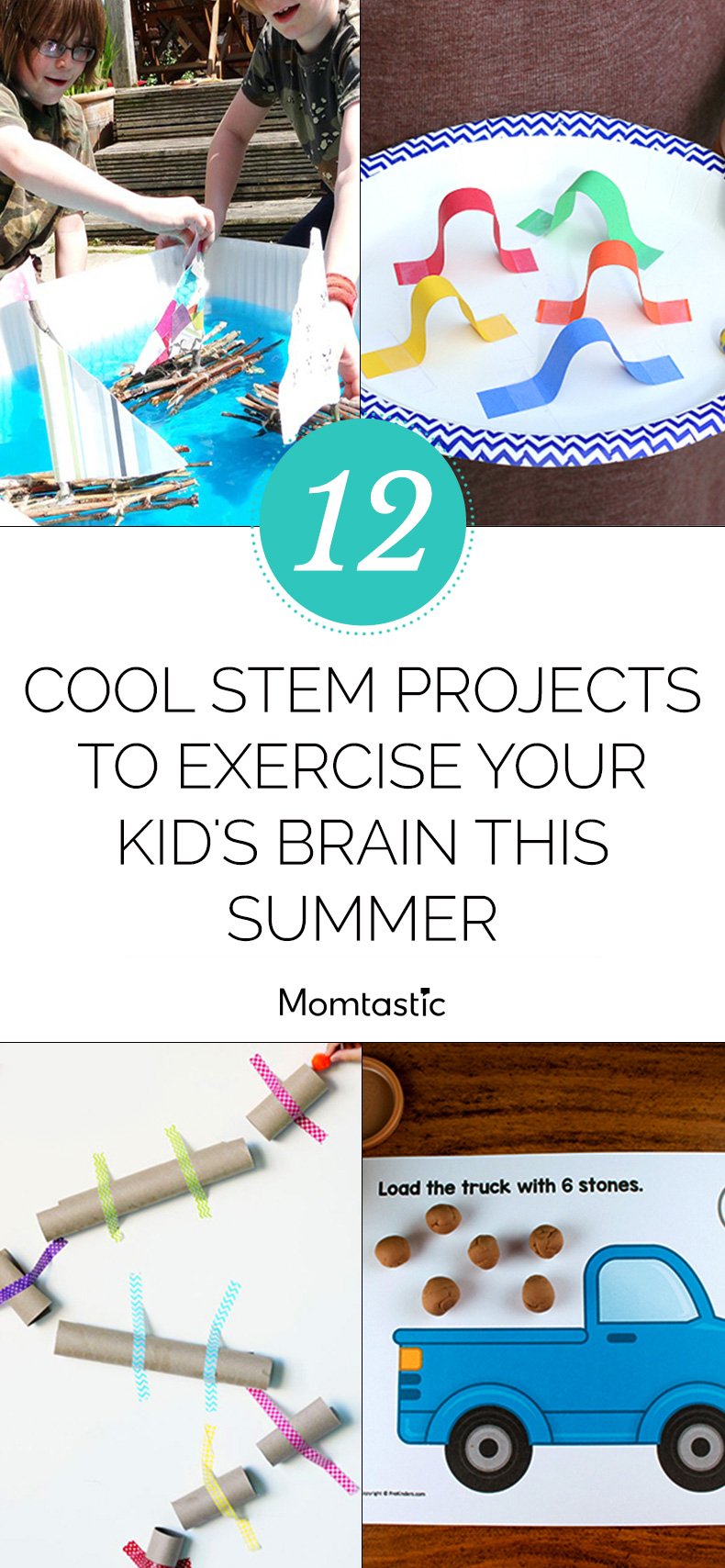 12 STEM Projects To Exercise Your Child's Brain During Summer
Magnetic Slime

Create this fun slime to show the power of magnets! You can buy most of the supplies online and be sure to use rare earth magnets as a regular magnet won't do the trick! See more here.

Photo: Frugal Fun 4 Boys

Stick Raft Building Project

Can you build a raft that really floats? How much weight can your stick raft carry? This STEM challenge is great fun for kids and a super way to get them stretching and developing their skills and engaging with Nature. See more here.

Photo: Kids Craft Room

Paper Plate Marble Maze

In this STEM challenge, kids can create a paper plate marble maze game inspired by pinball machines using just a few common craft supplies and a marble. See more here.

Photo: Buggy and Buddy

Egg Drop Engineering Challenge

The goal of the egg drop challenge is to create a container that will safely deposit a raw egg onto the ground when it is dropped from something high. Make sure you have plenty of eggs on hand for this one! See more here.

Photo: Schooling A Monkey

Color Mixing

Grab the food coloring and some paper towels! This is an easy project to demonstrate color theory to kids. See more here.

Photo: Parenting Chaos

Pom Pom STEM Challenge

Kids can work on the STEM concepts of design, shape, and structure in a fun and hands-on way while designing and testing this pom pom drop. It allows them to test different designs and types of materials and see how gravity effects each. See more here.

Photo: Coffeecups & Crayons

Pretzel and Marshmallow Structures

Break out the s'more snacks and build structures in various heights and dimensions using pretzels and marshmallows! See more here.

Photo: The Stem Laboratory

Sand Volcano

Remember how fun it was to build volcanoes when you were a kid? Introduce your little ones to the fun with this simple sand version! See more here.

Photo: Growing A Jeweled Rose

Play Dough Math

Your little will love working on their math skills with this easy play dough activity! See more here.

Photo: PreKinders

Surface Tension Experiment

Use milk to educate kids about surface tension! It gets colorful! See more here.

Photo: Schooling A Monkey

Overnight Crystal Garden

Your kids can grow their own Epsom salt crystals overnight. It's like magic! See more here.

Photo: Babble Dabble Do

Paper Airplane Project

Make a paper airplane that can carry cargo and glide more than ten feet (not be hurled, but actually glide). See more here.

Photo: The Maven