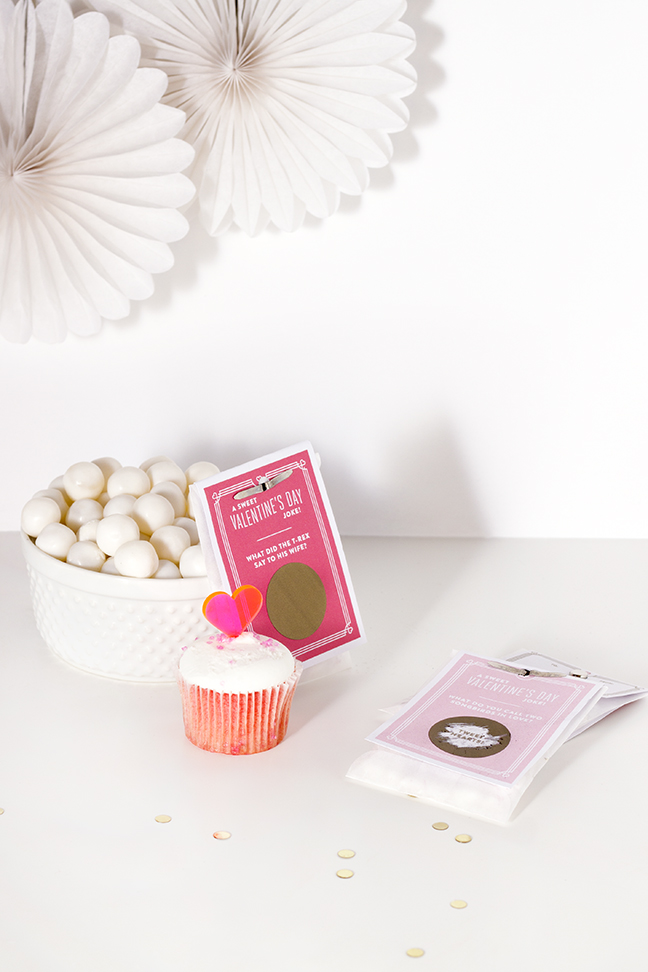 Valentine's Day is, once again, right around the corner, and if you're like me, you're already trying to find fun alternatives to the standard licensed classroom valentines. While they're a great quick option, I'm all for adding a little something special to surprise and delight my daughter and her buddies. I came up with the idea of doing little treat envelope valentines with a fun interactive element: scratch off jokes!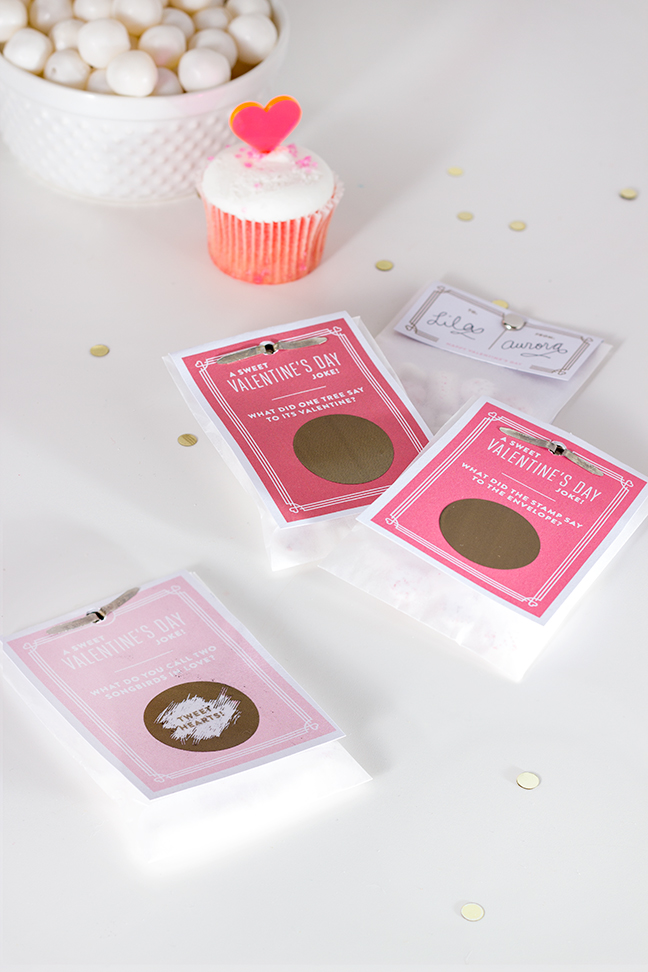 Using the template provided, you can give out fun valentines this year that have a pretty design that adult recipients will love, and fun, kid-friendly jokes that wee ones will go crazy for. Here's how to make these DIY scratch off valentine cards.
(PS: How adorable are the pink heart cupcake toppers from Splendid Supply Co. on these sweet little cupcakes from Target? I'm dying.)
Supplies:
letter size white card stock
scissors or paper trimmer
our PDF template
1.25″ round scratch off stickers (ours are from My Scratch Off Labels)
2.75″x 3.75″ glassine envelopes (ours are from ClearBags)
paper fasteners
hole punch
tape
candy or other filling of your choice
Instructions:
Step 1: Print out the PDF template onto white letter sized card stock. Using a paper trimmer or scissors, cut out each individual valentine backer card, cutting along the solid crop lines (they look like right angle Ls). Fold the card along where the dotted line is, creating a 1.5″ overhang that will wrap around the top of the glassine envelope.
Step 2: Fill your envelope with small treats or other fun surprises, and then tape it shut with either standard or decorative tape. (Fun stickers would work well, too!) 
Step 3: Slip the closed envelope into the fold of the backer card so that the taped flap of the envelope is positioned in the fold facing the longer side of the card. Punch a small hole through the envelope and card unit, using the center heart on the template as a guide. Insert a paper fastener through the hole and open the shanks to secure the pieces together to finish.
More DIY Valentine's Day Cards: