The best backyard parties I go to have at least one outdoor gaming component, whether it is horseshoes, frisbee, or a good old fashioned water balloon fight. I personally love a game where you can stand in the shade and enjoy the afternoon with a little friendly competition. I've wanted to make one of these PVC pipe ladder golf games for a while, and now that I have one, I can't wait to play all spring and summer long!
The game is very simple, and actually quite similar to horseshoes. There is a ladder structure at one end of the playing area, and you stand at the other end with a set of golf ball bolas. It is a point-based game where you try to land your bolas on the rungs of the ladder. The top rung is worth 3 points, the middle is worth 2, and the bottom rung is worth 1 point. Ladder golf game sets can be purchased online, but below are instructions on how to make your own out of PVC pipe for just a few dollars.
Be sure to check out the slideshow above for 21 more fun games for the backyard or lawn.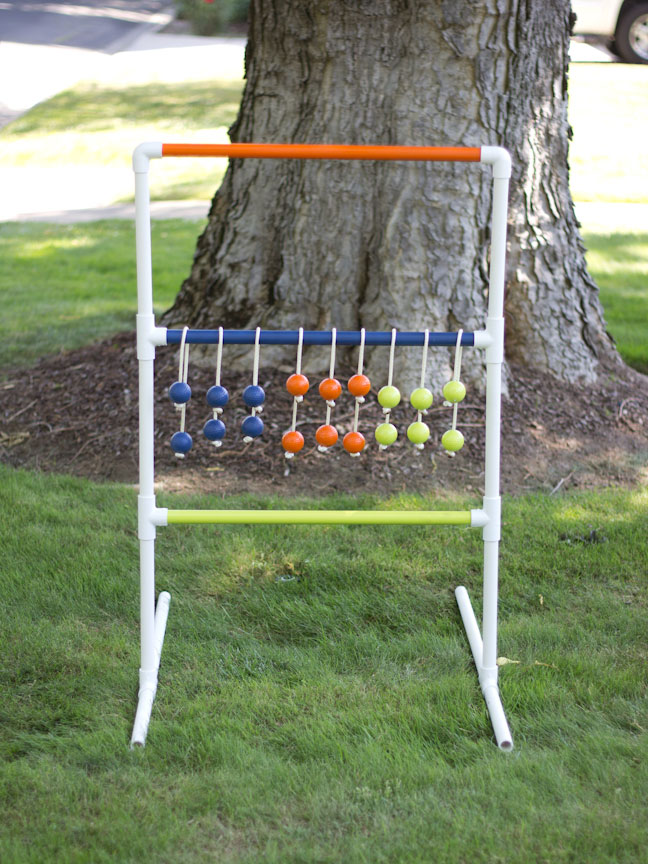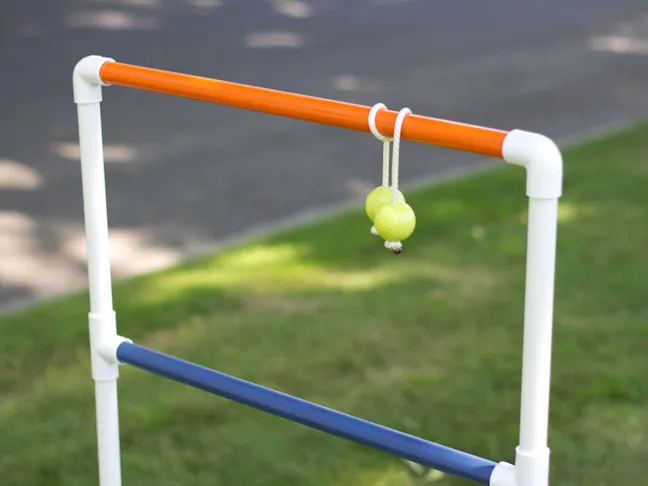 Supplies: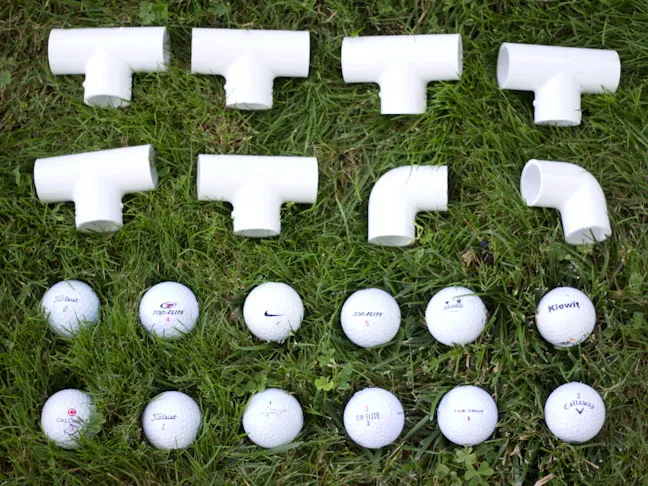 Instructions:
Step 1: Cut your PVC pipe to size. For a ladder, you need five pieces two feet in length and eight pieces one foot in length. If you would like to play with two ladders (which makes the game a lot faster because you don't have to walk back and forth to retrieve your bolas) just double your PVC pipe pieces.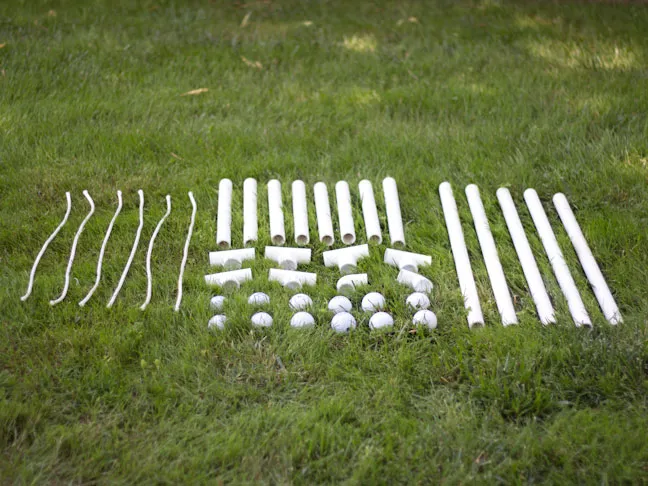 Step 2: Drill a 3/8" hole through each golf ball. Be very careful on this step to make sure your golf balls are properly secured to a clamp when drilling through them. I got my golf balls used from a sports store at three for a dollar. Be careful of newer golf balls that may have a liquid center!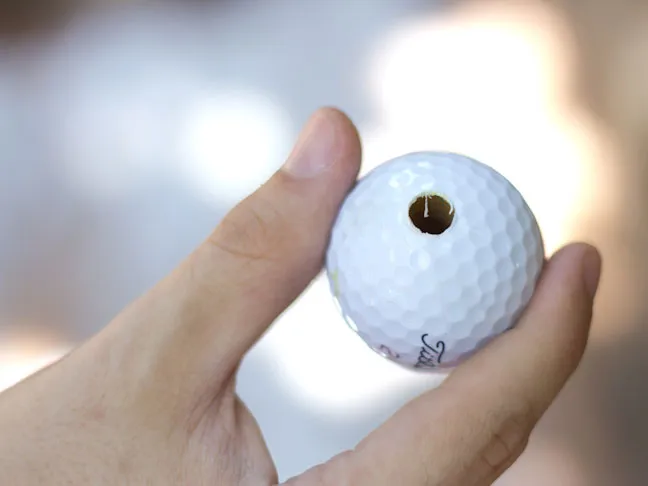 Step 3: Paint your PVC pipe rungs and golf balls your desired colors. Make sure to get spray paint that is meant to be used with plastic, or it might all wear off when you first start to play.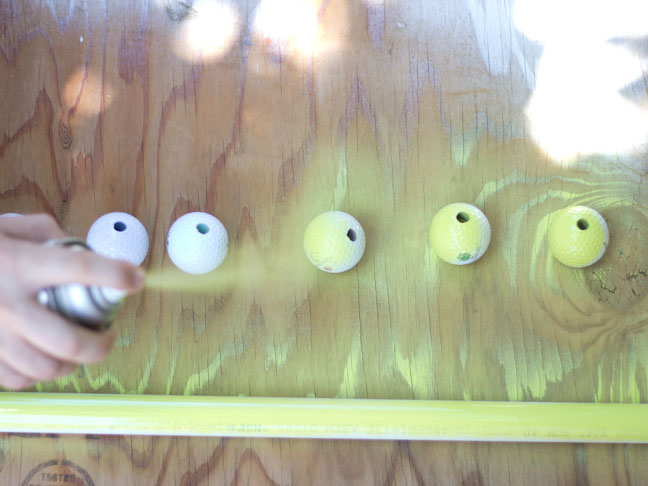 Step 4: Cut your nylon rope into 20" pieces. Tie one end of the rope into a knot, and melt the end with the lighter. String two of your golf balls onto the rope, and then tie a knot on the other end. It can help to wrap a bit of masking tape around the end of your rope to help feed it through the golf balls. Your golf balls should be about a foot apart when on your bola. Burn that end of the rope as well to secure the golf balls onto the bola permanently.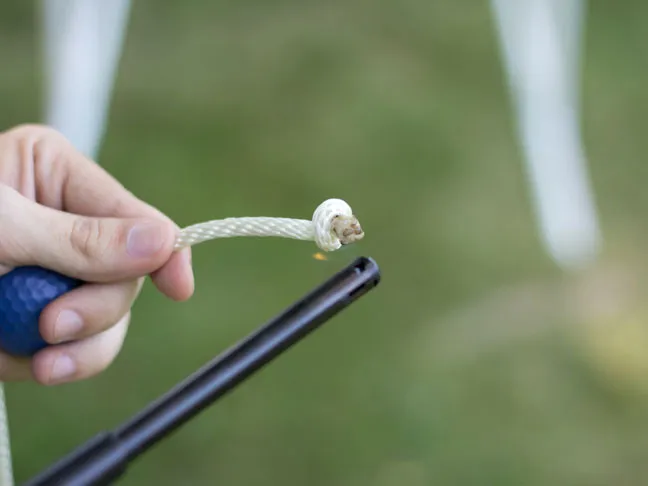 Step 5: Once all of your paint has dried on your PVC pipes, assemble your ladder. Connect the two 90 degree brackets to either side of your top rung. Connect a 1' piece to the other end of each 90 degree bracket. Connect a PVC tee to each 1' piece, and continue building your rungs downward. When you attach the last tee on the bottom, use the 2' piece as the back of the ladder so the bolos won't knock it over during play. You can decide whether you want to glue the ladder together, or leave it so it can be disassembled easily for transport or storage.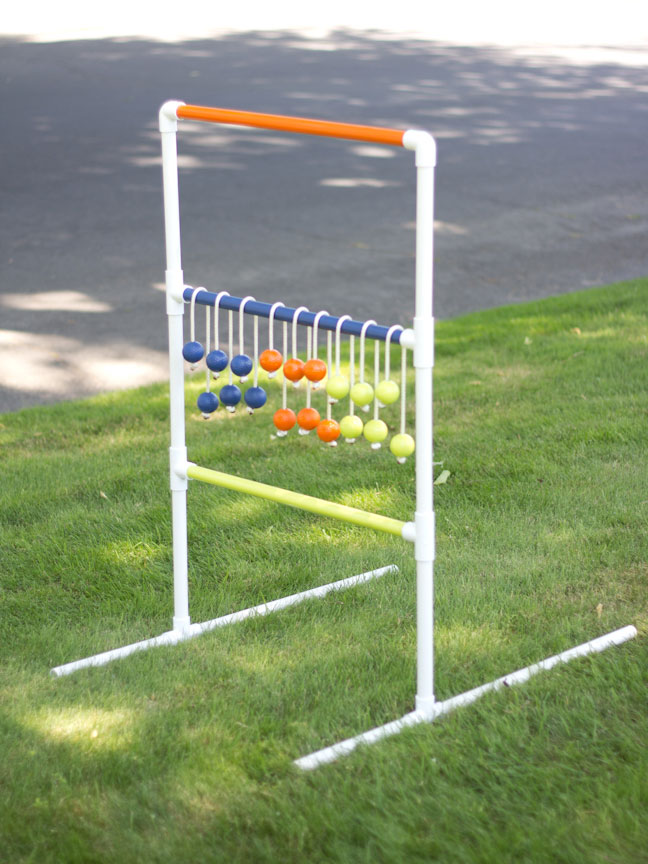 Step 6: All of your pieces should be assembled, and now you can invite all your friends over to play! Stand 15 feet back from your ladder and toss your bolas onto the rungs. First person to 21 points wins!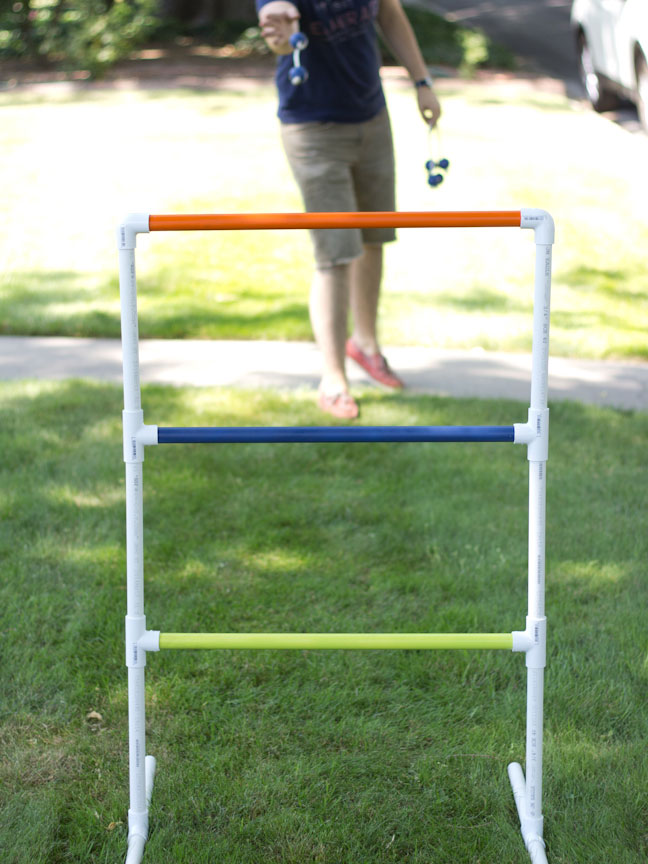 More DIY Summer Crafts:
21 Kid-Friendly Games for the Backyard or Lawn
Lawn Twister

A little spray paint and your grass can become an awesome board game. Found via You + Me. Step by step instructions via Instructables.

Bocce Ball

A classic backyard game. Official Rules at In Depth Info. This beautiful set from Pottery Barn.

Badminton

Badminton can be fun with or without a net, but I am dying for this self-contained set from Zume. Official Rules at The Badminton Bible.  

Ladder Golf

I made this ladder golf set a few weeks ago, and it was a big hit at our last party. See the post here on Momtastic.  

Croquet

We recently found a vintage croquet set in our parents' garage and can't wait to set it up on our new lawn this summer. Official rules via 9 Wicket Croquet. This set from Hayneedle.  

Cornhole

A staple of football tailgates, this game is a great addition to the backyard. DIY instructions via Home Stories A to Z.  

Giant Jenga

Some 2x4s and paint take the classic tabletop game Jenga into the backyard. Just be careful little ones don't get toppled on during the game! DIY via A Beautiful Mess.  

Laser Tag

It's amazing how far technology has come. Now you can play laser tag in your own yard with a pair of smartphones. AppTagHD via Hex3.  

Horseshoes

The original "toss an object for points" game is still one of the best. Official rules via Livestrong.  

Dodgeball

While normally played in a gym or on a basketball court, dodgeball can be easily adapted for backyard play. Official rules via International Dodgeball Association.  

Super Soakers

When the temperature rises, it is time to break out the water guns. Geek Dad has an awesome roundup of all the best Super Soakers available these days.  

DIY Kids Car Wash

If you want a little less water warfare, check out this awesome DIY water playset from Mom Endeavors.  

Scavenger Hunt

Sometimes you don't need any equipment at all to have a good time. Send the kids on a scavenger hunt around the yard. Free printable from Hands On As We Grow.  

Ring Toss

This toss game is especially great for little ones. DIY tutorial via Mom Endeavors.  

Rollors

This is a fun new variation on a couple of classics. It combines the rules of horseshoes and bocce ball to make a whole new game. Get your own set from Rollors.  

Kerplunk

Another great board game supersized---the kids will get a kick out of this giant ball-drop game. DIY Tutorial via All Parenting.  

Spikeball

Spikeball takes the game of volleyball and compresses it down to a tiny trampoline sized net. More info via Spikeball.  

BaseBoloBall

One man's awesome idea for a variation on ladder golf to combine it with the rules of baseball. DIY Instructions via Tossing Games.  

Kubb

A classic Swedish game that involves tossing sticks and blocks for points. Game instructions via Master Games. DIY Tutorial via This Old House.  

Soccer

With World Cup fever still going strong, every little kid will be wanting to play soccer all summer long. Make your own PVC pipe goal with instructions from This Old House.  

Pipeball

Skeeball + basketball + horseshoes = tons of fun. Full tutorial from This Old House.