Materials:

1 sheet tissue paper in each color: red, orange, yellow, green, blue, purple
1 piece green construction paper
12 inch foam wreath
glue
scissors
pen
tape measure
3 inch shamrock pattern, cookie cutter, or printed outline
10 inch piece of ribbon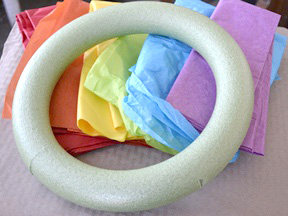 Instructions:

Step 1: Measure around the outside of your wreath with a tape measure. A 12 wreath should have about a 36 inch circumference, but this will vary. If the measurement of your wreath's circumference is off by a few inches, that's totally fine.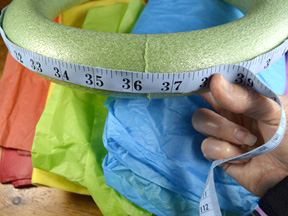 Step 2: Divide the circumference of your wreath by 6 (don't worry—this is the only math involved!). Measure 6 even sections around the wreath and mark them off with your pen. My wreath is 36 inches, so—using my tape measure—I measured 6 sections of 6 inches each, and made marks with my pen. Set foam wreath aside.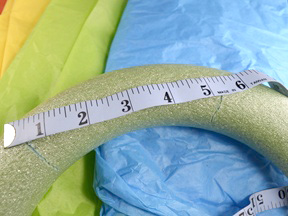 Step 3: Cut  tissue paper into 2½ inch squares. To do this, cut the tissue paper into strips 2½ inches wide. Lay the strips on top of each other so there are about 6 or 7 strips in a stack and cut them crosswise to make the squares. Each colored sheet should make about 30 to 40 squares. Repeat the process for each color.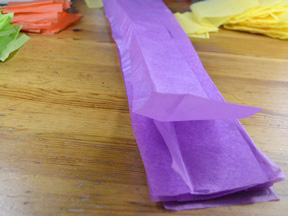 Step 4: Tie a piece of ribbon around the top of your wreath if you want to hang it. Secure it in place with a small dot of glue.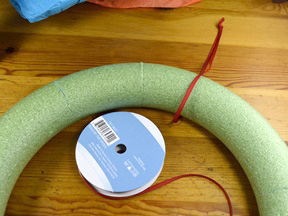 Step 5: Pick a color and start gluing the tissue paper squares to the wreath. To do this, press your finger into the center of the square and wrap the tissue paper up and aroundy our finger. Dip the tip of your tissue-paper covered finger into the glue (as shown below) , and stick the tissue paper onto the wreath.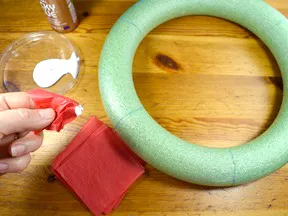 Step 6: Each of the sections you marked will be one color. Start at one side of the section and work your way across adding same-colored tissue paper to the front and sides as you go. To make the rainbow sequence put the colors in this order:
red
orange
yellow
green
blue
purple
When you get to your marked line, switch tissue paper colors, until you get all the way around the wreath. The wreath should be full on the front and sides. You can leave the back empty.

Step 7: When you get all the way around the wreath with the tissue paper squares, let the glue dry completely. Then, go back around and fill in any thin spots with corresponding leftover tissue papers.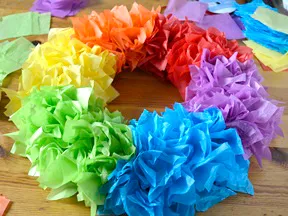 Step 8: Use yuour shamrock-shaped cookie cutter or a template to trace and cut out 6 shamrocks from a piece of green construction paper.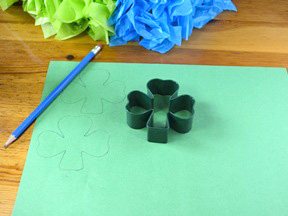 Step 9: Glue 1 shamrock in between each of the colors all the way around the wreath.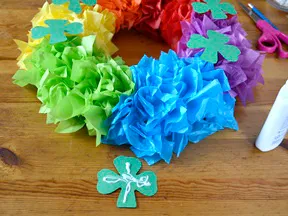 Step 10: Hang your wreath to celebrate St. Patrick's Day.
Want more St. Patrick's Day crafts?
Find more crafts form Linettte Gerlach at The Kid's Fun Review.