Materials:

pencil
feathers
exacto knife
scissors
decorative tape
hot glue gun
cutting mat
several sheets of paper
heart hole punch (just use scissors to cut the hearts free hand)
glue
clothes pins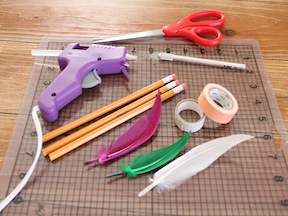 Instructions:

Step 1: Use the exacto knife to cut your feather down the spine. Make sure to leave some of the spine on either side so the feathers don't come off!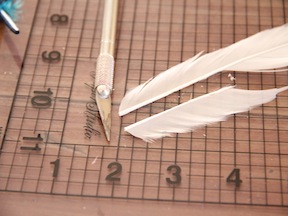 Step 2: Cover your pencil with some fun tape. Just start at the base of the eraser and adhere the tape across the pencil toward the tip until you reach the end of the color on the pencil then cut off the remainder. Then, rotate the pencil and repeat the process until the entire pencil (except the tip) is covered with decorative tape.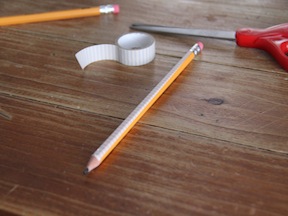 Step 3: Use the hot glue gun to attach your feathers to the pencil. Make sure you have the correct placement and sides of the feathers before you glue.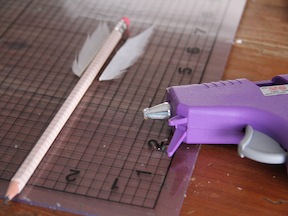 Step 4: Set your new Arrow Pencil aside, and let it dry completely.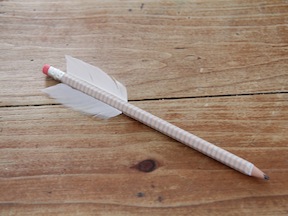 Step 5: Gather your supplies to make the heart notepad.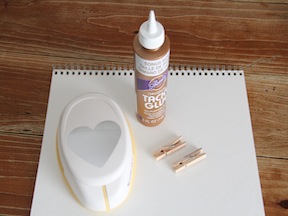 Step 6: Using the heart hole punch cut several hearts from your paper. If you don't have a heart hole punch, trace a heart on a piece of paper and cut it out. Use this as your stencil to cut out the rest of the paper hearts.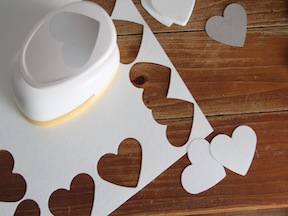 Step 7: Stack the hearts together and add glue to the top edge, making sure the glue is evenly distributed and smooth.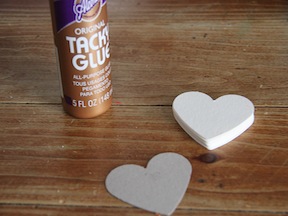 Step 8: Clamp on the clothes pins and let the glue dry completely.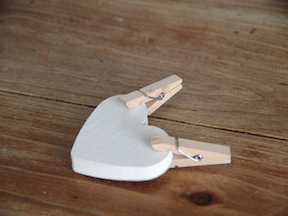 Now you have your brand new Heart Notepad and Arrow Pencil ready for writing love notes. Enjoy!
Find more crafts from Kersey Campbell at ARDOR.