Materials:

12 inch paper doily (find the paper doilies in the craft or cake decorating section of your store)
10 inch paper doily
1 piece white card stock, measuring 8 ½ inches by 11 inches
2 silver pipe cleaners
blonde doll hair
1 pair wiggly eyes
3 inch white Styrofoam ball
red permanent marker
glue
spray adhesive
scissors
Angel Dress Pattern, printed out
Instructions:

Step 1: Print out the Angel Dress Pattern and cut it out. Trace the pattern onto the white card stock and cut along your traced lines.
Step 2: Cut the 12 inch paper doily in half.
Step 3: Use glue to adhere the doily halves to the card stock. on top of the other, with the flat edge of the doily at the top of the cardstock and the rounded edge at the bottom. Layer the doilies so that the bottom doily half peeks out slightly below (a couple of inches) the top doily so it looks the ruffles on a layered skirt, like the photo below: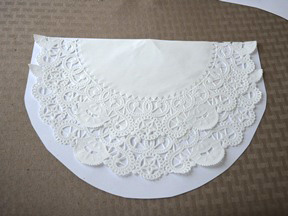 Step 4: Once the glue is dry, pull the straight edges around to form a cone. To do this: squeeze a line of glue along the straight edge and overlap the other straight edge to form the seam of the cone. Hold everything in place with a paper clip until the glue dries. This seam will be the front of your angel. The cone will be the top of the angel's body.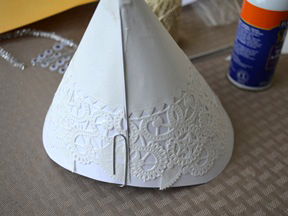 Step 5: Use scissors to carefully poke a hole in the bottom of the Styrofoam ball.
Step 6: Fill the hole with glue, and slide it over the point on the cone you just made for the angel's head.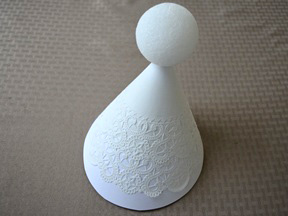 Step 7: Add the wiggly eyes to her face with a little glue.
Step 8: Use glue to stick the doll hair to the top of her head. Add hair little by little; keep adding hair until you are satisfied she has enough.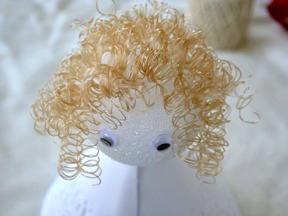 Step 9: Fold the 10 inch doily in half, then glue it to the top of her back with the folded edge on top for the angel's wings.
Step 10: Glue a piece of silver pipe cleaner down the front of the angel to hide the seam you created when you made the cone for her dress.
Step 11: Make a loop and leave about 1 to 2 inches of silver pipe cleaner on the end to make the angel's halo. Push the straight end of the pipe cleaner into the Styrofoam ball on top of her head and bend it down so the loop sits on top, to hold the halo in place.
Step 12: Use a red permanent marker to make the angel's mouth.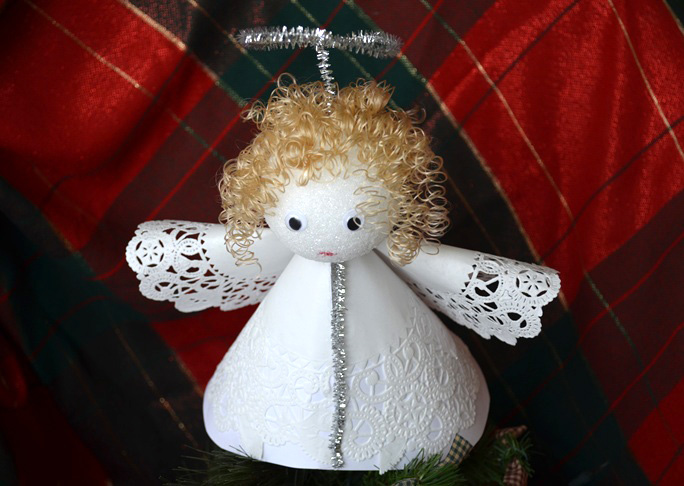 Step 13: Add your angel to the top of your Christmas tree, or give her as a gift to someone special this holiday season! Merry Christmas!