To make the creative centerpiece in the images above, the talented folks at Pottery Barn used acorns, nuts, leaves, seed pods, and grapevine to fill their vases. Take a cue from these images (and from Mother Nature) to adorn your Thanksgiving table.
Idea 1: Don't have time for a nature walk?  Raid your pantry for different types of beans to fill your vases from dried corn, kidney beans, and green split peas. Tie raffia or twine around to further enhance the vase, like in the image marked #1 below, courtesy of My Heart's Desire.
Idea 2: A Pop Of Pretty shows us how different types of beans look lovely when they are layered in a glass vase in picture #2 below.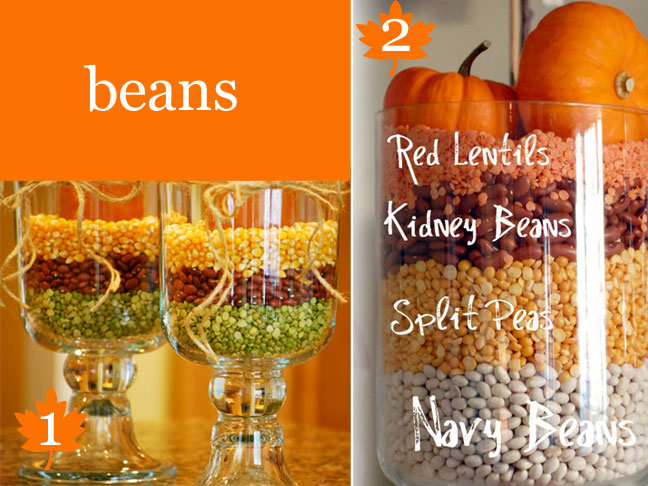 Idea 3: If you want to use candles in your vases along with the fillers, use glass votive holders to hold the candle, and add the filler around the votive, like in image #3 from My Lovely Life.
Idea 4: Layer dried or silk foliage with pinecone filler to create a stunning nature centerpiece like in image #4 from Sweet Something Design.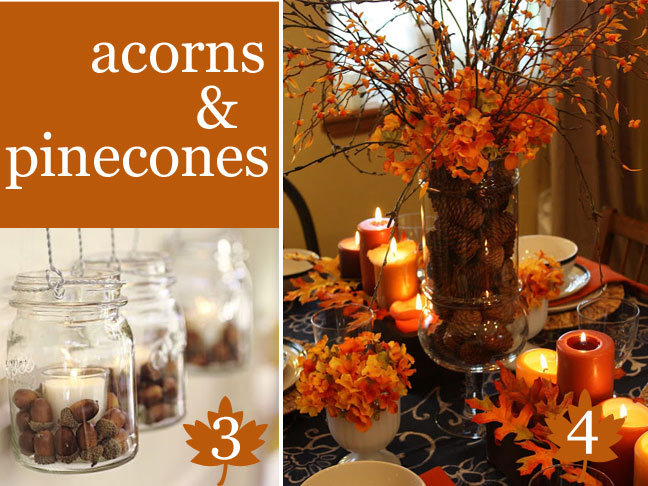 Idea 5: If you don't have a glass vase, you can still bring nature to your table by simply filling a ceramic vase with branches or placing a pumpkin on top of an urn filled with dried leaves like in image #5 below from In My Own Style.
Idea 6: Birdseed creates a nice contrast when paired with feathers and wheat in this creative decor display featured in image #6 below, courtesy of BH&G.
Idea 7: Dried corn stalks add a perfect nest for a pumpkin. Try recreating the image below, found on Pinterest.