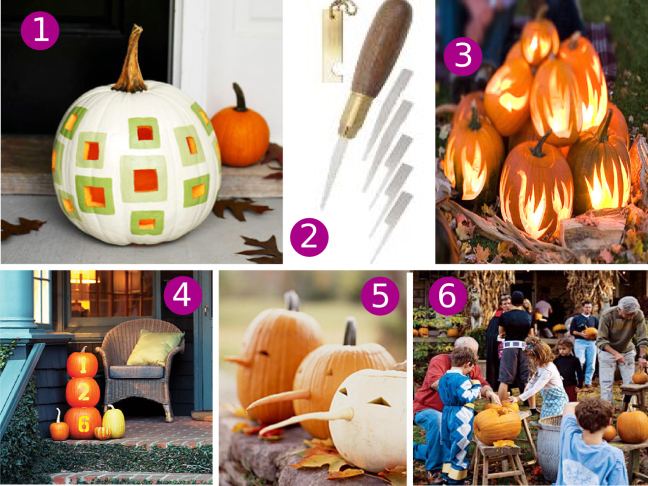 Looking for some non-traditional pumpkin carving inspiration?  Check out these fabulous ideas!
Geometric pumpkin from Parents Magazine
Pumpkin carving tool set from Knife Country USA
Pumpkin bonfire from Better Homes and Gardens
Pumpkin house numbers from Sunset
Carrot-nosed jack-o'-lanterns from Martha Stewart
A pumpkin carving party from Eddie Ross
Pumpkin carving is a rite of passage come October, and our normally crude carvings never fail to make people smile.  But carving has gotten creative, and while there's always room for a jagged smile and triangle eyes, these pumpkins take it to the next level!  Use paint and special carving tools to help make your pumpkin totally unique, and incorporate your finished product into your home's outdoor decor.  Need more guidance?  Search for "pumpkin stencils" on the internet and find myriad templates to use as a guide for your carving.  And why not throw a pumpkin carving party to let friends join in on the fun?