FamVeld / Getty Images
Getting kids to relax before bedtime is a constant struggle. While nothing can replace spending time with your kid and reading a loud, mixing in reading experiences can only be a good thing.
Listening to stories at bedtime taps into your child's imagination and prepares them for dreamland. Exposing your kids to different narrators gives kids understanding of how cadence and voice inflections brings a story to life and helps them read with confidence when they read on their own. It's also a life saver for those nights I know I will fall asleep while reading.
It's easy to get access to audiobooks. You can borrow them from your local library through the Libby app, or purchase them from Apple Books, Google Play, Audible, Amazon and many more. Talented narrators like Judi Dench, Ashley Judd and Steven Fry and complimentary musical compositions really bring the stories to life.
Check out the slideshow for the best kids audiobooks for bedtime.
 For more on bedtime routines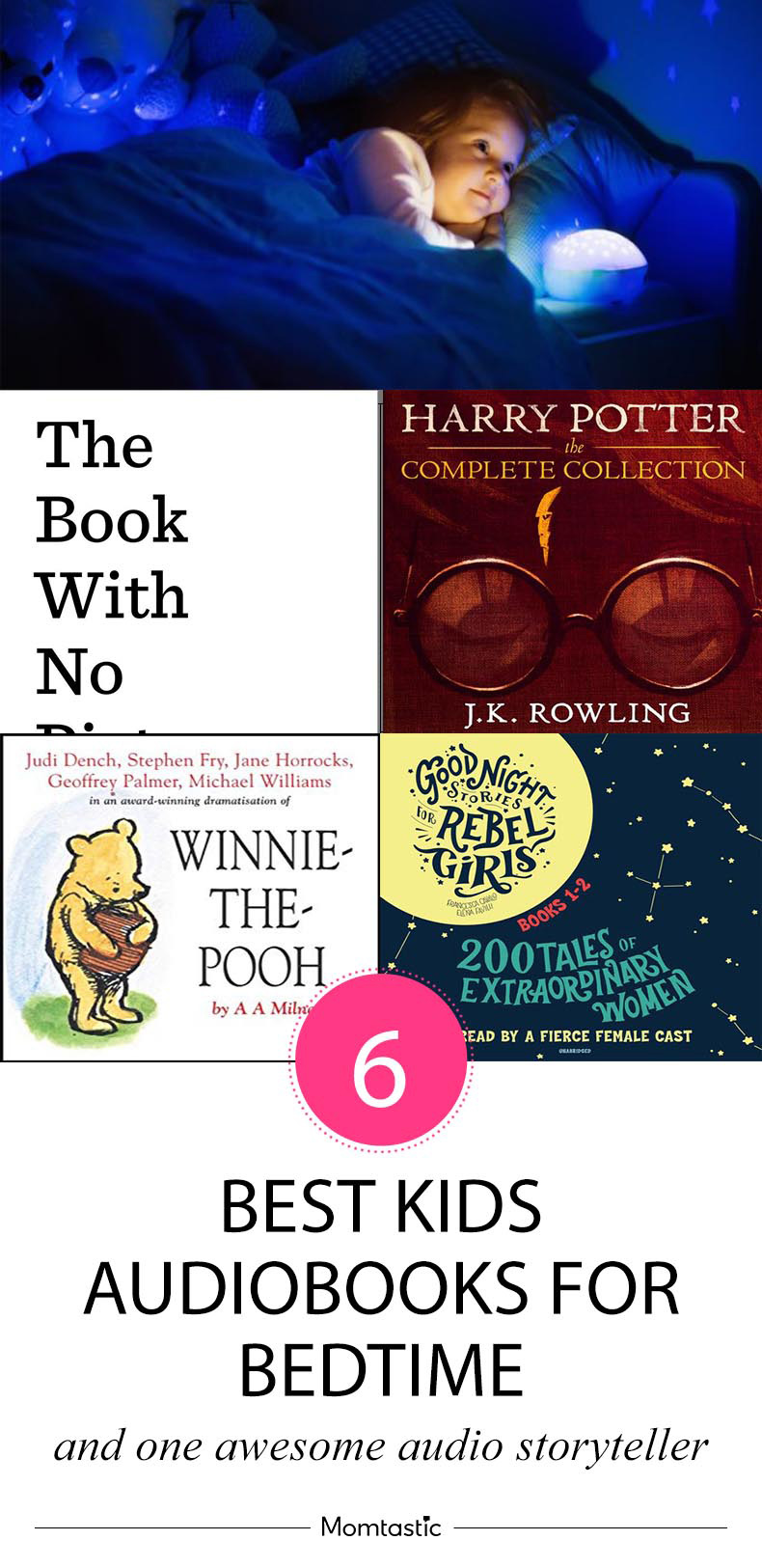 Best Kids Audiobooks for Bedtime
Winnie the Pooh (Dramatised) By A.A. Milne

We have to start with a classic. This reading by Judi Dench, Steven Fry, Jane Horrocks, Geoffrey Palmer and Michael Williams, is like listening to theater. Running just over 2 hours, this long-form reading will get you through a few nights. 

Photo Courtesy of Hachette Children's Books

Good Night Stories for Rebel Girls, Books 1-2: 200 Tales of Extraordinary Women by Francesca Cavallo & Elena Favilli

Read by a fierce female cast (think Alicia Keys, Ashley Judd, and Danai Gurira) this audiobook compiles 200 short biographies of real women, both past and present, who made their dreams come true. 

Photo Courtesy of The Listening Library

The Little Elephant Who Wants to Fall Asleep By Carl-Johan Forssén Ehrlin

Ideal for ages 3-7 years old, this story comes in clutch for when your little one is fighting sleep. Psychologist Carl-Johan Forssén Ehrlin developed a simple story recording that uses soothing language and new sleep techniques to lull your night owl to sleep in minutes. 

Photo Courtesy of The Listening Library

Harry Potter: The Complete Collection by J.K. Rowling

All seven books in one collection is a commitment. But I doubt you will regret. Better for older kids this is a great way to introduce kids 8-10 to long form storytelling.

 Photo Courtesy of Random House/The Listening Library

Little Bear Audio Collection by Else Holmelund Minarik

Read by Sigourney Weaver and directed by Maurice Sendak (who illustrated the books). Available only on CD, the tracks are titled so you can easily pick the tale your kids loves the best while they drift to sleep.

Photo Courtesy of HarperCollins Publishers.

The Book with No Pictures By B.J. Novak

This silly book will have your child giggling before bedtime. Read by Busy Phillips it is filled with goofy sounds like BLORK,  BLUURF, BLAGGITY BLAGGITY and GLIBBITY GLOBBITY. 

Photo Courtesy of The Listening Library

Lunii My Fabulous Storyteller

For a Choose-Your-Own-Adventure type experience we recommend this audio storyteller. Children choose different elements to make up their own stories and listen to them straight away!