Some families go to sporting events together, some travel to the beach or the bush each weekend and some like to watch movies together. Whilst we do all those things on occasion as a family, mostly we are all about finding any literary events around the place!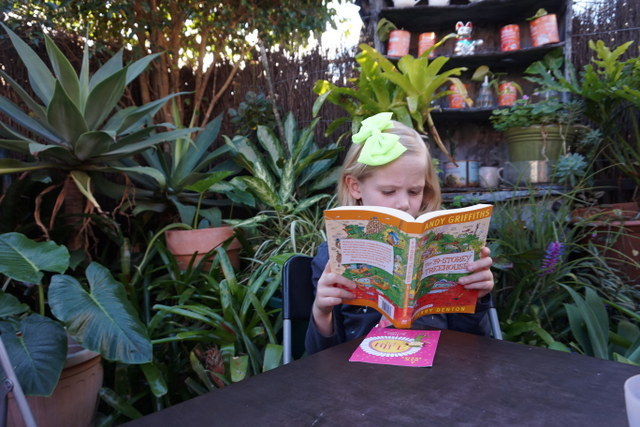 I'm a librarian, my mother was a librarian, so it's natural that this is just the way I want to spend my time. Everyone else seems very happy with the arrangement. Literary pursuits, fuelled by excellent coffee for the adults, are what we do and I thought I'd share with you some of the excellent events and venues we visit (Brisbane based, but I'll suggest other options for other states), so that you can plan similar outings around your local area.
In an age where our young people spend more and more time digitally connected and glued to screens, there is something a bit special and fabulous about a trip to your local library, bookstore, theatre or gallery to discover some reading gems and engage with literary activities.  Literary events fire young minds and if a young person joyfully connects with the ideas presented in a workshop or production, they will be busy for days afterwards honing new skills. 
Events based around story bring books to life and extend the book reading experience immeasurably. When books come to life in the form of a literary event, children fully immerse themselves in the story and experience it with all their senses.
Pretty much every week I check in with the Facebook page and email lists of my favourite local independent bookstores, local council library, our State library and our magnificent art gallery to see what upcoming events they have planned. As an added bonus, many of these events are free or low cost – actually the hardest part is finding out about them and booking a spot. Consider all my suggestions below and then spend an hour or so signing yourself up to social media channels and email lists and you will be set.
Public Libraries
Public libraries are simply the best places to visit with young people and almost always have a fabulous calendar of free events. For instance, I run a series of workshops for Brisbane City Council Libraries over the school holidays. I really enjoy coming up with new concepts for these workshops every holidays, usually based on my favourite books. Library workshops generally have the aim to 'increase engagement with the collection', so whether you have an avid reader or a reluctant reader, these workshops will pretty much always see you walking away with armfuls of borrowed books.
Artists, authors, gardeners and performers all conduct workshops in public libraries and they are, without a doubt, some of the best workshops my children and I have ever attended. They are creative, suit both genders, usually connect with books, encourage engagement in community and in libraries and they are free or low cost – wins all round I say. With the recent focus on coding, makerspaces and robotics in libraries (my love of these topics is for a different day and different discussion!), there are also a plethora of activities on these topics to book your young people in for – some of which run over the school term as well as holiday periods. Check with your local library to see what they're up to.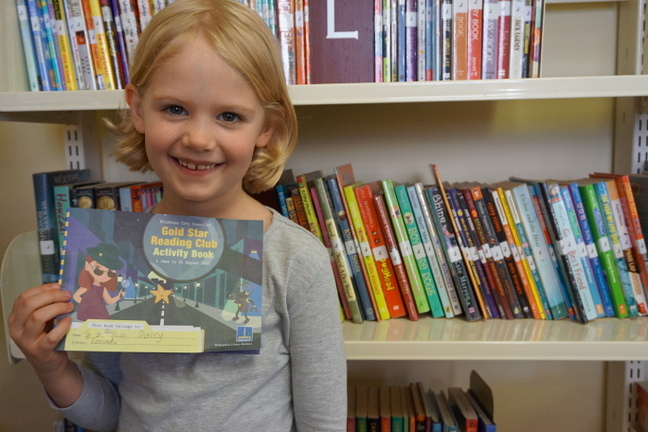 Bookstores
Bookstores have become events-driven in the last five years or so and this has been a wonderful bonus for those of us who love nothing more than a great literary event! Even better is the fact that the best bookstores also have amazing coffee shops in them – I cannot understand why more parents have not cottoned on to the wonders of a Sunday morning bookshop trip: breakfast; multiple coffees; author workshops or signings and some retail therapy…is there any better way to spend a Sunday morning?
Our local bookstore, Avid Reader, has a dedicated children's bookstore, 'Where the Wild Things Are' next door and if I had the time, I could book my children into an event most weeks. The bookshop also hosts bookclubs for young people 7-10 (The Treehouse Bookclub) and one for teens (The Wonder Club), both of which are brilliant. My friends and I also spend a lot of time at Avid Reader in the evenings at their adult events, enjoying a glass a wine, cheese (and those excellent cucumber things they do) and a talk by our latest adult author love. Checkto see if your local bookstore has similar book club events as they are invaluable in connecting like-minded little souls.
Some favourite booksellers across the country (you an visit them online too):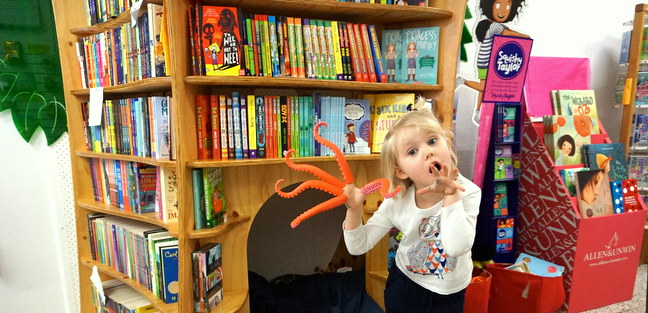 State Libraries
I am immensely fond of the various state libraries around Australia. I'm rather biased towards the State Library of Queensland for obvious reasons. If you visit Brisbane, a trip to the State Library with your young people is a must. Just yesterday we attended a brilliant community day where my four-year-old sat entranced as all the instruments in the orchestra were introduced to her, my eight-year-old had books read to her by one of the coolest authors around, Anita Heiss, and we all made family trees – which included the dogs in our extended family. The day before this, we attended a fabulous 'create a character' workshop with author/illustrator Leigh Hobbs and spent several hours in 'The Corner', relaxing, reading, storytelling with puppets and crafting. Free people! All free!
For older children many of the state libraries run subsidised week-long writing programs or digital media courses. Tristan Bancks has run some brilliant writing courses for young people out of the State Library of Qld and the feedback from courses like these often gives me goosebumps. There are so many young people out there who truly want to write, illustrate and meet the creators of books and these sorts of opportunities are priceless. It is absolutely worthwhile signing up to the email list of your state library.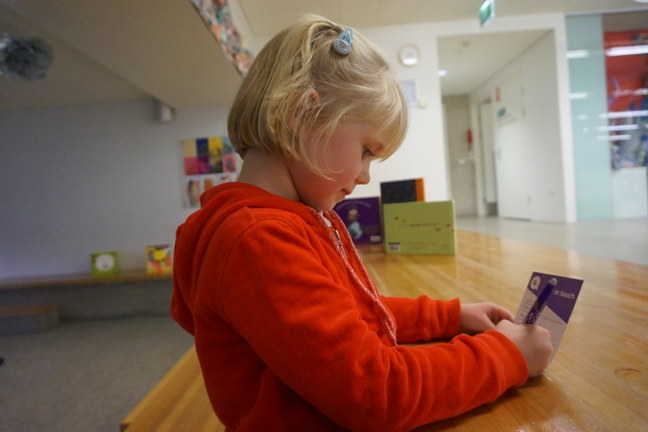 Festivals and Theatre Events          
We recently spent the entire week at the best early childhood festival around, 'Out of the Box', specifically for little people eight and under. 'Out of the Box' has been curated by QPAC for 24 years and is the only arts festival in Australia dedicated to children eight and under and one of only a few in the world. To say I am a fan of 'Out of the Box' is an understatement. I await the release of the program each year and then I spend hours circling and booking what 'my children' (all about them of course…) will be attending. We always attend the workshops and shows which have a literary bent, this year an adaptation of 'Dot and the Kangaroo' and a Singaporean folk tale were our favourite performances. Book based theatre experiences allow you to prep young children before the event by reading the book or telling the story, so that they will have a better idea of the narrative structure of the work before they attend. There is nothing worse (as a child or adult!) than not understanding what is happening in a performance, and to my mind, book based productions solves this issue!
Find out what's happening in your local area. Here are a few annual events that might be just the thing: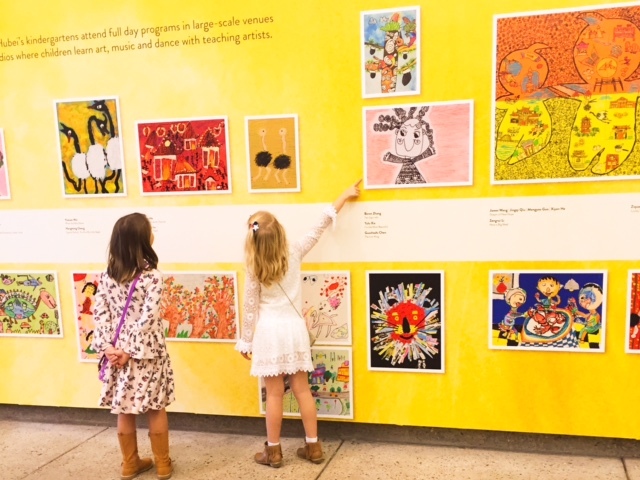 I can also highly recommend productions by Monkey Baa Theatre Company, with whom I have no affiliation other than always attending any show they produce! Their shows often tour the country and are regularly based on adored books. 'The Little Prince', presented by Monkey Baa Theatre Company and Spare Parts Puppet Theatre is based on the classic book by Antoine de Saint-Exupéry and this production is currently touring the country so do check out all the details. Other good children's theatre companies include:
Author and Illustrator Workshops
Finally, I stalk (nicely!) children's author Facebook pages, blogs and websites and have often been delighted to find that they are offering a holiday workshops or term long art class. Last year we took a road trip to Murwillumbah with a group of 7-year-olds (coffee on-route) to do a day workshop illustrating, printing and creating books with talented children's book illustrator Tamsin Ainslie. She now has an actually gallery (oh be-still my beating heart) and runs workshops and drawing classes for children from here – makes me want to drive the two hours to Murwillumbah every week. Literary day trips, with some coffee shop hopping and local gallery visiting for the adults while the children create and make. What could be better?
Authors who are local to your area will often schedule talks, workshops or meet and greets in local bookstores and libraries and there is no better way to bring a book to life than by meeting the creator. My own children have grown up surrounded by literary types and have developed quirky little relationships with many of them. My eldest daughter will often re-read 'Piccolo and Annabelle', just because she loves Stephen Axelsen and recognises his voice and his humour in his writing. The four-year-old in the house regularly asks to visit author/illustrator Narelle Oliver for lunch or coffee as Narelle fusses over her and they discuss books. Many of the students I teach at school have emailed authors like Jacqueline Harvey, Allison Tait or Andy Griffiths to let them know how much they adore their work – and have been rewarded with return emails. Authors and illustrators are generous souls who genuinely enjoy connecting with their audience and they often love leaving their studios to meet with young fans of their work.  Below is an image of author Zanni Louise at my school library for storytime and a workshop.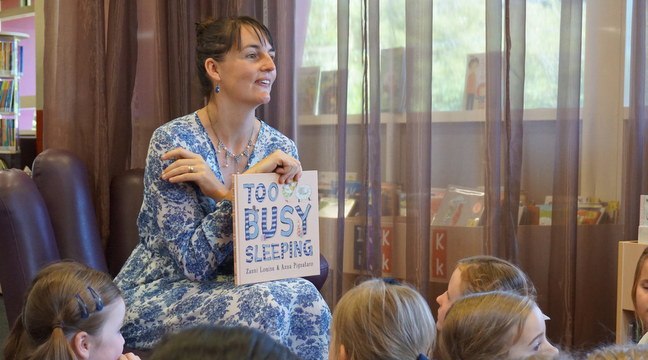 So. That's what we've been up to. Hit me with other suggestions to add to my over-crowded literary calendar!
More for book lovers:
Images; Megan Daley