Have you seen a baby wearing mittens in the middle of summer and thought, "that's odd"? While it's true that babies typically need long layers in the first few months, mittens often have more to do with preventing scratching than they do keeping those small hands warm when it's 90 degrees.
So, why do some babies scratch their face? 
"Often an infant is scratching their face unintentionally, while other times it may be dry skin, eczema or some other irritant," says Dr. Jay Lovenheim, D.O., F.A.A.P., a pediatrician at Lovenheim Pediatrics in West Orange New Jersey.  "We also often see small children scratch their face near an area that may be hurting internally.  Such as a child scratching a jaw or neck when their throat hurts."
Dr. Lovenheim suggests that parents start nail "maintenance" as soon as nails become long enough to leave scratches on the face. Most infant nails can be maintained with either nail clippers or a nail file. For those that use clippers, there are many infant products out there to purchase. Frida has a great selection. "It's most important to be careful with each clip and to try not to cut the nail too short, but don't worry if you do – accidents happen all the time," says Dr. Lovenheim. "If you accidentally draw blood (stay calm!), apply pressure to the wound for 15-20 min.  Of course, for those that prefer not to use a clipper, a nail file will also do the trick."
Besides proper nail maintenance, some parents will also opt, as mentioned, to keep their infants in mittens to reduce any scratching of the face. Carter's makes some adorable bargain options (pictured below), while Mori has stylish organic cotton variations (pictured above). Note, however, that while Dr. Lovenheim approves of this solution, he cautions that it's important for your child's development to have plenty of time to explore the world with their hands without a covering on them.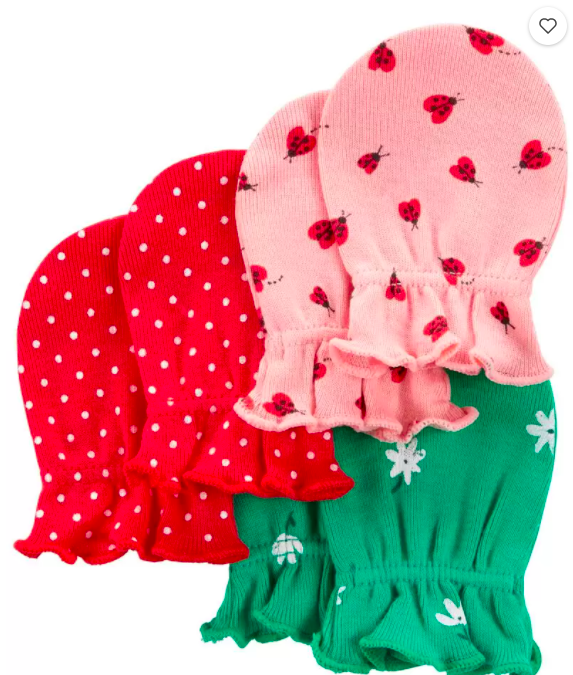 Read On About Newborns: