I'm not gonna lie, one of the first things I pictured when we found out we were expecting baby #2 was matching sibling outfits. But not just for special occasions (even though head-to-toe coordinated finery is adorable). I mostly couldn't wait to find cute sibling tees and onesies for my brood. Half the time I look like a wreck, but my kids are always dressed in cute outfits.
I'm also a big believer in supporting small businesses and there's no shortage of independent shops and websites that produce really funny sibling tees and onesies. And all of us could use a good laugh from time to time because after all, this momming stuff is hard. Whether you're dressing all boys, all girls, or a coed mix, here are some adorable sibling tees and onesies to brighten your day.
Like what you see? Don't forget to Pin it!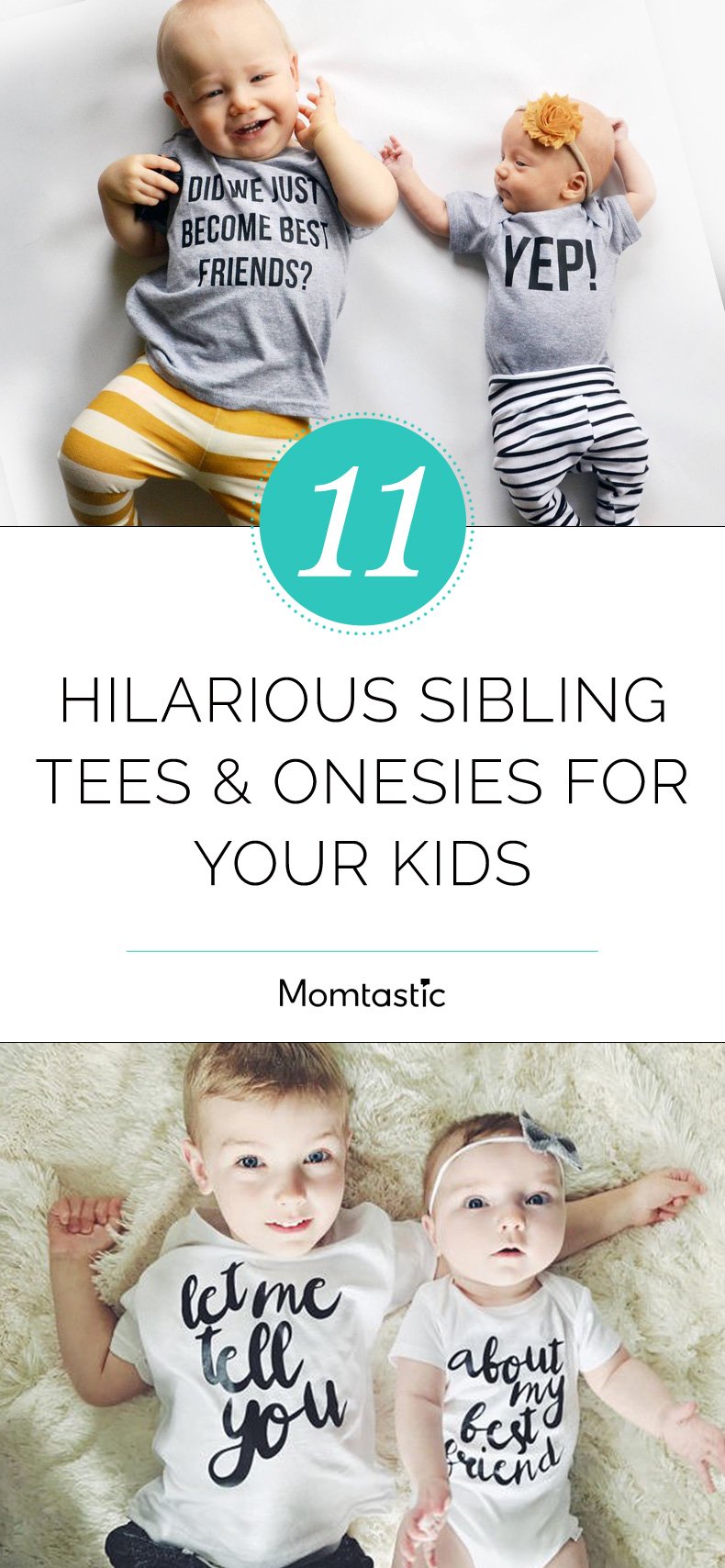 11 Funny Sibling T-Shirts & Onesies For Your Kids
Best Friends? YEP

It seriously does not get any cuter than these matching tees from Spill the Beans Etc. Anytime a great movie quote lands on children's clothing, it's a win for this mom.

Price: $35 for the set
Buy It: Spill the Beans Etc

Biggie Smalls

For the hip-hop-loving family or anyone who likes to have a chuckle: How cute is this set for your little and your big?

Price: $25.99 for the set
Buy It: Etsy

If I Was You...

Classic sibling rivalry at its finest—but also ridiculously cute. If I was you, I'd wanna be me, too! These are perfect for twins or any sibs.

Price: $40 for the set
Buy It: Etsy

Chips & Salsa

The only thing better than chips and salsa? That would be your babies. These tees are perfect for Taco Tuesday or any time the littles want to look extra delish.

Price: from $28 for the set
Buy It: Etsy

Let Me Tell You

Just like movie quotes, classic song lyrics on kids' tees always get me! These are really cute, but would be super-funny on a set of toddlers that don't happen to be getting along too well.

Price: $26 for the set
Buy It: Etsy

Mommy's Reasons

We all know that coffee and wine help moms get through the days—and nights! Now, which one of your little ones makes you reach for the coffee and who inspires the vino?

Price: $36 for the set
Buy It: Etsy

Homies

Our siblings are our first friends. How can you resist this pair of homie tees? (Not easily!)

Price: $26 for the set
Buy It: Etsy

Drinking Buddies

Got twins? Or a toddler and a tiny? These hilarious drinking buddy onesies are an absolute must.

Price: $30 for a set of two
Buy It: Etsy

FT Job

I just about died when I saw this set. This is literally the story of my life with two kids now. I tell my husband all the time, our three-year-old is a full-time job! Now with a baby in tow, this mama never stops.

Price: $26 for the set
Buy It: Etsy

Promoted

Youngest? Not anymore! When two become three, this set is the funniest way to announce.

Price: from $45 for the set of three
Buy It: Etsy

Mic Drop

Take the cuteness level to a different leve,l and get the whole family gets in on it. I absolutely adore these original - remix - mic drop tees for the fam.

Price: from $24/each
Buy It: Etsy