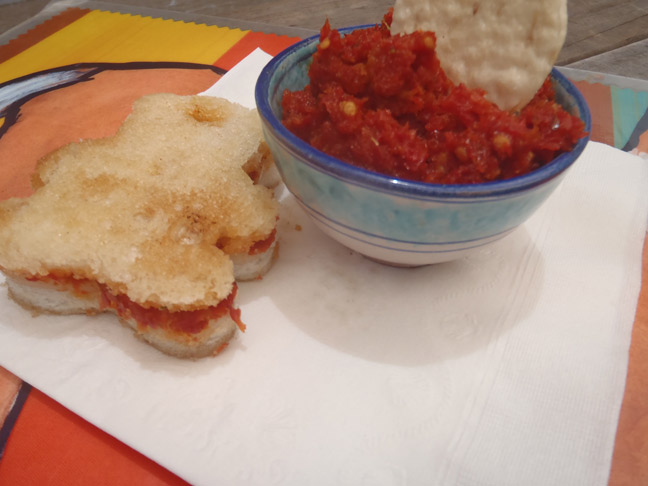 This is a great condiment to have in the fridge at all times!
It can spruce up almost anything savory.  I add it to meatballs, spread it on bread and chicken, use it as a dip, and even add it to my boys' sandwiches for lunch.  I'm always hearing that tomatoes are one of the healthiest things you can eat.  Dr. Oz even thinks they're so important to nutrition, that an entire country should be named after them!  So obviously I always feel great about serving them to my kids!
I don't know about your kids, but mine (four- and six-years-old) are much more excited about eating foods in fun shapes.  I think it's great to have a bunch of cookie cutters on hand. The photo here shows an example of a grilled cheese sandwich I put in their lunch box — using this pesto as a spread with a slice of Swiss cheese, and turning it into an animal!
Ingredients
3/4 cup sun-dried tomatoes marinated in oil
1/4 cup pine nuts
1/2 teaspoon very finely minced rosemary
1/2 teaspoon very finely minced fresh thyme
Salt and pepper to taste
Preparation
Toast the nuts in a 375 degree oven on a baking sheet — or in a small saute pan on the stove over medium-high heat.  The nuts are done when they are very aromatic and golden brown, after about 4 minutes. Stay with them, as they can go from perfect to burnt very quickly!
In a food processor, make the pesto by blending the tomatoes with the nuts and herbs. Season to taste with salt and pepper.
*Many stores sell now sell pine nuts already toasted.  To save time, look before you make your own!