Like most parents, the thought of serving my kiddos chicken nuggets was a bit creepy. On the other hand, not serving my kiddos chicken nuggets meant giving up a quick grab-n-go way to do a quick lunch or even dinner when time snuck off into the sunset without alerting me. I always invent different ways to create nuggets, loaves and "muffins" by tweaking the common [beef] meatloaf recipe. Having recently found frozen turkey breast cutlets in the freezer, I decided to try my hand at a poultry nugget this time. This recipe is simple, can be made egg free and is best served warm from the oven. You can freeze the nuggets before you cook them or after they have been cooled and cooked.
Homemade Chicken or Turkey Nuggets
Ingredients:
5 uncooked, thin turkey breast cutlets (you could use a pound of boneless and skinless chicken breasts)
1/2 cup cornmeal
1/2 cup wheat germ (raw)
1 egg (you may omit the egg if you wish, see directions below)
1 tablespoon minced garlic
spice mix: sage, thyme, pepper
Instructions:
Step 1: Preheat oven to 350F degrees.
Step 2: Dice or cut the turkey into small chunks and grind in a food processor.
Step 3: Mix the spices together using equal portions; I always measure my spices in shakes and I used 1 shake of each.
Step 4: Add the remaining ingredients and pulse until nicely combined – If you have decided to not use the egg, add 1 tablespoon of water.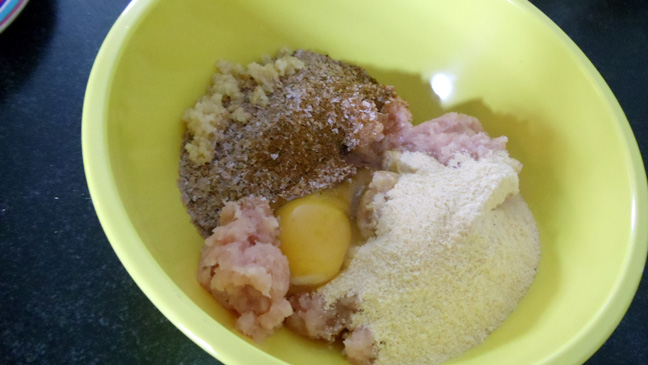 Step 5: Shape mixture into nuggets or logs or anything you please, be sure your hands are moist (dip them into a bowl of water) so that the nuggets will stay together!
Step 6: Bake for 15-20 minutes on a ridged baking sheet (or on oven racks set into a baking sheet) until golden and done.
Serve with a side of apple or pumpkin butter, marinara or pasta sauce for dipping.
For Babies Aged 9 Months and Older:
Mash the nuggets apart into bits and pieces that can be easily chewed and pick up.
Variations
Use a mix of 1/2 cup old fashioned oatmeal and 1/2 cup breadcrumbs instead of the cornmeal and wheat germ.
Use a tablespoon of natural applesauce and a dash of cinnamon to make these nuggets differently "sweet."