Ingredients:

24 mini cupcakes
24 vanilla wafers
24 2-inch pieces of black licorice
24 large (¼ inch) round yellow sprinkles
1 bag green melting chocolate
1 container white icing
24 lollipop sticks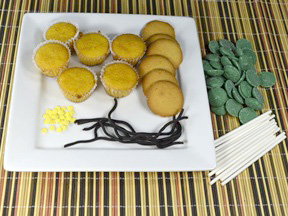 Preparation:

Step 1: Remove the cupcake wrappers, and level the tops of the mini cupcakes with a serrated knife (if needed).
Step 2: Turn the vanilla wafers upside down. Put a small dollop of icing in the center of each vanilla wafer.
Step 3: Place one mini cupcake upside down, pushing it lightly into the icing in the center of each wafer.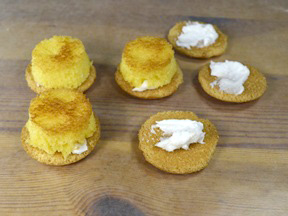 Step 4: Melt the green chocolate according to the package directions.
Step 5: Dip the mini cupcake/vanilla wafer hats into the melted green chocolate. Use a spoon or a small spatula to carefully coat the whole hat. Lift the hat out of the chocolate with the spoon and shake it gently back and forth to shake off any excess chocolate. If any holes form, re-dip the hat, or spoon a little chocolate over the top and shake gently again until the surface is fairly smooth.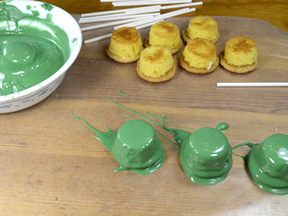 Step 6: Use the spoon or spatula to place the hats carefully on a piece of wax paper to cool and dry with the vanilla wafer side down.
Step 7: Insert a lollipop stick into the top of each hat, through to the center of the mini cupcake.
Step 8: When the chocolate starts to cool wrap a piece of licorice around each hat where the mini cupcake meets the vanilla wafer for the hat's band. Wrap the licorice so it meets up in the back of the hat, then trim off any excess.
Step 9: Add a round yellow sprinkle to the front of each hat over the licorice piece for a buckle. If the chocolate has cooled too much and the sprinkle won't stick, put a tiny bit of melted chocolate on the back, then stick it in place.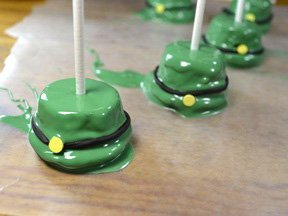 Step 10: Once the Leprechaun Hat Mini-Cupcake Pops have cooled completely, carefully lift them up and trim or shave off any excess chocolate off of the bottom with a knife.
Display your Leprechaun Hat Mini-Cupcake Pops on a platter and serve them to your family or guests!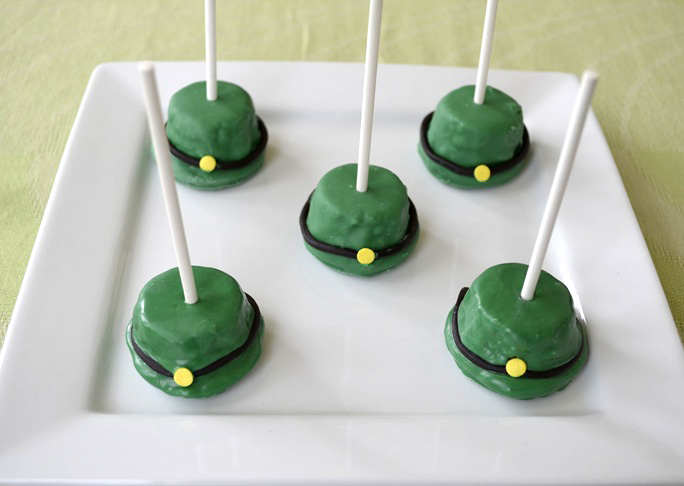 Want more St. Patrick's Day recipes?
Find more from Linette Gerlach at The Kid's Fun Review.