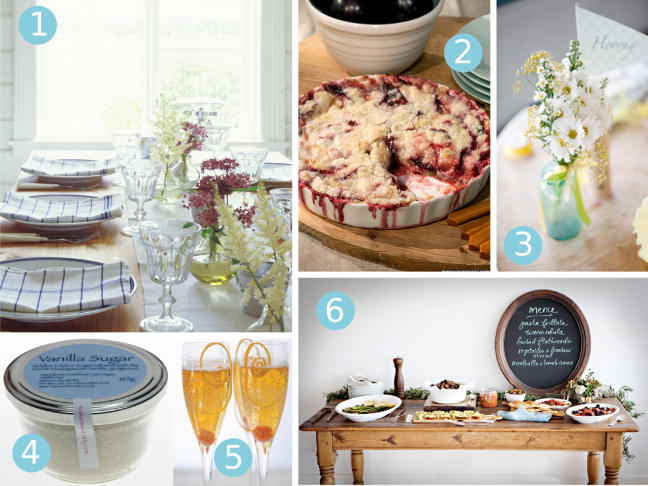 Celebrate sending the kiddos back to class with a relaxing just-for-moms back-to-school luncheon!
Simple table setting from Sweet Paul
Plum crumble from Martha Stewart
Simple decor from Justin & Mary Marantz via Style Me Pretty
Vanilla infused sugar from Essence Foods
Shampagne cocktail from Liz Scott
Buffet by Karen Mordechai for Sunday Suppers
Back-to-school means the end of a summer filled to the brim with non-stop activities and fun…and, oftentimes, that equals one tired Mom.  Throwing a moms-only luncheon is a great way to celebrate this turning point in the year and to re-connect with other moms!  Whether you have the luncheon during the week when the kids are in school or on a weekend, keeping it simple and pretty are the keys to making it a success.  Start by planning a menu of easy, prep-ahead food and serve it buffet-style so that guests can help themselves, and finish the meal off with a delicious dessert made from in-season fruit.  Non-alcoholic cocktails taste festive, but won't interfere with post-lunch productivity.  Set a table for the meal so that everyone can chat and connect while they eat, and top it with pretty napkins and inexpensive flowers from the grocery store (click here to read how to put together a quick bouquet).  Send the ladies home with vanilla-infused sugar favors – perfect for the bunch of sweet moms you've just feted.