With both of my kids' birthdays coming up, I've got parties on my mind. I love getting creative with the details for thier parties because after all, it's not a party without cupcakes and snacks at every turn!  Since a lot of party treats are loaded with sugar, I'm always on the lookout for new kids party drink recipes without a ton of the sweet stuff. Here are some of the best drink recipes I've found; they're fun, the kids love them, and the parents love them, too.
Get inspired with these less sweet but never boring kids party drink recipes.
Like what you see? Don't forget to Pin it!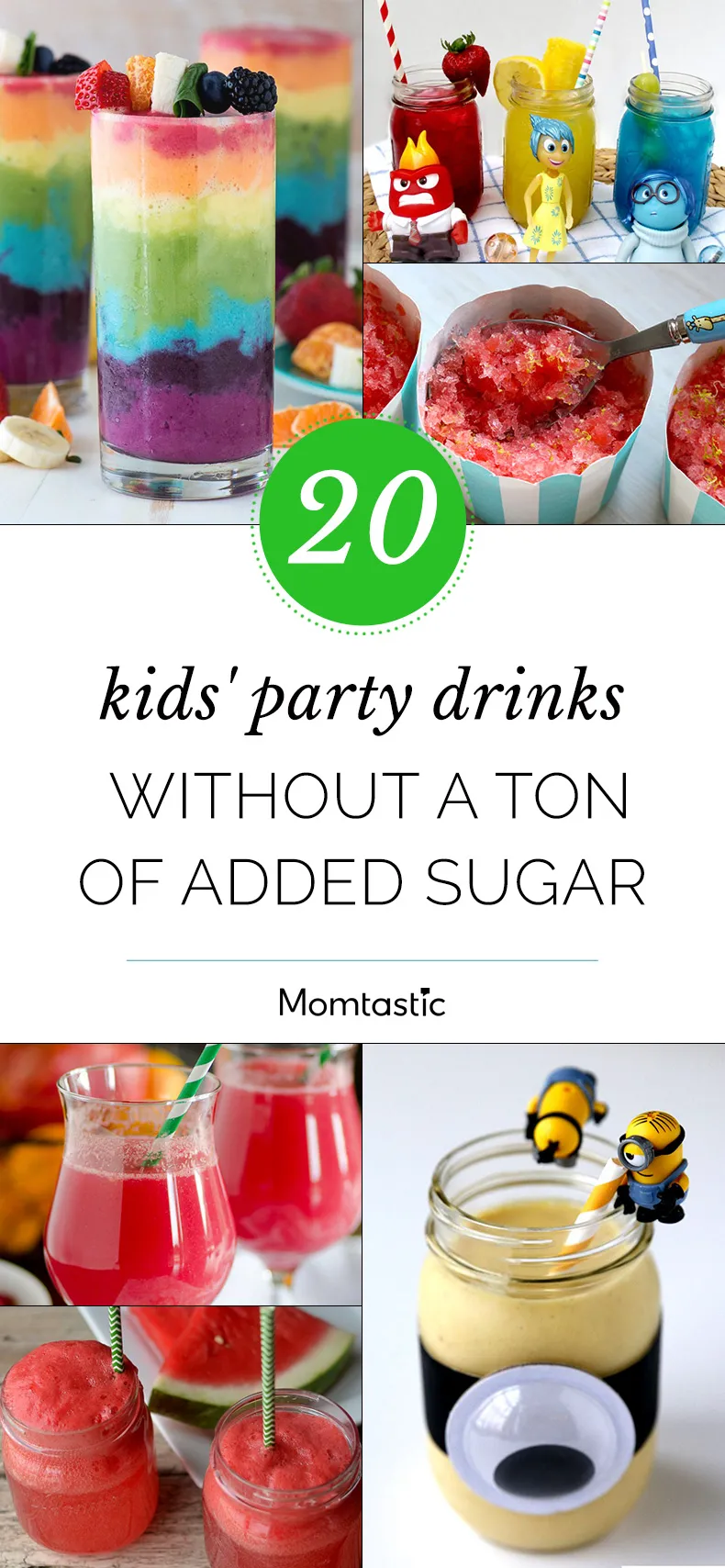 20 Party Drink Ideas for Kid With Less Sugar
Caramel Apple Smoothie

This is an easy smoothie recipe with just a few ingredients: milk (I prefer almond milk), apple juice, diced apple, and sugar-free caramel sauce.

Image and tutorial: Crazy for Crust

Healthy Unicorn Smoothie

This delicious unicorn smoothie has a strawberry base with swirls of magical blue yogurt. You can also incorporate swirls of mango puree.

Image and tutorial: In the Kids Kitchen

Homemade Sugar-Free Grape Soda

For a homemade fruit soda all you need is a fruit syrup and some sparkling water. This grape soda is sugar-free, with a dash of lemon to give it a pop. If you start your kids on the natural alternative early enough, they'll never miss the processed stuff!

Image and tutorial: The View From Great Island

Orange Pomegranate Fizzy Drink

Perfect for winter birthdays, this festive drink is made with natural orange and pomegranate juices, and topped with a fizzy soda.

Image and tutorial: Seeded at the Table

Lemon Berry Spritzer

This drink is made with the sparkling water, sliced strawberries and lemons, a bit of lemonade concentrate, and a touch of vanilla flavoring. It's delicious and perfect for a party!

Image and tutorial: Mommy Hates Cooking

Homemade Sugar Free Snow Cones

While technically not a beverage, this snow cone recipe is going to make the kids (and parents) giddy! Especially since they are much cheaper and healthier than the real thing!

Image and tutorial: It's Always Autumn 

Minion Banana Smoothie

If your kids are obsessed with Minions like mine are, this yummy smoothie might be the perfect drink for their next party.

Image and tutorial: Living Locurto 

Rainbow smoothie

Hosting a rainbow themed party? Or just love pretty colors? This vibrant smoothie is the perfect beverage for a fun event. I love that it includes nutritious ingredients.

Image and tutorial: The First Year Blog  

Vanilla Milk

For a toddler's birthday party serving milk with a touch of vanilla in cute bottles is easy, healthy, and fun!

Image and tutorial: Live the Fancy Life 

Low Sugar Shirley Temples

For a fun bubbly option, serve the kids this lower sugar version of the classic kiddie cocktail.

Image and tutorial: Sugar Free Mom 

Naturally Sweetened Lemonade

What's better than a big glass of refreshing lemonade in the summer? Kids will love this naturally sweetened lemonade.

Image and tutorial: Sugar Free Mom 

Watermelon Ice

Kids love anything in the form of a slushie. With only three ingredients, this low-sugar watermelon ice recipe is a crowd pleaser. 

Image and tutorial: Feeding Finn 

DIY Chocolate Milk Without Refined Sugar

Homemade chocolate syrup is made with just a few basic ingredients: cocoa powder (the chocolate punch), water, pure maple syrup (the sweetness), vanilla extract, and a pinch of salt.

Image and tutorial: Live Simply

Apple Cherry Slushies

Serve these two-ingredient slushies with color changing straws for a grand slam with your kids and their friends.

Image and tutorial: Live Like You Are Rich

Sparkling Watermelon Sippers

Sticking with the watermelon theme for summer, these sparkling watermelon sippers are delish. Serve them in a mason jar with a patterned straw for added fun.

Image and tutorial: Super Healthy Kids 

Blueberry Ginger Sparkler

A purple blueberry ginger sparkler can be a fun way to showcase fabulous printables that match your kid's party theme.

Image and tutorial: Spaceships and Laser Beams 

Green Spider Smoothie

Whether for Halloween or a super hero party, a green spider smoothie is a fun addition.

Image and tutorial: The TomKat Studio 

Healthier Raspberry Lemonade

Fruity lemonade is always a good idea. Serve it in individual glasses or a big beverage container.

Image and tutorial: Cupcakes & Cutlery 

Disney Drinks

Hosting a Disney themed bash? These colorful drinks will add a healthy pop to your party.

Image and tutorial: Kendall Rayburn 

Agua Fresca

Agua Fresca just screams summer and with three fruity flavors, kids will be excited to get sipping!

Image and tutorial: The Happier Homemaker