By now, I've mastered the art of all things cauliflower, and my repertoire consists of delicious dishes like whole roasted cauliflower, cauliflower crust pizza, cauliflower mac and cheese and cheesy cauliflower breadsticks. But this protein and fiber packed vegetable is really gaining popularity when it is chopped up into tiny pieces and used as a substitute for rice.
Cauliflower rice is incredibly versatile when it comes to turning your favorite dishes into gluten-free or low-carb versions; substitute it for rice in Asian dishes, turn it into gluten-free risotto, even use it to whip up cheese-filled rice balls. You can really sneak an extra serving of veggies into just about anything and your kids will have no idea.
The easiest way to transform your cauliflower into rice is simply pulse cauliflower in a food processor until it resembles grains of rice. Then press the cauliflower into a paper towel to remove any excess moisture, which will save your dinner from turning into a soggy mess. For basic cauliflower rice, simply sauté the "rice" with olive oil. You can add this to any recipe that calls for rice or just eat it as is.
Here are 12 delicious reasons to give cauliflower rice a try!
Like what you see? Don't forget to Pin it!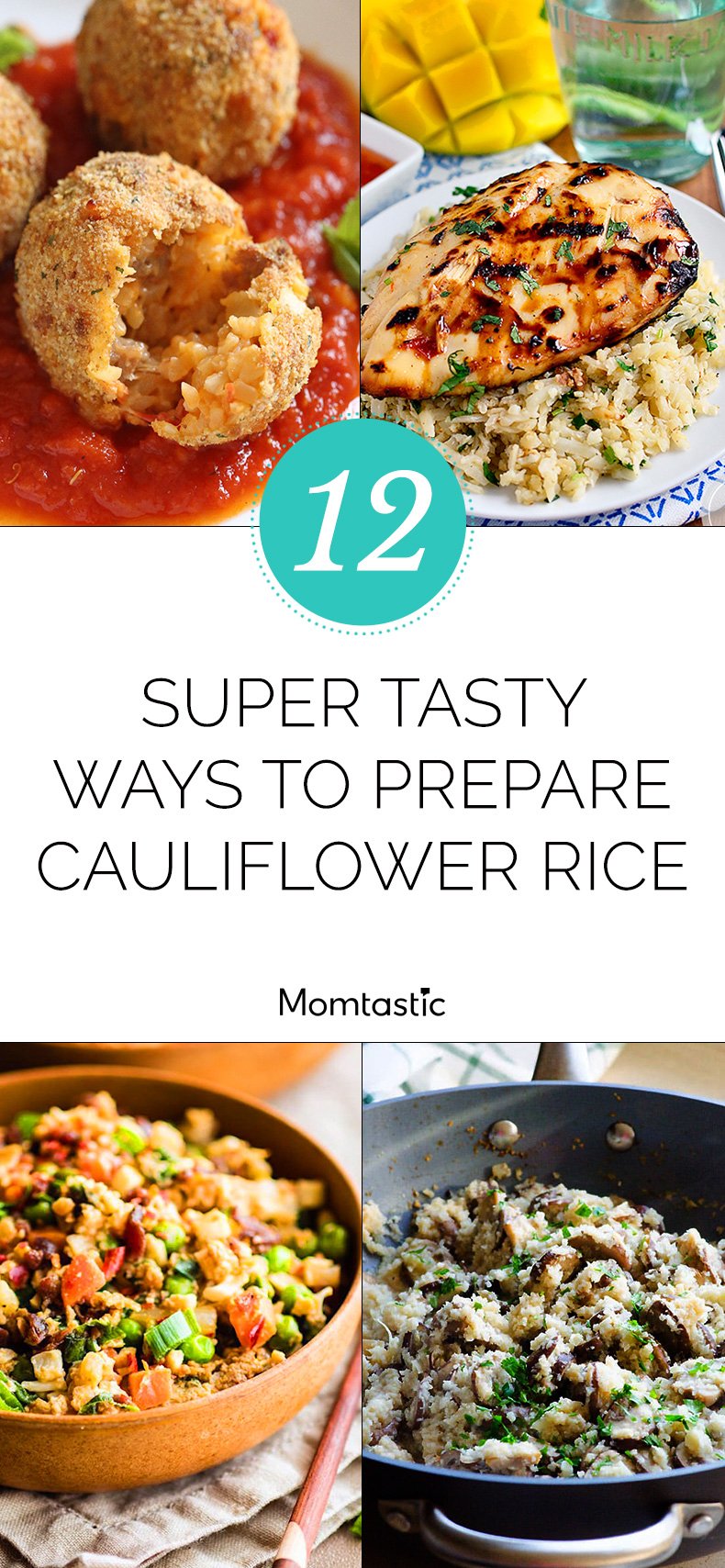 Cauliflower Rice
Cauliflower Rice Balls

Now here is an Italian cauliflower rice recipe that will have your family begging for seconds and thirds. Make balls out of cauliflower rice, chicken sausage, mozzarella cheese and bread crumbs. Bake them and serve with marinara sauce. Our best advice: make a lot of these because they will go fast.

Photo: Skinny Taste

Cauliflower Risotto

Cauliflower rice soaks up the flavors of garlic, Parmesan cheese and mushrooms in this nutrition packed version of risotto.

Photo: i food real

Fried Crab Cauliflower Rice

This easy Asian-flavored king crab stir fry with cauliflower rice, scrambled eggs, onions and soy sauce is so delicious that it will make you delete your favorite take-out place from speed dial.

Photo: Skinny Taste

Garlic Parmesan Cauliflower Rice

If your child hasn't really developed a more adventurous palette yet, don't fret. Here's an ultra kid-friendly version of cauliflower rice that is picky eater approved. Simply mix garlic butter and Parmesan cheese into the rice and watch it disappear.  

Photo: Kirbie Cravings

Thai Fried Cauliflower Rice

Serve these spicy Thai chicken skewers over seasoned fried cauliflower rice for the perfect healthy, but flavorful dinner!

Photo: Fashionable Foods

Tabbouleh Cauliflower Rice

Get whisked away to the Mediterranean on a regular Wednesday night with this tabbouleh cauliflower rice side dish. Chop up cucumbers, tomatoes, green onions, mint and lots of fresh parsley. Then mix it in cooked cauliflower rice and toss in olive oil, lemon juice and garlic. Easy peasy.

Photo: The Real Food Dietitians

Golden Cauliflower Rice

If your family is a bit more adventurous or curry is a flavor you often use, then you definitely need to check out this recipe. Topped with slivered almonds, currants and cilantro, your family will be asking for more before their plates are even clean.

Photo: The Real Food Dietitians

Mexican Cauliflower Rice

Mix the cauliflower rice with tomato paste, chicken broth and finely chopped onions and garlic. What you'll get is a healthy side your kids will actually eat.

Photo: Fashionable Foods

Pineapple Cauliflower Rice Stir Fry

Only have 15-20 minutes to whip up dinner? Mix together scrambled eggs, frozen peas and carrots with pineapple and tamari sauce and voila, dinner is done!

Photo: Cotter Crunch

Spanish Cauliflower Rice

Made with chicken broth, tomato sauce and spices like cumin, garlic and onion powder, your family won't even realize you substituted cauliflower for rice.

Photo: Wendy Polisi  

Coconut Lime Cauliflower Rice

Mix lime and coconut milk in with the cauliflower as you sauté it in a skillet. Then stir in cilantro once you remove it from heat. Pair it with a sweet chili coconut lime grilled chicken breast and dinner is complete!

Photo: Iowa Girl Eats

Kale Pesto Cauliflower Rice

This cauliflower rice is flavored with homemade pesto sauce for an easy, delicious, low-carb and gluten free dish. This recipe is loaded with kale, so if it's not your family's jam, simply substitute it with basil.

Photo: Kirbie Cravings