If the mention of ramen noodles brings forth images of sitting in a college dorm room cradling a styrofoam bowl of instant noodles that you bought in a ten-pack from the dollar store, then allow me to re-introduce it into your life. These days, with no shortage of amazing ramen shops stateside, the traditional Japanese dish has been given life well beyond those dirt-cheap cups. Think: Steaming, delicious bowls of fresh noodles, soft-boiled eggs, hearty broth, and exotic veggies. And it's easy to make at home.
Looking to make your own ramen? Ranging in flavors from bacon-and-egg to spicy Sriracha to vegetarian miso, these 11 ramen recipes far exceed the limitations of the instant soup version. Whip them up, and then slurp them down.
Like what you see? Don't forget to Pin it!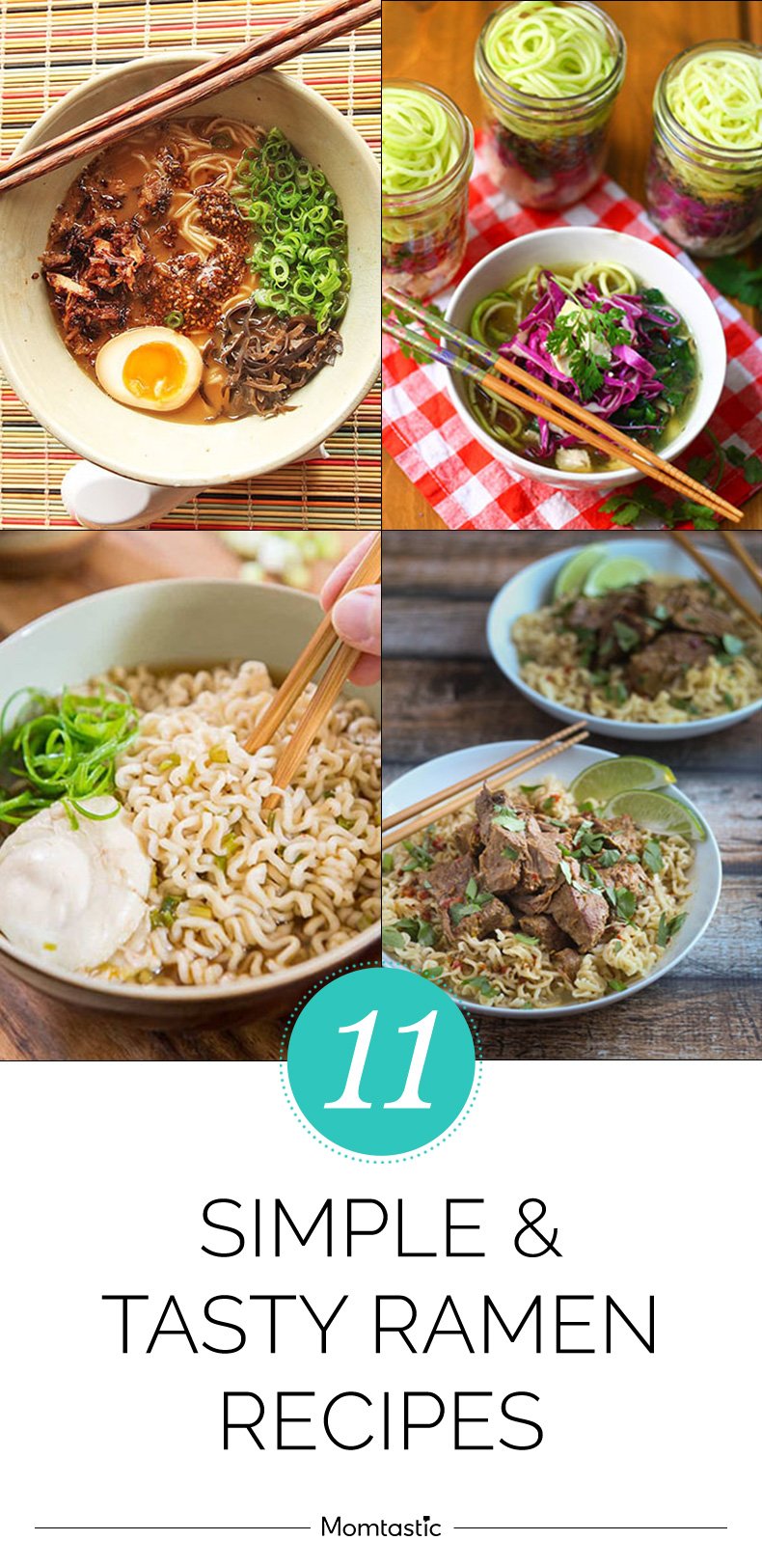 11 Simple & Delicious Ramen Recipes
Easy Chicken Ramen Recipe

This easy chicken ramen recipe is packed with flavor and takes about 30 minutes to whip up. And can we talk about that egg? Yum! See the recipe at Fox & Briar.

Photo: Fox & Briar

Coconut Curry Ramen Recipe

This might be my favorite ramen recipe of all time. I'm a sucker for anything coconut curry. Plus, the color combos in this dish are amazing. See the recipe at Table for Two.

Photo: Table For Two 

Bacon and Egg Breakfast Ramen Recipe

Who says you that ramen is only for dinner? This bacon and egg number is the perfect way to start the day. See the recipe I Am a Food Blog.

Photo: I Am A Food Blog

Miso Ramen With Crispy Garlic & Braised Pork    

You had me at braised pork. This recipe is a bit on the spicy side with burnt garlic sesame chili oil. See the recipe at Serious Eats.

Photo: Serious Eats

Mason Jar Ramen Recipe

This is a super hip take on the classic dollar ramen we all dined on in college. And i's a remarkably simple option for days at the office. It replaces noodles with zoodles for carb-conscious eaters. See the recipe Strictly Delicious.

Photo: Strictly Delicious

Farmer's Ramen Recipe

Top this simple (in a good way) ramen with bitter greens, like kale or bok chow, for the ultimate hearty meal. See the recipe at Farmette.

Photo: Farmette

20-Minute Spicy Sriracha Ramen Recipe

If your family can appreciate a dish with a kick, get this one on the table, stat! And in 20 minutes? You've got time for that. See the recipe at Baker by Nature.

Photo: Baker By Nature

Crockpot Beef Curry with Noodles

I use my crockpot for almost everything—even ramen. "Set it and forget it" is my dinner time motto. See the recipe at The Wanderlust Kitchen.

Photo: The Wanderlust Kitchen  

Thai Peanut Chicken and Ramen Recipe

This is really a glorified ramen recipe. Coconut milk, red curry paste, and peanut butter are just a few ingredients that go into this magical dish. See the recipe Half Baked Harvest.

Photo: Half Baked Harvest

Basic Quick Ramen Recipe

If you want to keep things simple for your first ramen recipe, this basic recipe is a great place to start. See the recipe at Fifteen Spatulas.

Photo: Fifteen Spatulas

Easy Vegan Ramen Recipe

Go for all the veggies with this ramen recipe. It's clean, tasty, and easy to make. See the recipe at Minimalist Baker.

Photo: Minimalist Baker