We were expecting interstate relatives to visit us in Perth so I thought why not have a family dinner together at home? Instead of going out like we usually do, I used the convenience of FeedUp to invite my guests and make arrangements. I then prepared a fuss-free feast at home that was centred around my favourite Moroccan lamb dishes – a sweet tasting lamb and date tagine alongside super crunchy lamb filo cigars (that incidentally disappeared from the table rather too quickly!).
I decided to set the table using pieces inspired by my Moroccan theme, finding silver lanterns and little silver cups that doubled as candle holders at my local shopping centre. These simple touches made the dinner table feel special, adding to the party atmosphere. In the end, my simple styling and home cooked lamb meal turned what could have been a quick bite and catch up outside into a memorable family gathering. We were able to relax, laugh, chat and take our leisurely time, connecting over our beautiful lamb dinner.
The Moroccan lamb-based menu was the perfect choice for a family get-together. The lamb filo cigars are very quick to make and the lamb and date tagine was tantalisingly simmering away on the stove for most of its cooking time, leaving me free to sit back and relax with my guests while dinner pretty-much cooked itself!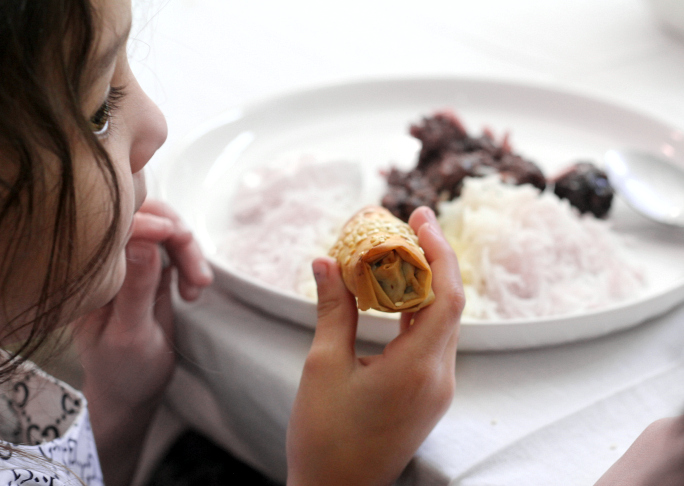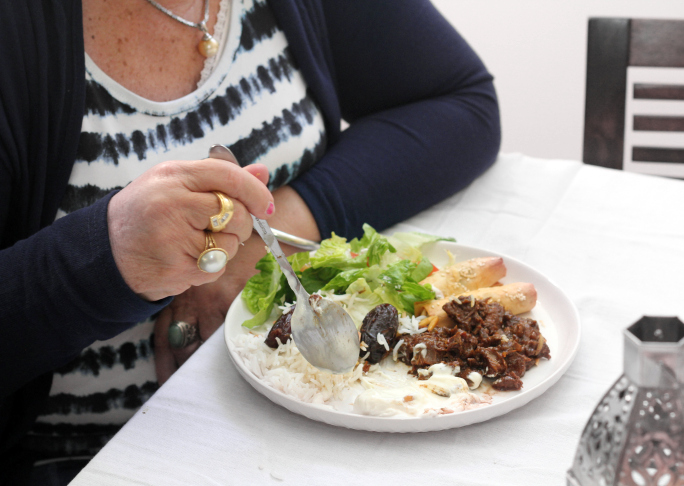 Lamb Filo Cigars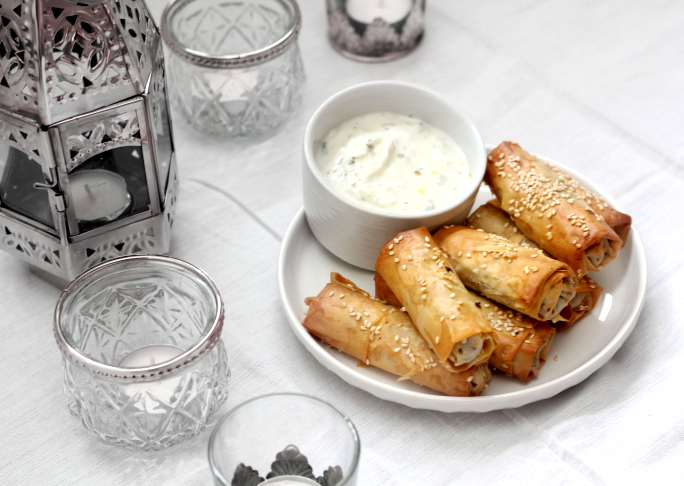 Ingredients:
1 tablespoon of olive oil
1 small brown onion, finely chopped
350g of lean, ground lamb
2 garlic cloves, crushed
2 teaspoons of ground cumin
1/2 teaspoon of ground ginger
1/4 teaspoon of paprika
1/2 teaspoon of ground cinnamon
a pinch of saffron threads, soaked in warm water
1 teaspoon of harissa
2 tablespoons of chopped coriander
2 tablespoons of chopped flat leaf parsley
1 egg
8 sheets of filo pastry sheets
90g melted butter
1 tablespoon of sesame seeds
Method:
On a low heat, heat the oil and then add the onion. Cook until the onion softens.
Switch to a high heat, add the lamb and garlic. Stir occasionally for five minutes, browning every side of each piece of meat.
Add the cumin, ginger, paprika, cinnamon, saffron, harissa, coriander and parsley. Add salt and pepper according to your own taste and cook for one minute, stirring.
Drain the lamb mixture in a sieve to remove excess oil. Transfer it to a bowl and stir in the egg once the lamb has cooled.
Lay out the filo pastry sheets in a stack on a cutting board, with the longer side facing you. Cut the filo sheets into thirds and place into one final stack on a plate, covering with a tea towel to prevent them drying out.
Take one filo piece on the cutting board, brush with a little of the melted butter and place another strip neatly on top. Spoon one tablespoon of the lamb mixture onto the end of the strip, Make sure there is at least 1cm of pastry showing at the top and sides of the lamb mixture. Fold the top of the pastry over the lamb mixture, followed by the sides and roll into a cigar-like shape until all of the strip is firmly wrapped around. Repeat the same for the remaining pastry strips.
Place the cigars on a greased baking tray and brush the tops with melted butter. Sprinkle sesame seeds and cook in a 180°C oven for 15 minutes or until lightly golden.
Lamb and Date Tagine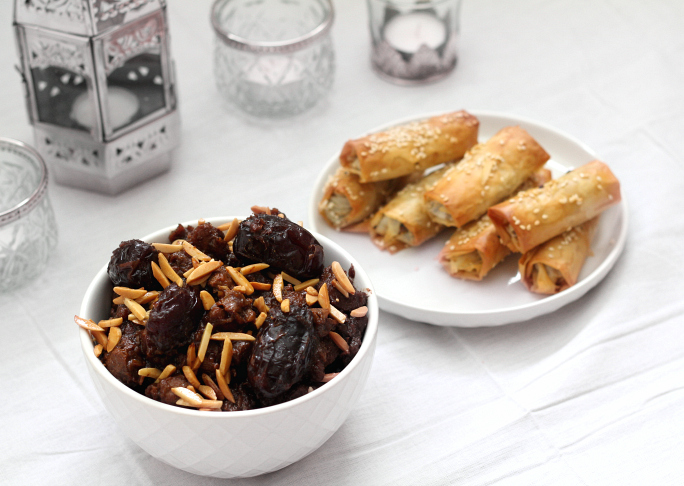 Ingredients:
1 kilogram of diced boneless lamb (shoulder or leg)
30g of butter
1 brown onion, finely chopped
1 teaspoon of ground ginger
1 teaspoon of ground cinnamon
1/2 teaspoon of freshly ground black pepper
1/3 cup of pitted, chopped dried dates
a pinch of saffron threads
2 tablespoons of honey
2 tablespoons of lemon juice
1 1/4 fresh whole dates (unpitted)
15g extra butter
40g slivered almonds
Method:
Melt butter in a large pot over a low heat. Add the onion and cook gently for five minutes. Sprinkle in the ginger, cinnamon and black pepper, stirring constantly for a minute.
Turn the heat to high and sauté the diced lamb until it browns on all sides. Reduce to a low heat and add 375ml of water, the chopped dates, saffron and 1 teaspoon of salt. Cover with a lid and simmer for 90 minutes, stirring occasionally.
Stir in the honey and lemon juice. Place the pitted dates on top (don't stir), cover and simmer for ten minutes.
On a low heat, melt the extra butter in fry pan and lightly brown the almonds, immediately placing them on a paper towel to ensure they don't continue browning.
Remove the whole dates from the top of the pot and set aside on a plate. Ladle the meat into a serving dish and scatter the whole dates and almonds on top. If you like, you can also sprinkle strips of preserved lemon rind. Serve with either rice or couscous.
How long since you've hosted a dinner party at your place?
Try these delicious dishes too:
For even more recipes, head to We Love Our Lamb.