Pomegranates are bursting with anti-oxidants, they destroy breast cancer cells, and they may lower cholesterol and blood pressure. These are only available through the fall and early winter, so make this seasonal recipe now! Don't want to wait for the holidays? Make it for dinner today.
servings: 4
prep time/total time: 10 minutes*
Ingredients:

Preparation:

Step 1: Opening and peeling a pomegranate can be difficult. Check out how to open and peel a pomegranate with no mess. Peel and sperate the pomegrate seeds. Set aside 1/2 cup of the seeds.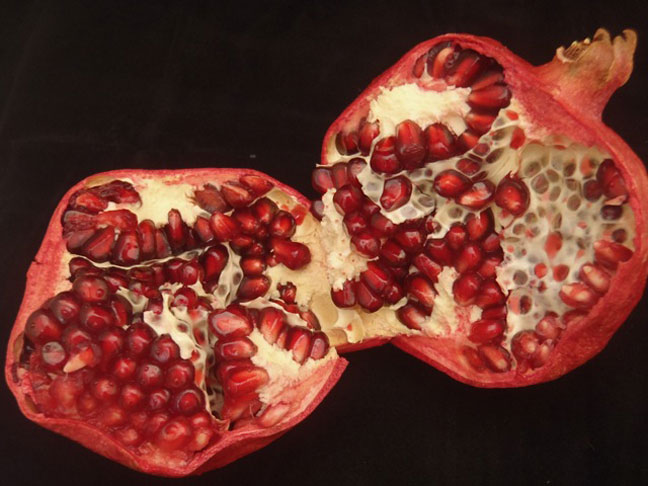 Step 2: Core and cut the pear in half. Slice it into about 16 slices (8 per half), and then cut those slices in half.
Step 3: Dump your greens and cheese into a large salad bowl. Add the cut pears to the salad bowl. with the greens and cheese. 
Step 4: Pour in the Berry Balsamic Vinaigrette, toss the salad with the vinaigrette, and fold in the pumpkin.
Step 5: Add pomegranate seeds last by sprinkling them on top.  
Make-Ahead Tip: You can make the Roasted, Candied Pumpkin Seeds and the Berry Balsamic Vinaigrette days ahead!  Make large batches and have them on hand always; this way, you can throw together salad sin minutes.
*If you don't have the Roasted Candied Pumpkin Seeds or the Berry Balsamic Vinaigrette on hand, add about 15 minutes to the total time.  
Notes:

For "grown-up" palates, add about 1/3 cup finely sliced red onion.
To save time, purchase prepackaged pomegranate seeds. Gelson's and Trader Joe's usually sell these during the holidays.
Subsitute a different kind of pear for the Bartlett pears; I like these in salads because they're firm and sweet, but you can use any pear you'd like.
Want more Thanksgiving Recipes?