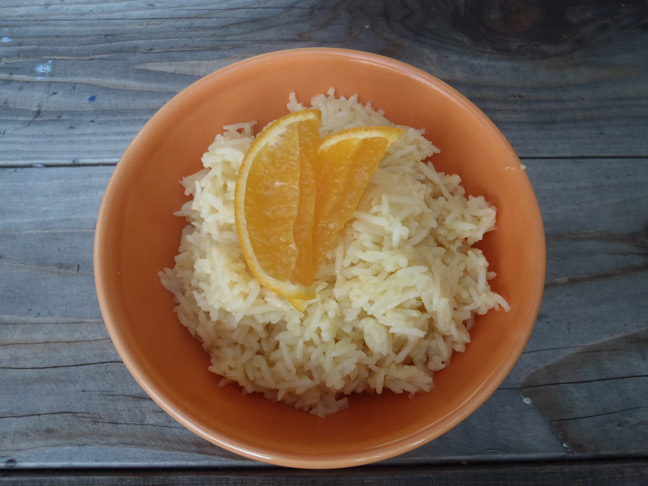 As a health conscious mommy/chef, I'm not only looking for ways to bring out delicious flavors, I'm trying to provide delicious nutrition.
Almost every rice package available tells you to cook the rice in water, but really, you can cook rice in almost any liquid.  Here, I use half orange juice and half water.  I think this is lovely; it makes the rice more interesting, more sophisticated, and somehow at the same time incredibly kid-friendly.  This is just perfect for my boys, who don't drink orange juice on its own. Vitamin C!  Loads of it!  You can also use any broth or stock, apple juice, pineapple juice, and the list goes on. 
Ingredients
1 tablespoon unsalted butter, or olive oil
1 cup Basmati rice
3/4 cup orange juice
3/4 cup water
Salt and pepper to taste
Preparation
Serves 4
Combine the butter or oil with the rice in a medium sauce pan, over medium heat.  Stir just to coat the grains of rice.  Combine the orange juice with the water and pour it into the rice.  Turn the heat to high and bring to a boil.  Once it's reached a boil, quickly turn the heat to a simmer, cover and cook until all the liquid has been absorbed, about 10 minutes.  Season to taste with salt and pepper.