This recipe is fantastic for cooking with kids; I simply whip up the easy cookie dough while the children are at school. When they home, we roll out the dough, use cookie cutters, and bake them. Once they cool, we ice and decorate! This Halloween recipe is a blast and it makes a great Halloween party activity.
Ingredients for Cookies:

1 cup unsalted butter, room temperature
2 cups sugar
3 eggs, lightly beaten
6 tablespoons whole milk
2 teaspoons vanilla
5 ½ cups all-purpose flour
3 teaspoons baking powder
1 pinch kosher salt
pumpin-shaped cokie cutter (or choose another shape that suits the season)
Ingredients for Frosting:

½ stick (1/4 cup) unsalted butter
16 ounces (1 box) confectioners' sugar
1 teaspoons vanilla extract
½ cup whole milk
orange food coloring
optional: sprinkles
Preparation:

Step 1: In a stand mixer cream the butter and sugar until light and fluffy. Add the eggs until combined. Last, add the milk and vanilla and mix well.
Step 2: In a separate bowl sift together the flour, baking powder, and salt. With the mixer on low, gradually add the dry mixture to the wet ingredients until the flour is fully incorporated and you hae a dough.
Step 3: Wrap the dough in plastic wrap and chill for at least 6 hours or overnight.
Step 4: Preheat the oven to 350 degrees F.
Step 5: Roll out the dough to a 1/8-inch thickness on a floured surface.
Step 6: Use Halloween cookie cutters to cut out desired shapes.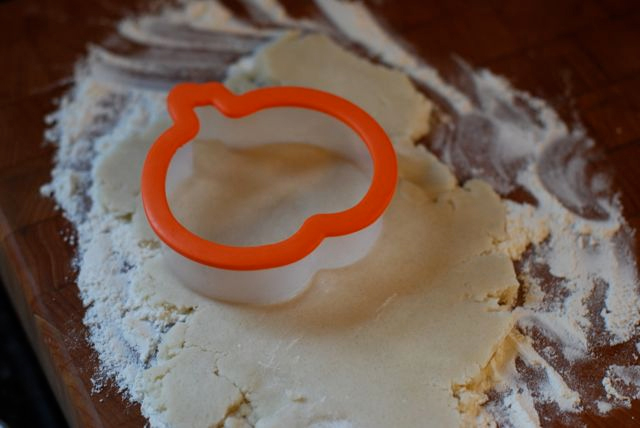 Step 7: Place the cookie dough shapes on a lined cookie sheet.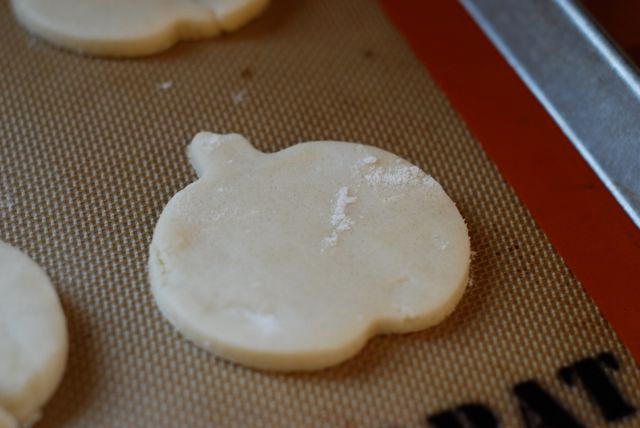 Step 7: Bake for 12-14 minutes, or until the edges turn lightly golden brown.
Step 8: While the cookies are baking, make the frosting. Start by by beating together the butter, sugar and vanilla extract.
Step 9: Beat in the whole milk until the frosting is thick and creamy. Then, add the orange food paste until the desired color orange is achieved.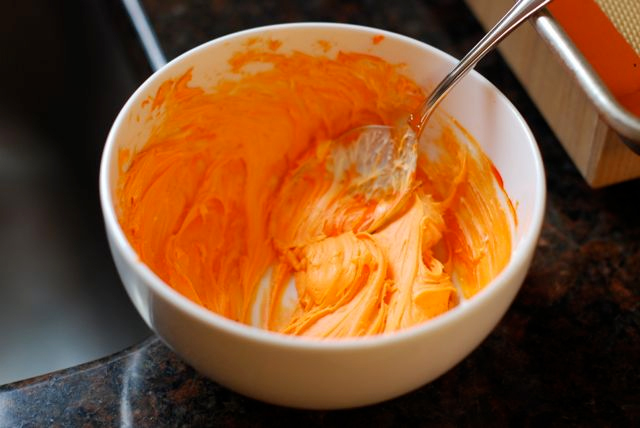 Step 10: When the cookies finish baking, cool them completely.
Step 11: Frost and decorate your cookies!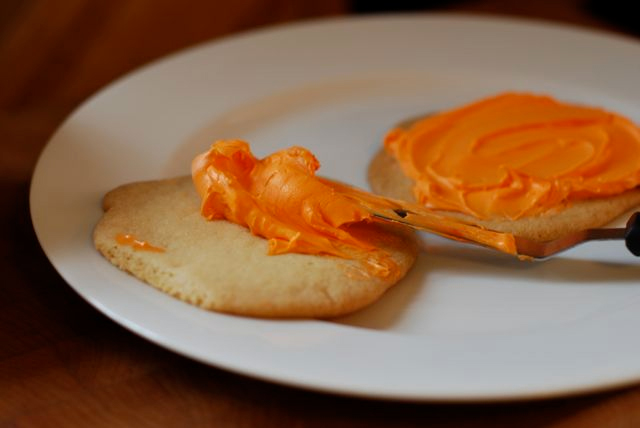 Want more Halloween Treats?
Kelsey Banfield blogs at The Naptime Chef.