I love oatmeal – a lot – and so do my kids. What's not to like? It's delicious, nutritious, quick and can be made to suit almost any tastes. 
(My favorite is chai spiced oatmeal: oats cooked with milk, honey, cinnamon, ginger, cardamom, cloves and a pinch of black pepper.) But, every once and a while, you've got to change things up.
I know what you're thinking, because I think the same thing: it would be really nice to make something different, if I had the time. I understand. Once you get in a routine with a food that's quick, easy and good for you, it's hard to motivate to make something else. Well there's good news. Just like oatmeal, these three recipes have the family food trifecta: quick, easy, nutritious. Oh, and lets not forget that they are totally tasty, too.
In other words, with these three breakfast recipes in your arsenal, there's no excuse not to try something new!
The first recipe is from our very own Valentina. Her Yogurt Cereal Power Breakfast (picture by Valentina below) is genius! Valentina, don't be self conscious about using peanut flour so much — we love it and it makes perfect sense for healthy and maybe even gluten-free breakfasts.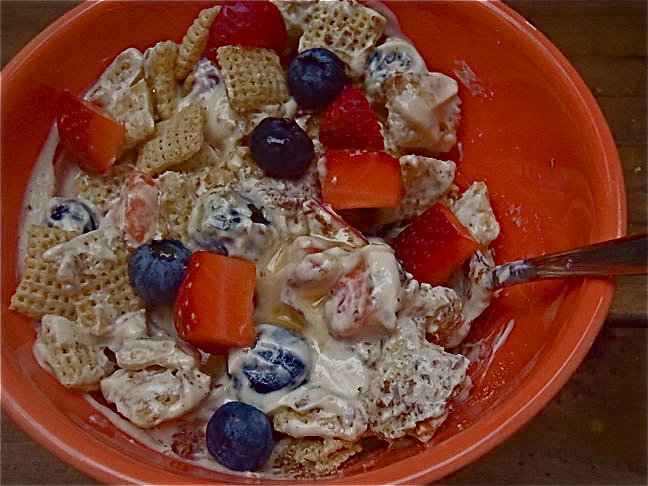 The second recipe is my 10-Minute Blueberry Almond Polenta. Can I call my own recipe genius, too? Sorry to be shameless, but this is one of my favorites of all time. (It's even going to be in the Food52 cookbook!) This breakfast polenta is luscious and just sweet enough, with almond meal for a super protein boost.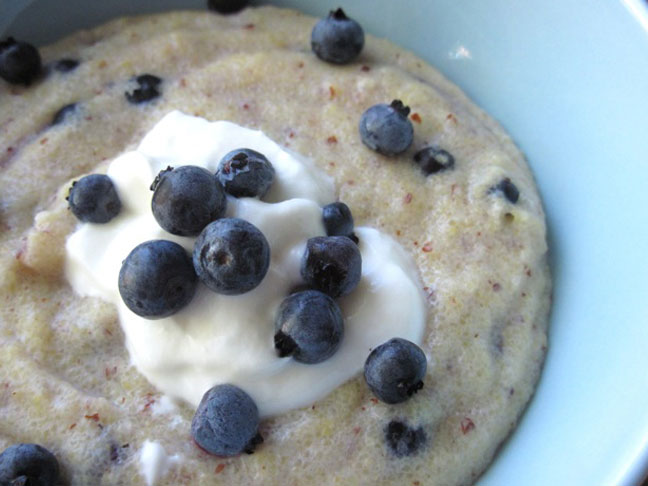 The third recipe, my latest breakfast creation, is Creamy Coconut Almond Quinoa (recipe below). Just like Valentina and her peanut flour, I'm addicted to my almond meal. You can buy some at Trader Joe's or make your own by pulsing roasted almonds until they are the consistency of flour (store leftovers in an airtight container in the fridge). Almonds are a great source of protein, vitamin E, folate and other good-for-your vitamins and minerals. They are also delicious with coconut and a touch of brown sugar, the main flavor components in this quinoa breakfast porridge.
Swap these for oatmeal some day soon and you'll see. It can even be a weekday; that's how low maintenance these recipes are. I'll place bets that they become part of your regular routine.
Ingredients:

1 c uncooked quinoa, rinsed (if you have the time)
3 c almond milk, I like the unsweetened vanilla
¼ c wheat germ
¼ c almond meal
3 Tbs light brown sugar
½ tsp vanilla extract
shredded coconut, I prefer unsweetened
Preparation:

1. Combine quinoa and almond milk in a pot over medium heat and bring to a boil. Reduce heat to medium-low and allow quinoa to simmer for about 5-7 minutes, until about half of the liquid has cooked off.
2. Stir in wheat germ, almond meal, brown sugar, vanilla and as much coconut as you like. Continue simmering until the quinoa is cooked through and becomes the consistency of oatmeal, about another 10 minutes. If the quinoa reaches the right consistency before it's fully cooked, add a splash or two of almond milk and cook longer. Serve topped with fresh fruit, chopped nuts, more coconut and/or a dash of cinnamon.