With the rise of celiac disease, it's good to be prepared with gluten-free options during Thanksgiving and throughout the fall. Delicious pumpkin recipes abound this season, and those who can't tolerate gluten shouldn't miss out! This makes a great fall recipe and a fabulous side dish for your Thanksgiving dinner (this bread is so flavorful and moist your guests will have no idea it's gluten-free!). Try this recipe today!
servings: 1 large loaf (or 2 small loaves)
prep time: 10 minutes
bake time: 1 hour and 5 minutes
Ingredients:
½ cup low-fat milk
½ cup non-fat yogurt
1 1/3 cups pumpkin puree
2 tablespoons honey
1 tablespoon vanilla extract
2 eggs
2/3 cups brown rice flour
½ cup corn meal
½ cup cornstarch
1½ teaspoons baking powder
½ teaspoon baking soda
¾ cup granulated sugar
½ teaspoon salt
1½ tablespoons ground cinnamon
1 teaspoon ground nutmeg
¾ cup (1¼ stick) melted, unsalted butter
1 cup white chocolate chips
1 cup semi-sweet chocolate chips
Preparation:
Step 1: Preheat the oven to 375 degrees. Using butter, grease an (approximately) 11½-inch by 3½-inch loaf pan (or two smaller loaf pans).
Step 2: In a large mixing bowl, combine the milk, yogurt, pumpkin, honey, vanilla, and eggs. 
Step 3: Gently fold in the flour, corn meal, cornstarch, baking powder, baking soda, sugar, salt, and spices.  Once this is combined nicely, fold in the melted butter, followed by the chocolate chips. 
Step 4: Bake for approximately 1 hour and 5 minutes or until the top is golden brown and beginning to crack and the loaf does not jiggle at all when the pan is moved. Let the bread set for at least 30 minutes before slicing.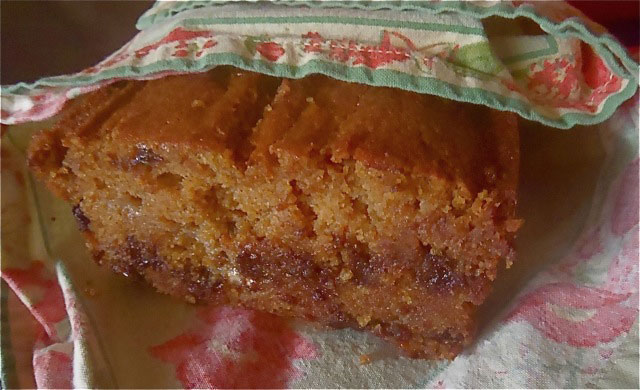 Notes:
Substitute raisins and pecans for the chocolate chips. Use 1 cup of raisins and 1 cup pecans.
Substitute skim or whole milk for the low-fat milk.
Substitute low-fat or whole plain yogurt for the non-fat plain yogurt.
Want more Thanksgiving Recipes?