I love beets, always have.  I admit it, though,  I'm a minority in my family.  That is, I was — until I created this recipe for using them in muffins!
 
Beets are delicious and extremely good for you. Not only are they a great source of iron, but beets have also been shown to be an immunity booster and a guard against cancer.
When you make this recipe, the batter will be a beautiful pinkish-reddish color before baking, and in the oven, the muffins will become a pretty yellow-gold with ribbons of red.  My two little boys find this quite magical.  
As with my Carrot Mini-Muffins, you can serve these for breakfast or for a snack. You can also make them in a larger size muffin pan, frost them, and serve them for dessert as cupcakes!
Ingredients:
1 cup all-purpose flour
1/8 teaspoon baking powder
1/4 teaspoon baking soda
1/4 teaspoon salt
1 egg
1 teaspoon vanilla extract
2/3 cup granulated sugar
1/3 cup vegetable oil
1 1/4 cups grated beets
1/4 cup finely chopped dried apricots
Preparation:
Makes 2 dozen
Preheat the oven to 350 degrees.  Use vegetable oil to grease your mini-muffin pans and then sprinkle them with a bit of flour.  Or — even better — use mini-muffin paper cups!  
Peel a medium-sized raw beet and grate it.  
In a medium-sized mixing bowl, combine the dry ingredients and make a well in the center.  Set aside.  
In another medium-sized mixing bowl, combine the egg with the vanilla, sugar, oil, grated beets, and dried apricots. 
Add this to the well in the center of the dry ingredients and mix only until thoroughly combined.  
Fill each mini-muffin space about three quarters the way up with batter.  I find it easiest to do this by using a 1 1/4-inch ice-cream scoop. 
Bake in the preheated oven until the muffins are solid, about 15 to 18 minutes. Wait at least 5 minutes before removing them from the pan.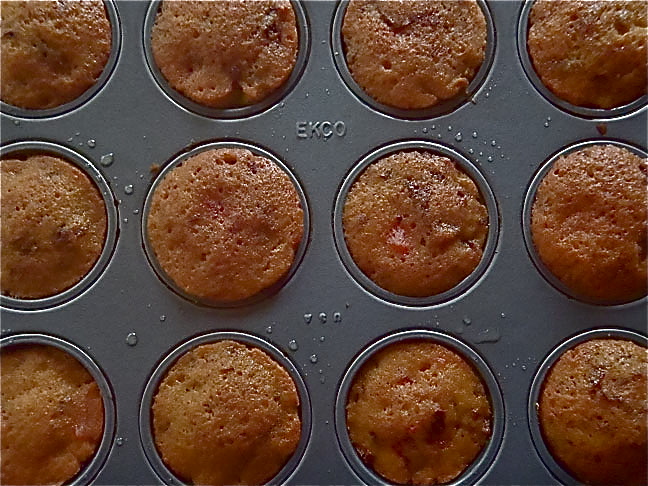 An additional note:
To save time, you can buy canned, grated beets.