You might still have turkey and stuffing digesting in your tummy, but it's already on to the next holiday! This weekend is Hanukkah and we have just the recipes to light up your holiday tables.
Read on for two Hanukkah recipes put together exclusively for us by the expert chefs from the Institute of Culinary Education.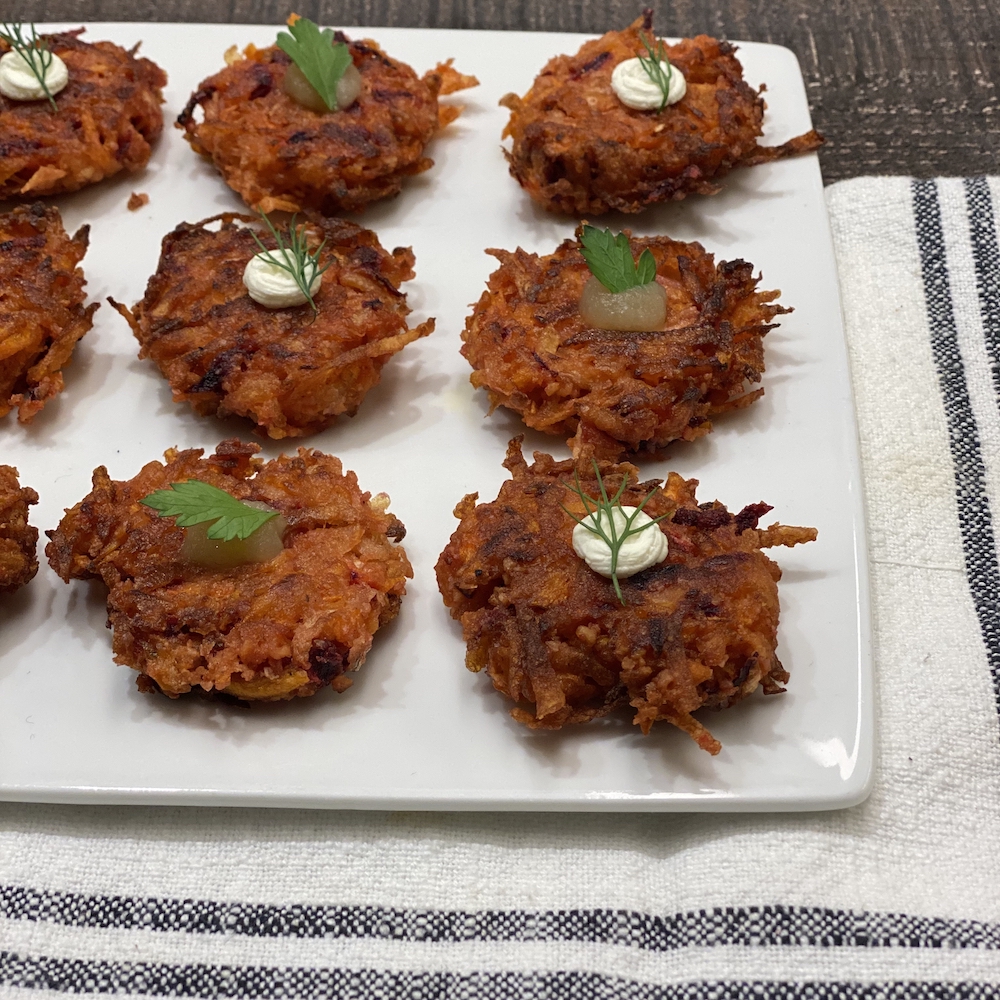 Root Vegetable and Sweet Potato Latkes by Lorne Feldman, Dean of Student Affairs at the Institute of Culinary Education
Yields 24 small latkes
Ingredients
1 small russet potato, peeled
1 small sweet potato, peeled
1 small carrot, peeled
1 small parsnip, peeled
1 small turnip, peeled
1/2 yellow onion
1/2 cup matzo meal
1 1/2 teaspoons kosher salt
2 large eggs
Vegetable or peanut oil, for frying
Directions
Using a box grater, coarsely grate the potatoes, carrot, parsnip, turnip and onion.
Line a medium bowl with cheesecloth and place all of the grated vegetables inside the cloth. Wring out veggies thoroughly in cloth to squeeze out any liquid. Transfer veggies to another bowl. Discard liquid, adding any starch that has settled on the bottom of the bowl back to the veggies.
Toss in all of the remaining ingredients except the oil until completely incorporated.
Heat 1/4-inch layer of vegetable oil in a large cast-iron skillet over medium-high heat. Working in batches, scoop 1/3 cup balls of vegetable mixture and drop into pan.
Using a flat spatula, smash each to flatten into a pancake.
Cook, flipping once, until crisp and nicely golden, 2-3 minutes per side, and then transfer to a paper towel-lined plate to drain.
Serve with desired dips or accompaniments.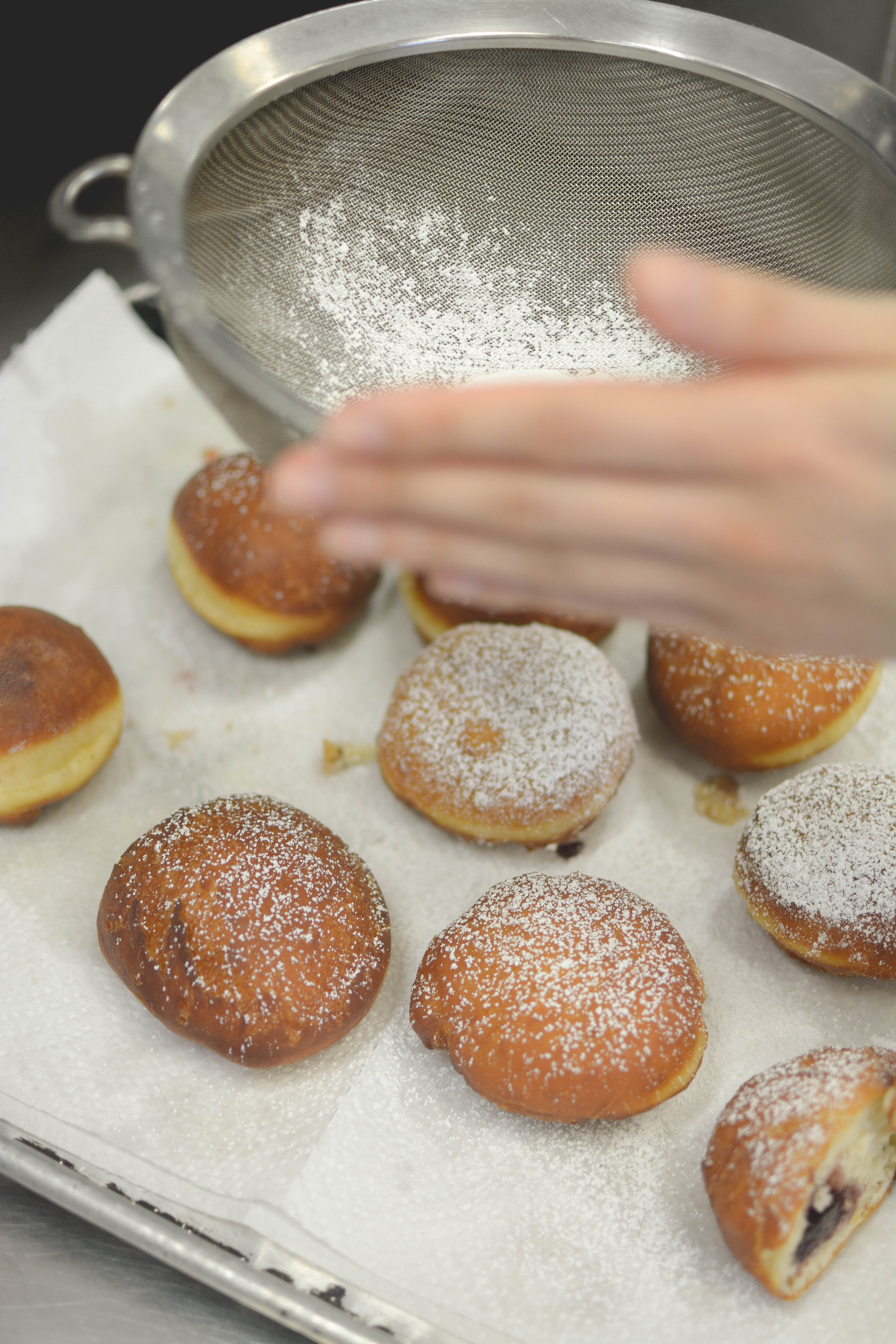 Sufganiyot (Israeli Jelly Doughnuts) by Jeff Yoskowitz, chef at the Institute of Culinary Education
Yields 24 small doughnuts 
Ingredients
64 grams sugar
7 grams active dry yeast
170 grams milk (warmed to 100°F)
385 grams all-purpose flour
58 grams butter (melted and cooled)
7 grams salt
150 grams whole eggs
Fruit preserves, as needed
Confectioner's sugar, as needed
Directions
Mix sugar, yeast and milk the bowl of a KitchenAid mixer and whisk to combine. With the paddle attachment, add remaining ingredients (except fruit preserves and confectioner's sugar) and mix for 5-8 minutes on medium speed to achieve smooth dough.
Cover dough and let rise at room temperature for 1-2 hours.
Roll dough out to about 1/2″ thick and cut out circles with a 2" or 3" dough cutter.
Place about a teaspoonful of preserves in the center of each circle. Brush the preserves with water to moisten.
Bring the ends of the dough over the preserves and pinch the dough together to seal it completely.
Place the doughnuts, seam side down, on a floured surface. Cover with a floured towel, and let rest for about 20 minutes.
Deep fry at 350°F (about 90 seconds on each side, until golden brown). Test one doughnut first to ensure proper frying time and oil temperature.
Set doughnuts on a rack to dry and cool slightly, then sprinkle with confectioner's sugar.